Introduction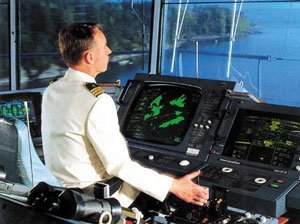 The name 'Rolls-Royce' has always been associated with high quality products. Most people probably link the company with high quality aero-engines and motor cars. Rolls-Royce still makes aero-engines, but no longer manufactures cars. Instead, the company has transferred its core strengths and expertise into other markets in which it has the greatest competitive strengths. These are the civil aerospace, defence aerospace, marine and energy markets.
Strategies are the means by which organisations achieve their objectives. Strategies are long-term plans. Strategic implementation is the process of putting these plans into action. Rolls-Royce's strategy is to secure and retain the leading position in its key markets. The company recognises that an increasing number of customers want to deal with as few suppliers as possible in order to reduce purchasing and search costs. Therefore, customers look for suppliers who are able to meet the full range of their needs with the highest level of service.
Rolls-Royce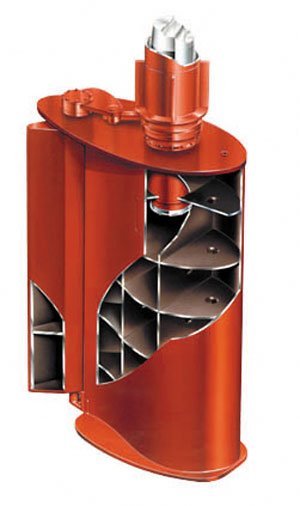 Rolls-Royce has already built a strong, mature business in defence aerospace and is well placed in future programmes. Over the past three years the company has won an average of 30% of the civil aerospace market by value. However, aerospace is a maturing market, so it makes sense for Rolls-Royce to look for new opportunities for expansion. This case study focuses on how Rolls-Royce has built a strong presence in marine markets. It has done this through a process of take-over, consolidation and by focusing on developing competitive advantage in this sector. Competitive advantage has resulted from the company making leading edge improvements, including a strong focus on meeting the green challenge.
In 1999, Rolls-Royce acquired Vickers Plc. Vickers was already a key player in the marine market, providing leading edge marine equipment. The take-over demonstrated Rolls-Royce's strategic intent to become the dominant player in the marine market. This acquisition gave the company a range of leading edge businesses.
Rolls-Royce carried out extensive market research and conducted detailed financial analyses into the marine market. This research identified a clear opportunity; an opportunity that Rolls-Royce has backed-up through significant investment in this growth area. The strategy of expanding in the marine sector should be seen as part of an overall strategy of seeking to grow the business of Rolls-Royce by searching out the most suitable opportunities for global expansion and market leadership.
Expanding through acquisition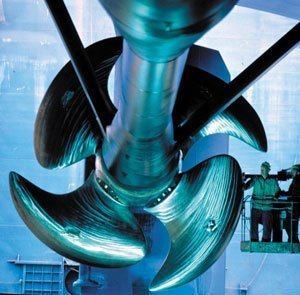 The main way of achieving marine market expansion has been that of acquisition:
taking over other leading players in the field in order to gain competitive advantage.
A competitive strategy is one that enables an organisation to stay ahead of rivals. In the modern world, large organisations compete in global markets. To be successful they have to be the best at what they do and they need to be seen to be the best on a global scale. A company's strategists need to identify the key characteristics that will make it 'the best' in the markets in which it operates.
The faster the growth of a particular market, the greater is the amount of expenditure required in order to maintain position in that market. In a dynamic market, considerable expenditure is required on investment in product lines. Intelligent organisations identify those areas of a market that are experiencing the highest levels of growth and then seek to increase their share of the market in these sectors.
 
This case study shows how Rolls-Royce has identified key areas of the marine markets on which to focus.  Today, marine activity accounts for about 15% of the Rolls-Royce group's turnover. It has the potential to move to about 30% of the group's turnover over the next 10 years.
Identifying the new opportunity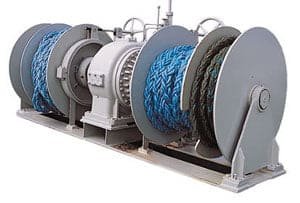 Given the high levels of global competition in the modern world, a company like Rolls-Royce can survive and prosper only in those markets in which it is a dominant force. Opportunities for acquisition have been taken after careful evaluation. These opportunities have enabled the company to combine its own existing strengths with those of the excellent companies that it has acquired in order to build market leadership. The marine market has proved to be an outstanding opportunity for expansion for Rolls-Royce. There are two main reasons for this:
the marine industry is looking to increase the engine power associated with movement of passengers and freight by sea
the marine industry is under pressure from governments to produce engines that meet more demanding regulations on emissions.
It follows from this that the companies which are best placed to produce and supply marine equipment and systems that are powerful, efficient and environmentally friendly are likely to win the largest share of this market.
Rolls-Royce has developed a world-leading marine business that services customers in global commercial and naval markets. Today, more than 20,000 commercial and naval vessels use Rolls-Royce equipment, and the company's engines power 400 ships in 30 navies. In the marine market, Rolls-Royce provides high capital-value products, services and systems and develops long-term relationships with customers.
The acquisition of Vickers in 1999 added a range of complementary products and services and expanded the Rolls-Royce route to market. The products acquired as a result of the Vickers take-over are market-leading brands in the commercial and naval marine business and include Ulstein, Bird-Johnson, Aquamaster, Kamewa and Brown Brothers. The effect of adding Vickers Ulstein Marine Systems to the existing capabilities of Rolls-Royce was to:
make Rolls-Royce a world leader in marine systems
broaden routes to market
create new business opportunities
broaden the product range and allow integrated systems to be developed/offered
build a strong global support network.
The force in marine solutions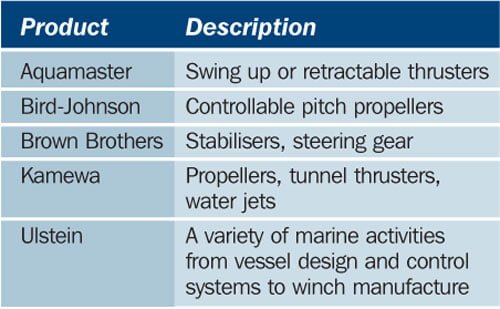 'The force in marine solutions' is the slogan that Rolls-Royce has been using to launch the new and enlarged business. The slogan features in all of the company's advertising and customer communications. Its primary purpose is to gain competitive advantage and
distance Rolls-Royce from competitors. Today, Rolls-Royce provides the widest range of marine products because a range of key brands are now part of the Rolls-Royce portfolio. This portfolio includes:

Rolls-Royce's strength in marine comes from its leading position in a range of current markets. Rolls-Royce prides itself on being much more than a company that provides products. Rather, the goal is to become the partner of choice for marine solutions internationally. With such a broad product portfolio made up of leading brands, Rolls-Royce is singularly well placed to provide integrated lifetime solutions for customers that include shipbuilders, ship operators and prime contractors in all marine markets. These solutions require an involvement from Rolls-Royce at every stage in the development of marine vessels.
The marine market
Rolls-Royce provides marine solutions for a wide range of customers. In particular, the company targets the high value niche markets of the industry. Examples of the products and systems provided for specialist vessels include:
Cruise, ferry and merchant
Cruise ships: engines, propellers, podded propulsors, thrusters, deck machinery, stabilisers
Fast passenger ferries: engines, propellers, podded propulsors, thrusters, deck machinery, stabilisers
Liquid Natural Gas carriers: propellers, deck machinery
Fast freight: Marine Trent gas turbines and the world's largest water jets
Offshore oil production and support
Semi-submersible rigs: control systems, podded propulsors, winches, thrusters
Floating production vessels: control systems, thrusters, winches
Naval sector
Aircraft/helicopter carriers: engines, stabilisers, steering gear, propellers, deck machinery
Fast patrol craft: gas turbines, gear boxes, water jets
Frigates/destroyers: engines, stabilisers, steering gear, propellers, deck machinery
Submarines: nuclear reactor plant and total support for this plant and other parts of the submarine.
In the marine market, customers are likely to have a variety of needs for different types of marine equipment and other marine solutions. These customers will want to deal with a supplier who operates on a scale that is sufficiently large as to be able to service and meet a range of complex needs. Moreover, in global markets it often pays to have a branch of an organisation specifically tailored to meeting local needs. This is certainly true of naval marine markets. For example, for the supply of sensitive defence needs where secrecy is required, the Royal Navy will deal only with UK companies. By developing a global marine presence, Rolls-Royce has been able to penetrate overseas markets. For example, Rolls-Royce Naval Marine Inc is a US registered company. Being US registered, it is able to deal directly with the US navy. This has led to the development of an advanced water jet in the USA.
Building a differential through green credentials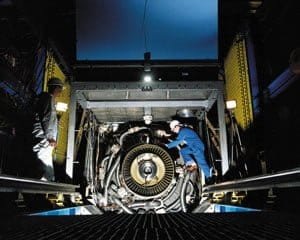 Today in advanced industrial societies, concern for the environment is at the forefront of manufacturers' thinking. In order to gain competitive advantage, it is essential for manufacturers to produce products that meet rigorous environmental criteria. Rolls-Royce is very well placed to deliver solutions that meet modern day regulatory frameworks and which include clean solutions and fuel efficiency. The company accepts that responsibility for the environment has to be an integral part of its business strategy rather than a separate activity intended merely to satisfy minimum standards set down by government.
Rolls-Royce has taken major steps in the field of environmental awareness, including a commitment to report regularly on progress made. The company produced its first environmental report in 1999 and places a strong emphasis on reducing the impact of products on the environment. In the marine market, Rolls-Royce has set out to use tomorrow's technologies so as to enable customers to meet and exceed international requirements for energy efficiency and also environmental concerns eg in the types and quantities of fuels burned in marine engines. In particular, Rolls-Royce has pioneered the next generation fuel-efficient marine gas turbine that will offer operators of cruise ships and of other ships the opportunity to develop innovative ship designs that will increase their operators' potential to earn revenue.
Conclusion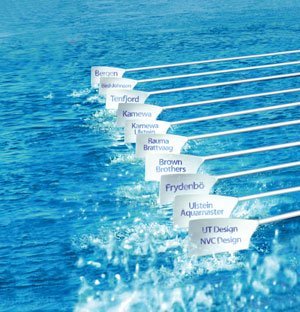 Rolls-Royce is convinced that the best way to be successful is to be a leading player (1 or 2) in the markets in which it operates. The company has a business with a proven marine pedigree that can trace its roots back to 1849. However, in the modern globally integrated highly competitive market place, it is essential to be the main force in marine solutions by:
providing the widest range of marine products
providing a unique systems capability, including market leading environmental solutions, that sets Rolls-Royce aside from the competition.
Rolls-Royce | Expanding a business through skilful acquisition