Introduction
Growth is an important business aim. Growth enables a business to maintain a sharp competitive edge compared with rivals, and to benefit from other advantages such as lower costs and greater brand awareness among consumers.
This case study examines how the Dixons Group has maintained an ongoing growth strategy by piloting new store formats and entering new markets. It looks at the development of a new large retail outlet format (Dixons xL) in the UK, and at the launch of Electro World in Eastern Europe.
Dixons Group plc is Europe's leading specialist electrical retailer with 1440 stores in 12 European countries. The company employs 30,000 people, with a profit of £301 million from a turnover of almost £5.8 billion (year to 3/5/03).
A key part of Dixons' success is its emphasis on researching customer requirements, and meeting and exceeding customer expectations. This focus is illustrated by the Group's promise: 'We aim to provide unrivalled value to our customers by the range and quality of our products, our competitive prices and our high standards of service.'
The Group's objective is 'to create value for our shareholders, career opportunities for our employees and the best possible value and service for our customers.'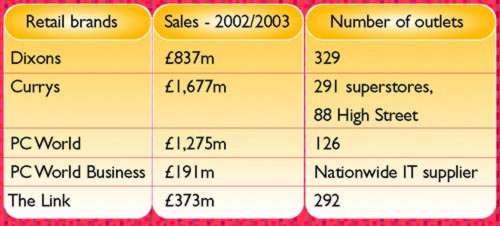 The Dixons Group is made up of a portfolio of leading UK and international brands designed to give customers the highest level of product specification, choice and customer service in the targeted market segment. In the UK, it has a number of main brands.
Dixons: the home of new technology - a High Street retailer of consumer electronics, selling the largest range of products including TV and personal computers.
Currys: the UK's largest electrical retailer. The product range includes fridges and other domestic appliances.
PC World: Britain's largest specialist chain of computer superstores offering more than 5,000 product lines.
PC World Business: a major player in the direct provision of IT products and services to the business user.
The Link: the specialist mobile phone and communications retailer.
Additionally the Group owns important servicing companies that support its key retail businesses:
Mastercare: provides state of the art delivery and after-sales service for customers of Dixons, Currys, PC World and the Link.
PC ServiceCall: is one of the largest technical support businesses providing after sales service and telephone helpline support.

In addition, it has several international brands.
PC City: a specialist PC retailer, based on the PC World model, with operations in Spain, France and Italy and now in Sweden.
UniEuro: Italy's most profitable mixed electrical retailer.
Elkjøp: The electrical retail market leader in Norway and the sole pan-Nordic player with 160 stores across Norway, Sweden, Denmark, Finland and Iceland.
Electro World: a new investment business operating in Hungary and the Czech Republic.

The Group also operates 14 stores in the Republic of Ireland, trading as Dixons, Currys and PC World. In 2002/03, the Irish businesses delivered sales of £61m.
Ansoff´s Product-Market Matrix
In a frequently quoted article in the Harvard Business Review, titled Corporate Strategy(1957) Igor Ansoff outlined a number of growth strategies. This was based on detailed research examining typical business growth case examples.

He set out the main options in the form of a matrix:
Market penetration means selling more of existing products to existing markets, in order to increase market share.
Product development means growing through existing customer segments by offering new products to them.
Market development refers to selling existing products to new customer segments.
Diversification involves developing new products for new markets.
At Dixons, product development often results from working with manufacturers to bring customers new types of goods, like exclusive models, or services like specialist 'mini-stores' within the main outlet.
In this case study we examine two recent growth strategies employed by Dixons, i.e. market penetration through the development of the Dixons xL concept, and market development through Electro World.
The importance of market research
An essential part of market growth strategies is to make sure that you know what your customers want (the product), and then to provide them with it - where they want it (place), at the right prices, supported by the right sorts of promotion and advertising.
Market research is the process of researching your customers and the market. Market research enables a company to minimise its risks. Entering a new market always involves risk because it means entering the unknown.

For Dixons this involved desk research into consumer trends (e.g. examining existing surveys of consumer buying habits in Eastern Europe, and figures relating to income and expenditure), as well as 'on the ground' primary research. This included, for example, discussions with local affiliates of the global manufacturers that Dixons already purchases from and meetings with other UK and international retailers to learn of their experiences.
Before going ahead with a new development Dixons cross-references the different types of research (both internal and external) to make sure that all the results agree and it can be sure that it is making the right business decisions.
A SLEPT analysis for Electro World
Communism in Eastern Europe collapsed at the end of the 1980s and since then a number of countries have moved rapidly towards developing Western European style economic systems with free markets.
Hungary and the Czech Republic have been leaders in economic reform and welcoming of business links with Western European companies. They join the expanded European Union in May 2004. The two countries are considered politically stable and have a growing business culture (e.g. an established Stock Market, companies with shareholders, and sound legal structures for enforcing business contracts).
Before developing a new business strategy it is always important to carry out an environmental analysis termed a SLEPT analysis. The purpose of this is to identify opportunities and threats in the business environment that may affect the likely success of alternative strategic options.
In deciding whether to expand into Eastern Europe and which markets to enter, the analysis included:
Social factors included changing consumer patterns as those consumers began to demand lifestyles associated with modern societies - e.g. access to consumer durables such as washing machines, CD players, TVs etc.
Legal factors included comparing different legal structures between countries and also the degree of risk provided by organised crime.
Economic factors included the rising standards of living in these countries, coupled with the availability of workers to staff the new stores, and prevailing wage rates. The widening of the European Union in 2004 means that the economies of these countries are more likely to be buoyant into the foreseeable future.
Political factors include the welcoming of new businesses by governments to help reconstruct their economies on western lines.
Technological factors relate to the competitive advantage that Dixons is able to gain over rivals in offering modern sophisticated consumer electricals and other products from its worldwide sourcing, which are well in advance of local competition.
Clearly therefore there were many opportunities to be seized.
At the same time Dixons had much to learn because the business and commercial culture of these countries were quite different from that in the UK and elsewhere in Western Europe where it had existing operations. Dixons was prepared to seize this challenge and recognised that there would be difficulties, both in adapting to new ways of working and in introducing Dixons own best practices in retail into these countries.
Dixons carried out extensive research to check the future and stability of reforms in these countries. In moving into Eastern Europe Dixons wanted to enter economies where disposable incomes are relatively high so that consumers have more money to spend on electrical products. Working with partners in the Nordic division, Elkjøp, they found that Hungary and the Czech Republic provided the best initial market opportunities in which to pilot a new store format.
Electro World has proved a tremendous success and when the first store opened in Budapest (Hungary), selling products much like those found in a UK Currys store, a queue built up for five miles from the city centre. The stores bring together the best elements from the Group's businesses across Europe selling white goods, brown goods, consumer electronics and PCs etc.
Dixons xL
Since the first Dixons store was opened in 1937 the range of products has grown enormously. However, the size of stores has not grown in the same proportion, and customer choice in individual stores has been limited by the space available for display. Dixons therefore is now piloting a new format of store which offers a much wider range of products under one bigger roof.
Dixons xL builds on the best in Dixons Group. It began by comparing the most successful product ranges in each chain with a traditional Dixons range. Where research showed likely strong demand, new product lines were added into the bigger xL space and existing ranges expanded to offer customers greater value and choice in one location.
Bigger retailing spaces also enable significant store design changes to showcase the latest retailing concepts. xL stores feature large-scale displays, increased interactivity and special promotional areas, adding excitement and interest to the shopping experience.
Strong relationships with existing suppliers keep xL stocked with the latest 'must-have' technologies, but Dixons has also pioneered new partnerships. Small specialist 'stores-within-stores' add variety and increase the number and type of customers.
Dixons research has shown that there are tremendous economies of scale to be gained from operating large high street outlets like xL. The following illustration shows how the rent per square foot is slashed as a result of trading on such a large scale. Compare the rent per square foot at 5,000 sq feet with 35,000 sq ft.
A number of different locations were analysed, and locations were chosen which offered a combination of beneficial factors, including for example shorter than normal leases which reduce the risk associated with introducing the new format and high levels of local economic activity, which increase the population of high-tech consumers. As with Electro World in Budapest the first new Dixons xL store, in Cardiff, exceeded expectations when it opened in August 2002. More new stores have since opened with the largest yet, in the refurbished Bullring shopping centre in Birmingham, opening during August 2003.

Using the new xL format Dixons has significantly lower rent per square ft, while at the same time providing the widest consumer electronics range proposition. If the pilot proves successful, it is likely that more stores will trade in the xL format, offering more space in fewer key locations, both improving profit margins at store level and, potentially, offering cost savings through a reduction in the number of smaller stores.
Conclusion

Dixons has grown from strength to strength by careful analysis of its market environment to identify the best opportunities in terms of developing its markets e.g. Electro World in Hungary and the Czech Republic, and increasing market penetration, through creating its Dixons xL proposition in the UK.
The net effect is to create more opportunities for its employees, better choice for customers, and better value for its shareholders.
DSG international | Pursuing a growth strategy