Introduction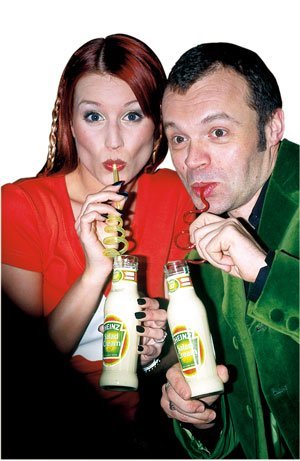 Food manufacturing is becoming increasingly competitive. Consumers can now choose from a wide variety of products. Choice and price competition means that manufacturers can no longer rely on customer loyalty. Moreover, consumers are now more experimental in their eating habits and, therefore, less predictable. Even a household name as well known as Heinz is subject to the same market conditions as lesser known manufacturers.
Heinz Salad Cream, one of the company's best known brands, was showing signs of losing its previously high market share. The salad cream sector as a whole was in decline. Competition from new, or substitute products, particularly mayonnaise, had over-taken Heinz Salad Cream's position as the number one choice for salads.
Heinz Salad Cream is made from a recipe wholly developed in the UK and was first launched in 1914. Until the 1940s it was the only salad cream on the market. The 1950s and 1960s saw the Salad Cream sales peak. However, by 1990 Salad Cream and mayonnaise shared the market equally. By 1996, mayonnaise was in the lead, and by 1998 Salad Cream sales stood at £40 million compared to £72 million for mayonnaise.
The market for salad dressings is worth approximately £129 million and is growing at around 9% per annum. This growth has been fuelled by healthy eating trends. Heinz has consistently held over 50% of the market for salad cream. As of 1998 the figure for Heinz was 59%, whilst its nearest rival held only a 20% share.
Growing popularity
Salad cream is eaten by a broad spectrum of consumers, but is readily substituted by other salad dressings such as mayonnaise. The number and growing popularity of food dressings in general were undermining the market for salad creams in particular. The drift away from salad cream towards dressings caused Heinz to examine its Salad Cream's future. One option was to discontinue the product altogether; the other was to invest significantly in Salad Cream to give it a new lease of life. Consumer research favoured the latter. Consumers enjoyed the taste of Salad Cream, but needed to be made more aware of it.
This case examines how Heinz created a marketing campaign for its salad cream which focused on winning new customers and increasing demand within the salad cream sector as a whole.
To help explain the success of the campaign two key marketing concepts will be used: the marketing mix, and product life cycles. These will be covered once the market conditions and campaign details have been examined.
Market research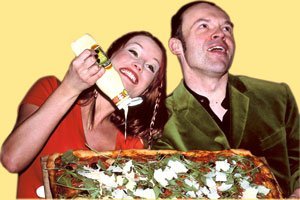 The overall marketing objectives were to:
target the 20-30 age group in particular and younger consumers generally
create a sense of individuality about the Heinz Salad Cream brand that is 'quirky' and fun
widen consumption of the product beyond merely being a dressing for salads.
Research focused on two key areas: firstly, how best to appeal to consumers in their 20s and 30s; and secondly, to establish just what perceptions consumers held about Heinz Salad Cream. Research findings showed:
Heinz Salad Cream was associated with the lifestyle of a past era.
Heinz Salad Cream had an advantage over mayonnaise in that it was thought to add flavour, not just moisture.
The essence of Salad Cream was that it had a distinctive bold taste that "livens up" dull food.
The Heinz name was associated with quality and trustworthiness.
The product had individuality in terms of its sharp and tangy taste.
The target group of 20+ years of age liked to establish its own individuality, but within the safety of a like-minded peer group.
The shopping habits of this target group are spontaneous; they have less budget constraints than housewives and buy what looks interesting on the day.
The home eating habits of the target group are very functional. Food basics such as pasta, bread and potatoes are flavoured with whatever inspires them at the supermarket.
Substitute products to Salad Cream include mayonnaise, salad dressings, sandwich spreads and tomato ketchup.
There was a feeling that Heinz had neglected the Salad Cream brand by failing to support it.
It was decided, therefore, that a major investment was needed to introduce a whole new generation of consumers to the product. It was also hoped to win back those who may have deserted Salad Cream for other dressings.
Acting on their research findings Heinz decided that:
It would not alter the product itself, but would re-package it in new fluted bottles, based on the original shape, with bright eye-catching labels to give it a contemporary image.
The way Salad Cream could liven up otherwise dull ("wallflower") food would be emphasised.
In the future, Salad Cream would no longer be associated with just salads, but with any foods chosen by the individual. Its promotion would be re-integrated in such a way that anyone could use Salad Cream with any food they liked.
Clearly, the campaign team had built its marketing objectives on the findings from the research. The next step was to decide upon the most effective way to promote the product.
Promotion

In March 2000 Heinz launched a £10 million campaign involving:
radio and television advertising
posters and press
a dedicated internet site
sponsorship deals
promotions campaigns
public relations and sampling campaigns.
Each medium shared the same unifying theme: "Any Food Tastes Supreme With Heinz Salad Cream". Posters, press, magazine and bus-side advertisements accompanied the television campaign.
TV
A new advertising campaign was launched on national television in April 2000. Humorous advertisements were designed to illustrate how the young and 'young at heart' could turn dull food into a tasty treat.
The television campaign featured two humorous stories. The first one, known as "Pizza", shows how Heinz Salad Cream can make any food taste supreme. A young man is surprised to find a slice of pizza stuck to his bedclothes and takes it into the kitchen to throw it away. But instead of throwing the pizza slice in the bin, he smothers it with Heinz Salad Cream and eats it.
In "Sandwich", a woman is puzzled when she returns to the kitchen having been forced to answer the telephone that her partner has left to ring. The cucumber slices she had been using as part of a face-pack have disappeared. As the viewers have already seen, her mischievous partner had slipped the slices inside the sandwich that he is making, topped with lashings of Heinz Salad Cream.
Radio
Three new radio commercials were also created, again built around the idea that "Any Food Tastes Supreme With Heinz Salad Cream". This claim was included in all the advertisements as a common, unifying catchphrase, in an attempt to get it to stay in the mind, through its rhyming simplicity.
Heinz took an unusual step for a grocery brand that of advertising on radio. Advertisements, using well known songs, playfully suggest that Salad Cream can make even the most unlikely meals e.g. pigeons, rats and ducks – taste good. This fun approach was, yet again, an attempt to illustrate the campaign's unifying features of product versatility and its beneficial effects on "dull" food.
Website
A full-screen cartoon style site, making full use of the latest technology was created for the campaign. The site is interactive, encouraging visitors to surf around, tell and share jokes, engage in games, download MP3 audio files, make and receive recipes and engage in quizzes.
Sampling and on-pack promotions
A nationwide Salad Cream sampling team went into action to remind people of the product's taste. Free samples of everyday foods topped with Salad Cream helped reinforce the versatility of Salad Cream. Venues were chosen which were frequented by a 20 something audience e.g. Notting Hill Carnival, V 2000, T in the Park, Mardi Gras.
The idea of new repackaged Salad Cream bottles included some which would "scream" when opened, letting consumers know immediately that they had bought a prize-winning bottle, an attention grabbing device. Prizes of action holidays, days out and a 2 for 1 offer were chosen to appeal to a younger target market.
The Heinz Salad Cream Comedy Tour took the product on the road to raise its public profile. The 20 date nationwide tour enabled sampling amongst the audience as well as exposing them to a total brand experience. The tour was supported by radio and newspaper promotions which reached a large number of consumers.
Product life cycle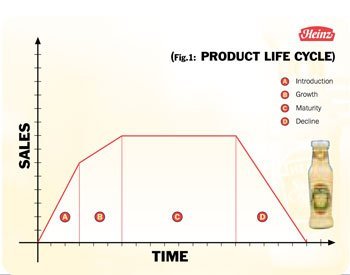 An important marketing concept is that of product life cycle, sometimes referred to as simply PLC. All products go through a life cycle. Starting with the product first being introduced into a market, to the point when the product is removed from the market, it is said to go through various stages. These stages refer to its popularity and sales.
First, there is the introduction stage, followed by a stage when the product grows in sales. After this stage, the product reaches a point when its sales are at a maximum, and this is known as the mature phase. As time goes on, however, consumer patterns change and product sales begin to decline. At this point a manufacturer has to decide whether or not to let the product die (remove it from the market), or to invest in further promotion.
Heinz was faced with exactly this dilemma in respect of Salad Cream. It had been introduced in 1914 and enjoyed a growth phase up to the 1940s. For about 30 years, up to the 1970s, Salad Cream sales were in their mature phase. By the 1980s and 1990s sales and market position began to decline. In 2000, Heinz decided that rather than allow one of its most important products to die, it would invest in a new £10 million promotion campaign to reverse declining sales, and push Salad Cream back into its mature phase.
Marketing mix

Another marketing idea of use in the analysis of how Heinz treated its Salad Cream brand is that of the marketing mix. All goods and services are said to have a marketing mix, which usually involves four aspects. These are its:
product
price
promotion
place.
The product involves all its particular features and benefits. It can be seen from the Salad Cream campaign that a decision was taken not to alter the taste of salad cream and only to change the bottle shape and packaging. Hence, the product aspect of the marketing mix was left relatively unchanged.
In the case of Salad Cream the price aspects of the mix were altered: price was increased, because focus group research supported the view that a price increase in Salad Cream would be acceptable to consumers. Promotion aspects were considerably changed. The advertising and promotional campaigns described above were extensive. Finally, place within the marketing mix was also unchanged in terms of the places where consumers could buy Salad Cream. No new sales outlets or distribution points were suggested by the campaign team.
Conclusion
The enormous effort that Heinz put into re-launching Salad Cream was designed to introduce the product to a younger consumer group, and to arrest declining sales. The means to achieve this involved mobilising the talents of a campaign team, which then set about re-defining the range of uses to which Salad Cream can be put. The marketing theories which help explain Heinz's actions are to be found in the marketing mix and product life cycles.
Heinz | Re-launching a product