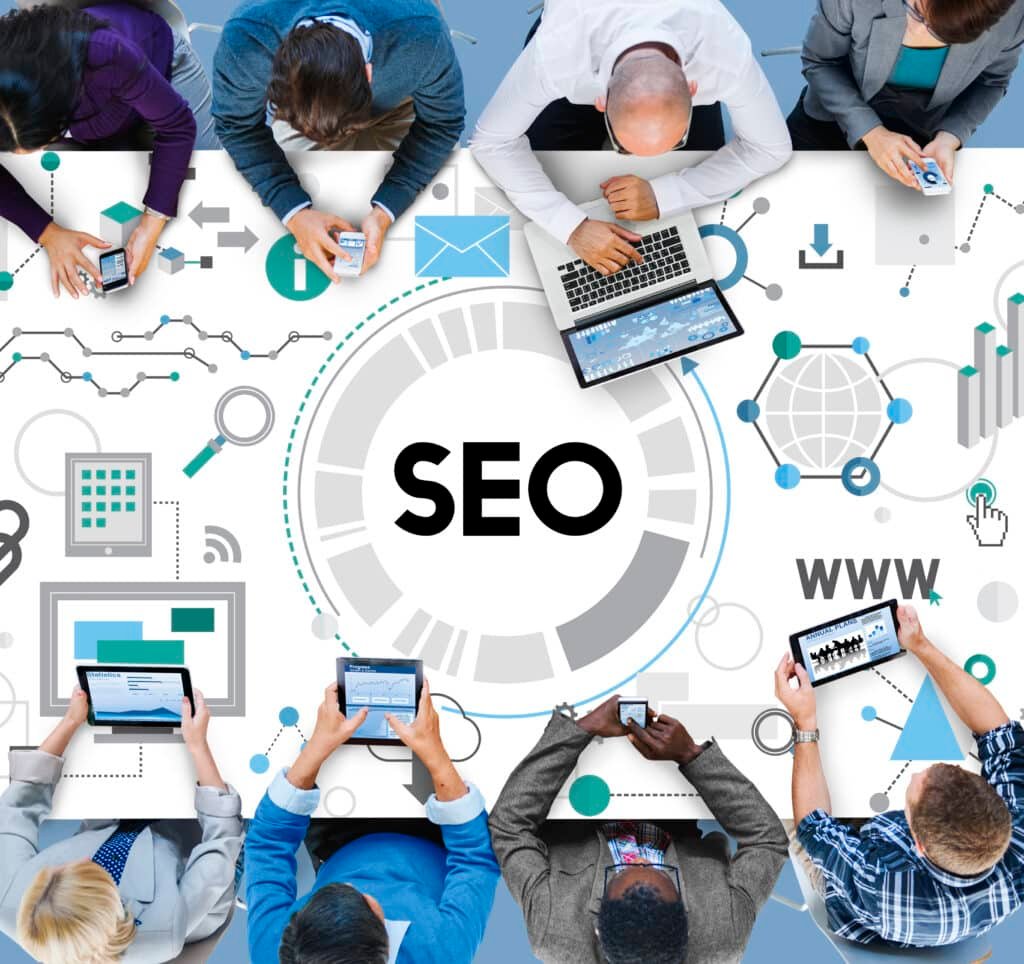 What is SEO Keyword Research?
The success and efficiency of any online platform depend heavily on its ability to attract visitors.
While companies employ various marketing techniques, such as backlinks and YouTube ad campaigns, most traffic to a website comes from search engines. In other words, most of the time, users find content independently by utilizing search terms that correspond with the keywords featured on websites.
Therefore, the effectiveness of a website's search engine optimization (SEO) strategy primarily hinges on keyword research.
By conducting proper research, an SEO specialist can determine which keywords and phrases are most relevant and effective in driving traffic to the website. Afterward, they can tailor the website's content and optimization strategies accordingly to improve its search engine rankings.
Manual and Automated SEO Keyword Research
SEO research can be fully manual or involve using automated tools and appropriate SEO software like Rank Tracker. Most of the time, specialists mix these two techniques to get the best result possible.
Manual research rests on the SEO specialist's personal experience, market knowledge, and careful information gathering. It usually includes several stages:
Brainstorming the general topics related to a client company's website
Expanding these topics and finding new ideas
Creating sets of phrases related to these topics
Manual research of competitors
Manual research of Google's "Related search" section
Additional research and checks of keyword metrics
Identifying potential keywords and phrases relevant to a client company's website and industry.
Automated research provides quantitative data and a precise evaluation of the keywords' efficacy, removing any guesswork. Automated SEO software usually provides the following features:
Existing keywords analysis
New optimization ideas
Search engines rankings
Competitors research
SERP analysis
Keyword ideas records
Reports or infographics.
The Automated Keyword Research: Step-by-Step Guide
In developing an SEO strategy, as well as compiling a comprehensive report, the keyword research process implies the following essential steps:
General website keywords analysis
Detailed website keywords analysis
Competitors' keywords analysis
New keyword ideas
Final report.
General website keywords analysis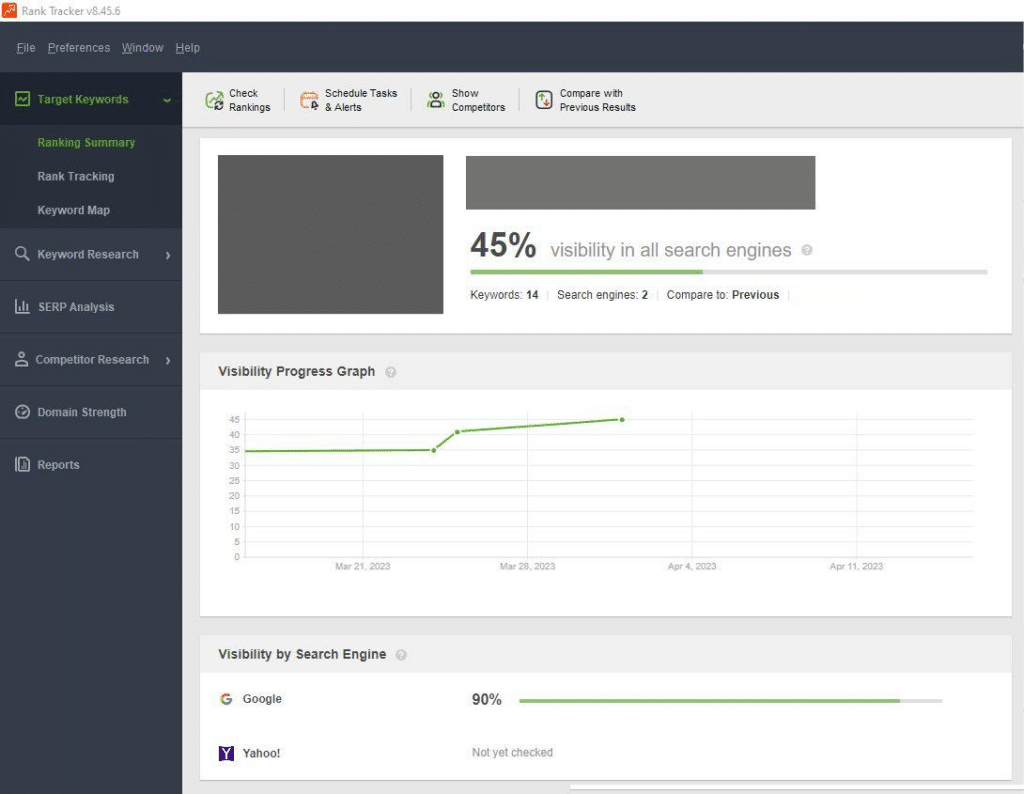 alt = Overall ranking summary on RankTracker
desc = RankTracker overall Ranking Summary, in particular, shows a Visibility Progress graph and specifies Visibility data by search engine
Some SEO software, like Google Rank Tracker, offers a general ranking overview of the target website. Many other ranking tools do not have such a feature, although it provides quite valuable insights.
A general ranking overview can help you with the following:
Check the current keywords ranking summary.
Note the top-5 or top-10 website keywords and rankings.
Understand your target audience.
Evaluate the current SEO strategy.
Before looking for new keywords and phrases, scrutinize the existing content of the website. Analyzing the current ranking keywords is a crucial step in effective keyword research. It allows you to comprehensively understand the online resource, including its strengths and weaknesses.
By gathering 5-10 main keywords, you can determine the most effective approach to keyword research and identify the most popular search requests related to the website.
First of all, it will lead you to an understanding of the target audience's goals. You can gain insights into the target audience and what services or products attract people the most. SEO specialists can use this information to describe the company's strategy and identify the main topics related to your client's business.
For example, the research analysis of the coffee shop chain has shown that the most frequently searched request is "coffee near me." This particular query implies an initial determination of an average user of the service and their needs.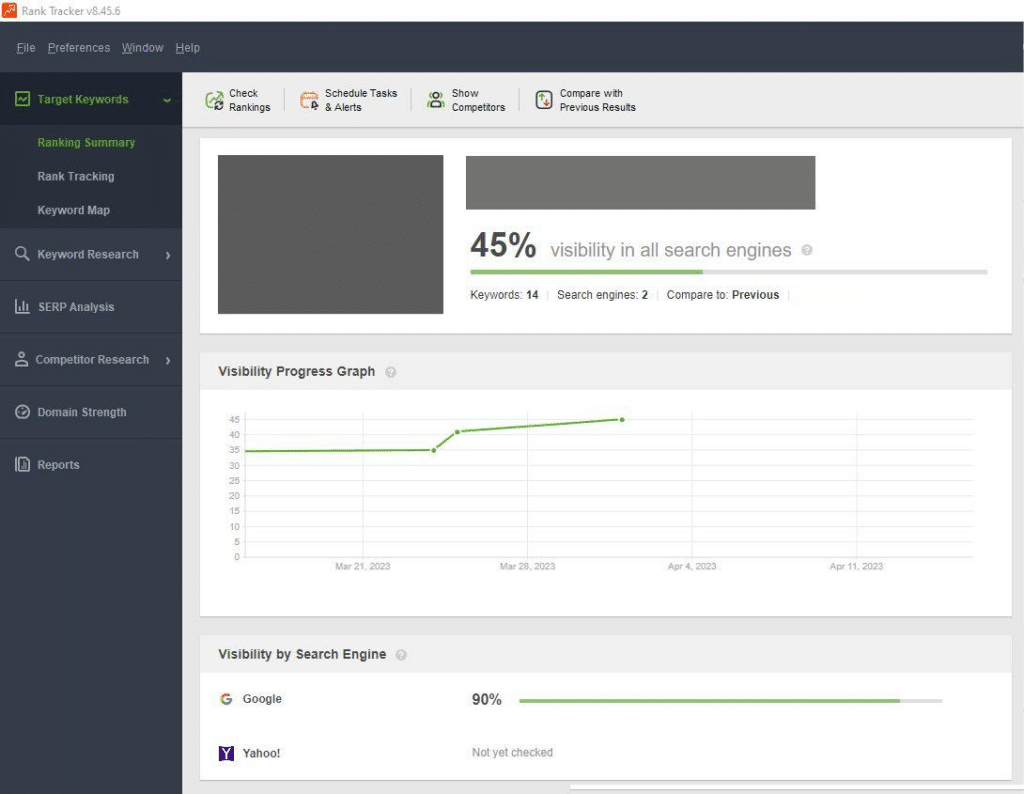 alt = RankTracker Rankings Summary menu
desc = Example of top-5 ranking results on RankTracker
Detailed website keywords analysis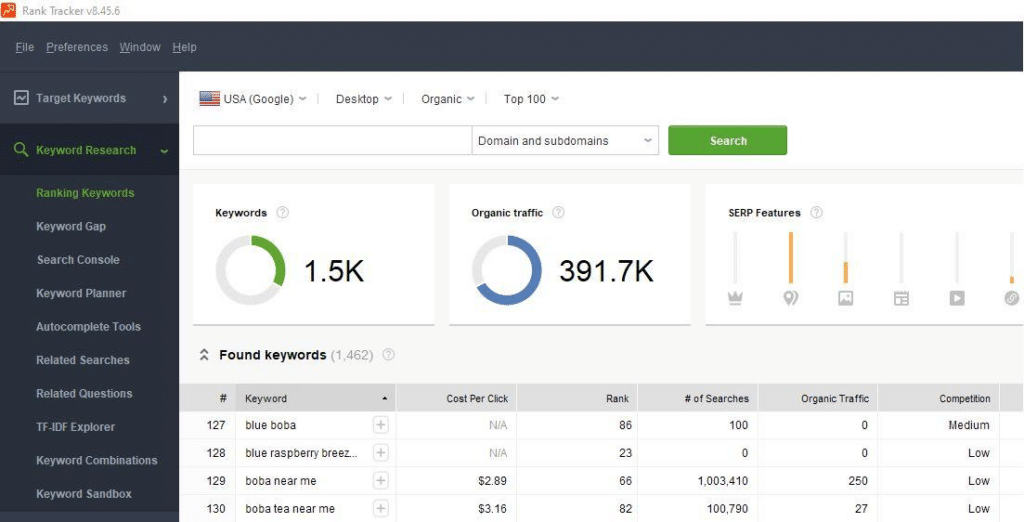 alt = RankTracker Keyword Research menu
desc = Example of the keyword research analysis on RankTracker
Having the overall picture of the resource, start a detailed keyword analysis. For instance, using the "Ranking Keywords" module of the Google Rank Tracker can help you find all the ranking keywords. This module will also show comprehensive stats indicating the number of ranking keywords on the website, SERP features, keyword difficulty, etc.
You can sort the discovered keywords by various parameters and calculate the effective and ineffective ones. In addition, the built-in tools allow you to evaluate keywords based not only on the number of search queries but also on factors like cost per click.
The detailed research enables you to do the following:
Search for the keywords with the largest search volume.
Consider additional SEO parameters.
Check the most effective keywords.
Create keyword groups according to the marketing funnel (for example, Awareness, Interest, Desire, and Action).
Organize the checked keywords into groups to gain insight into which ones generate direct profits, which can capture casual visitors' attention, etc.
Save the results and the best keywords.
When checking some keywords as effective, it is vital to find a balance between all the SEO parameters before saving a keyword to your strategy. For example, some requests can be large in search volumes but have a high cost per click, or their associated content may be failing in terms of user engagement on the website.
For instance, during the analysis of the coffee shop, the request "order green tea" showed a higher cost per click than requests "iced coffee black" and "French press coffee recipe." Besides, the number of searches was much lower. The "iced coffee black" keyword had a great number of searches and an acceptable cost per click. Perhaps optimizing some content for the query on the website using this keyword is a good idea.

alt = Keywords cost per click comparison on RankTracker
desc = Example of the keywords cost per click analysis on RankTracker
Competitors research
Competitors' research is directly related to the website's overall rankings. Therefore, all sites that claim to be competing for your queries in search can be called your rivals. For this reason, it is essential to have a well-defined strategy for outperforming your competitors. Your basic steps should be:
Understand who your competitors are
Take a close look at the Google Top-10. In Rank Tracker, you can do it by selecting Rank tracking — SERP details. You can also employ the "Competitors Research" module and identify your competitors by topics and by keywords.
Evaluate the overall keywords difficulty
Keyword difficulty shows the level of challenge you face when competing for a rank using a specific keyword. A keyword is considered difficult if your competitors already have strong positions using this keyword.
It is essential to strike a balance between choosing keywords that are too challenging to rank for and those that are easy but with low search volumes.
Conduct a thorough comparison of your keywords with those of your competitors
Don't hesitate to take inspiration from the biggest companies in your field. Identify the weaknesses in your keyword set and devise a strategy based on your competitor's best keywords. 
Pay special attention to the keywords receiving a lot of clicks and views. Consider including these keywords on your website as well. On the whole, take note of the features or aspects you can improve upon or implement similarly.
Save the results and the best keywords
For example, this comparison of the coffee shop chain with the world leader Starbucks has revealed the keywords driving thousands of searches to Starbucks but are not present on the target website.

alt = Example of the competitors research on RankTracker
desc = Competitors research via RankTracker Keyword Gap tool
New keyword ideas
Create new ideas
By now, you have likely compiled a list of effective and valuable keywords based on the previous steps. The Rank Tracker software conveniently stores all these ideas and highlights them in a dedicated section called the "Keyword Sandbox". You can revisit this section later to modify the list of keywords and remove unnecessary ones.
Optimizing for existing words may be insufficient, and you will surely need to add new keywords to your strategy. Then use all the tools available to get new keywords, in particular:
Google Analytics
Google Ads Keyword Planners
Keywords combination tools
Autocomplete tools.
For example, you found out earlier that the target request for the coffee shop site is "coffee near me." Learn all the variations the customers could use along with the main keyword.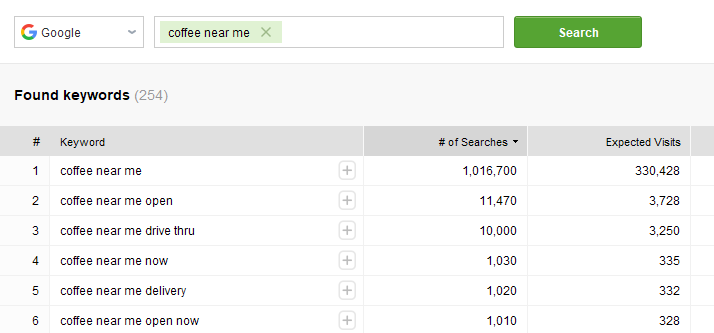 alt = Example of the RankTracker Autocomplete Tools work
desc = RankTracker Autocomplete Tools used for the "coffee near me" request
Explore the related search and related questions
It is common for website creators and advertisers to be unaware that visitors may be interested in topics not directly related to their site. By conducting this research, you may get ideas you have never thought about earlier.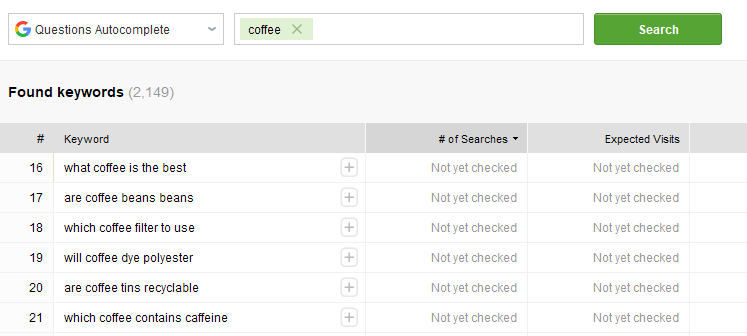 alt = Example of the RankTracker Questions Autocomplete
desc = RankTracker Questions Autocomplete used for the "coffee" request
At the end of the research, assess the efficacy of the newly identified keywords by employing SEO metrics like expected visits and cost per click. Group the keywords according to the selected strategy and save the most promising concepts for future use.
Find the best keywords
It is important to carefully review the list of keywords and select the most appropriate for the chosen strategy to finalize the analysis.
Additionally, it is recommended to evaluate the entire list of keywords created during the research process and group (or regroup) newly discovered keywords and those found on the website. Afterward, you can incorporate the most effective keywords into the content.
Get a report
It may also be necessary to create a research summary report. This document can serve as a reference guide for incorporating the selected keywords into future content and marketing strategies. You can find the Save, Share, and Publish options on Google Rank Tracker in the Reports menu.
Performing comprehensive keyword research is crucial for optimizing your content and effectively reaching your target audience. By carefully analyzing and selecting the most relevant keywords, you can increase your online visibility and drive more traffic to your website.
Summary
Looking for ideas for an already-launched project? Or maybe you want to create a new web product? Keyword research is a must in any SEO strategy. This unique tool allows you to assess your competitors' advantages and set up flawless targeting. Test new tools, improve your SEO expertise, and always study the needs of your target audience! Keyword research is the very first and best thing you can do to achieve success in content optimization.