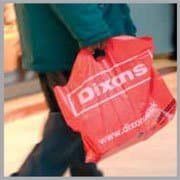 DSGi is the leading European specialist retailer of consumer electronics. In the UK the Group includes the well known chains of Currys, Dixons, PC World and The Link. Group turnover this year will exceed £7 billion, one third of sales coming from stores in 14 Countries outside the UK. This reflects the Group's strategy of European expansion.
In 2005 Dixons Group plc changed its name to DSG international plc to reflect more accurately its international makeup. Today the original Dixons chain contributes less than 5% of total sales.
DSGi deals in a broad product mix. The range includes plasma and LCD TVs, domestic white goods, PCs, peripherals, digital photography, games consoles, iPods, MP3 players, mobile phones and small domestic appliances, such as kettles, irons and toasters.
The markets in which DSGi operate are intensely competitive. Prices change rapidly and no retailer can afford to be uncompetitive on price. To distinguish from its competitiors, DSGi has initiated policies to develop and maintain customer relations through the provision of comprehensive before and after sales services. The Group's mission is "Being the Best".
The five key points of this philosophy are:
Operating with honesty and integrity.
Giving outstanding service to customers.
Respecting colleagues.
Continually seeking ways to improve performance.
Working together to beat the competition.
This applies to all the Group's activities, e.g. deliveries, repairs and customer service, to match or beat customers' expectations. It has developed policies and procedures to ensure this is achieved.
What is consumer protection and what does it do?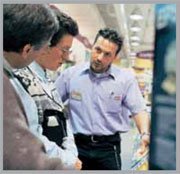 A market is where buyers and sellers come together to engage in business. Sellers seek money from sales, consumers wish to buy something they want or need. The situation suits both parties, as long as they both gain from the exchange.
Â
Buyers want to buy products at the best price possible. However, in order to stay in business, retailers must ensure that they make a profit by selling products at a price which covers all costs and provides a profit for risk taking and future development. Costs include the price at which the product was purchased, staff costs, store operation costs, delivery and other overheads. Buyers have a right to expect that the goods are safe, properly described, priced correctly and will continue to work for a reasonable period of time.
Â
Reputable companies like DSGi recognise that the customer has the right to expect these things as a basic minimum. However, in a totally open uncontrolled market rogue traders could mis-describe products deliberately, sell damaged, unsafe or unfit products to customers who would have no redress.
Â
In order to control the market, the government has introduced a number of laws giving customers rights about the quality of the goods they buy. It has created criminal offences if sellers mis-describe, charge the wrong price or sell unsafe products.
Â
The main consumer protection laws in the UK are:
Sale of Goods Act 1979 (with amendments) which gives customers their fundamental legal rights which cannot be excluded or taken away.
Trade Descriptions Act 1968, which requires a trader to describe goods accurately.
Consumer Protection Act 1987 which deals with both pricing and product safety.
There are many other laws which control credit, the sale of age restricted products (e.g. DVDs and videos) and specific laws relating to different sectors of the economy e.g. food, alcohol and medicines.
Sale of Goods Act 1979 (amended in 1994 and 2002)
This Act gives consumers protection against faulty or unreliable goods. At the time of sale, goods must be as described, of satisfactory quality and fit for the purpose for which they were bought. If a product is faulty at the time of sale or shortly afterwards, the customer has a right to reject the product and claim a refund.
After a period to try out the goods, (which may be a few days or weeks depending on the item), the customer loses the right to an automatic refund. S/he can ask for a repair, a replacement or a refund depending on what is reasonable in the circumstances.
DSGi recognises that many household products are regarded by customers as essential (e.g. cookers, fridges etc.). As such, it has relationships with all its suppliers to ensure that where repairs are necessary, they can be carried out quickly and efficiently.
DSGi goes to great lengths to ensure that its policies not only meet the requirements of the Sale of Goods Act but go beyond what the legislation demands. It provides customers with clear documentation at the point of sale explaining how its after sales service works.
DSGi also has its own service operations that deal mainly with repairs to brown goods and PC Servicecall, which deals with PC repairs. PC Servicecall maintain databases of faults or known problems with PCs. This means that problems can be resolved more quickly and efficiently.
The vast majority of PC problems can be solved over the telephone and are due to software problems rather than electrical or mechanical faults. This avoids the cost and delay of having to send out engineers to carry out repairs. PC Servicecall is even able to offer a remote help service, whereby a home PC can be controlled remotely to see what is happening on screen and fix any software errors there may be.
Trade Descriptions Act 1968 and Customer Protection Act 1987
Trade Descriptions Act 1968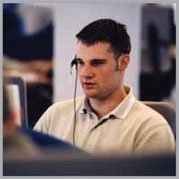 The Act makes it a criminal offence to apply a false trade description to goods. The Act covers descriptions given both verbally and in writing. It covers any factual statement about the physical qualities of the product, e.g. size, capacity, performance, place of manufacture and previous history. For DSGi it is vitally important to ensure that it has a procedure in place, in a fast changing market, to ensure that new products are accurately described when they are put on sale.
DSGi produces around 5,000 advertisements a year, some of which may contain descriptions for hundreds of products. It is, therefore, essential to ensure that all staff involved in production of this material have been properly trained and understand the importance of ensuring that the customer gets accurate and up-to-date information.
Criminal laws such as the Trade Descriptions Act are enforced by Trading Standards officers. They work for local government and have powers to visit stores to check on prices and descriptions. In the event of serious problems, they can prosecute a company through the Magistrates Court or Crown Court. Magistrates can impose a fine of £5,000 for each offence and in the Crown Court the fine is unlimited with the possibility of imprisonment for individuals who are found guilty of an offence.
DSGi recognises the critical role of Trading Standards departments in ensuring that standards are maintained. It works closely with its Home Authority, Hertfordshire Trading Standards. It has recently developed a programme called "Building Bridges". This encourages a dialogue between individual store managers and Trading Standards officers to develop a better understanding and better relations at local level. It is designed to improve DSGi's compliance, the handling of Trading Standards complaints, but most important of all, the customer experience.
Consumer Protection Act 1987
The Consumer Protection Act governs both the pricing of products and product safety. The way in which prices are presented to customers is controlled by a very detailed code of practice. This covers most forms of promotional marketing. There are rules which deal for example with how sale prices can be claimed, introductory offers, recommended prices and free offers.
Product safety is of fundamental importance. A dangerous product, particularly an electrical product, can kill. DSGi recognises this and has its own UKAS approved laboratory to check the safety of a product before it puts it on sale. DSGi also has a buying operation in the Far East and people who visit factories to ensure they have systems in place so that all products are produced to a high quality and to the required safety standards.
Other legislation
Consumer Credit Act 1974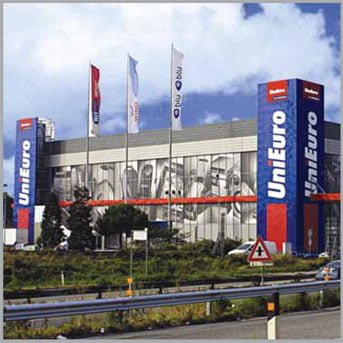 Many consumers make purchases on credit. This helps them to budget and spread the payments over a period of time. All of the larger and more expensive products sold by DSGi are available on credit.
There is a general concern about the level of consumer debt in the UK. There is recognition that credit is a complex area, which some customers have difficulty in understanding. The Consumer Credit Act requires all credit agreements to be in writing and the customer must be given an accurate copy of the agreement.
The Advertising Regulations made in 2004 also ensure that customers are given full and accurate details of the credit on offer. In particular, they must be made aware of the interest rate. The Annual Percentage Rate (APR) shown in advertisements is an interest rate which is calculated in the same way for all types of credit.
Comparison of APRs enables the customer to compare the cost of credit from different suppliers. In order to offer credit the company must be licensed by the Office of Fair Trading. The licence is subject to regular review. It can be taken away at any time if the company is considered to be unfit to hold the licence. The Consumer Credit Act also creates criminal offences for certain breaches of the act, in particular misleading advertising.
Video Recordings Act
The Video Recordings Act makes it an offence to supply an age restricted product such as a video, DVD or computer game to a person under the relevant age. It is enforced by Trading Standards officers who often use an underage person to make a 'test purchase' in a store. DSGi's training ensures that all staff are aware of the law and a prompt on-the-till system appears whenever an age restricted title is about to be sold. This requires the salesperson to ask the customer their age if they appear to be below the legal minimum age.
Extended Warranty Pricing
New legislation came out in 2005 which requires a company to show the price of any extended warranty it offers with its goods. This applies to prices in advertisements, on the Internet, and in-store. It also requires the trader to provide the customer with full information about the terms of the extended warranty and other options which may be available.
DSGi have long recognised that there have been concerns in the market about the value of some extended warranties. It has developed its own products which offer a full and comprehensive after sales support service going far beyond a simple product repair service.
The Competition Commission
The Competition Commission is an independent public body set up under the Competition Act 1998. It replaced the former Monopolies and Mergers Commission. It is empowered to conduct enquiries into company mergers and takeovers and into particular markets.
The Competition Commission's work is aimed at ensuring that markets work well for consumers. It is important that there is fair and unrestricted competition within the market, otherwise a large company which has a very large market share can operate unfairly and may try to fix prices or drive competition out of the market. There are very severe penalties for any company found operating in this way.
It is also important that acquisitions and mergers are monitored to prevent companies becoming so big or powerful that they are able to eliminate competition and act in ways which are detrimental to customers wishes.
Conclusion
DSGi is Europe's leading specialist electrical retailing group. It operates a range of successful retail stores across Europe and is developing a growing Internet business. DSGi recognises that customers have a right to expect good prices, reliable products and excellent service.
To deliver this, DSGi has developed policies and procedures, training, instructions and systems which enable its staff to deliver the highest levels of service. This helps it operate in a way which goes way beyond the requirements of UK law.
It is DSGi's intention to set the standards within the electrical retail industry. Its policy of 'Being the Best' will, it believes, result not just in the growth it is seeking but also continued success in the development of customer loyalty by the provision of excellent service.