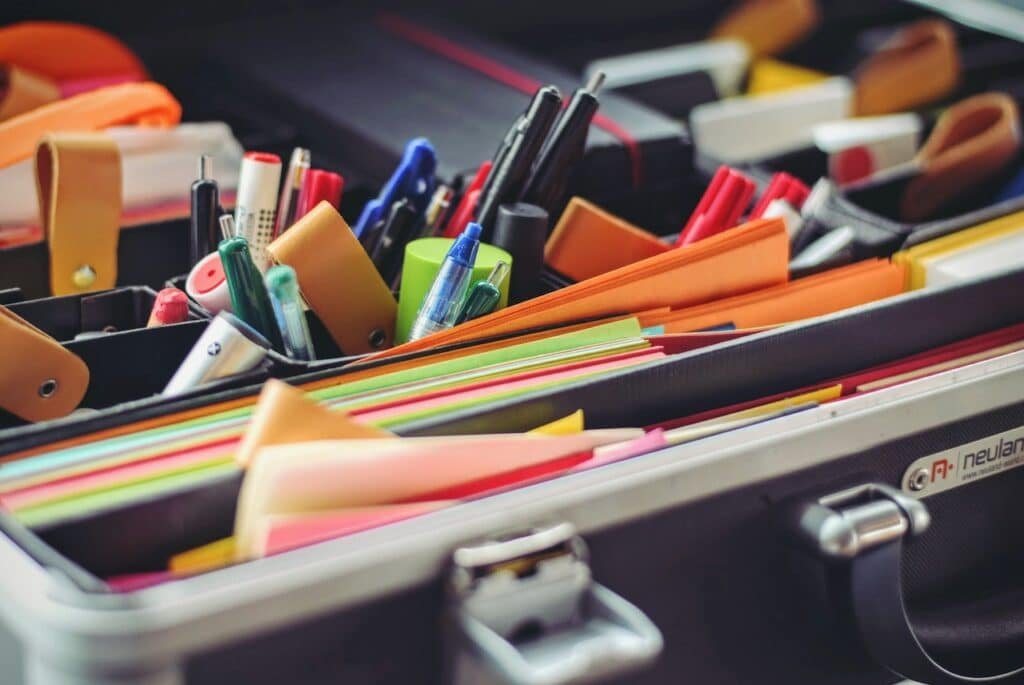 Establishing a new business comes with many challenges and responsibilities. Since companies have different goals, needs, and budgets, you'll have to carefully consider these factors to achieve success. If you're still in the middle of finding out what tools and equipment you'll need for your business, you've come to the right place.

The Role Of Office Equipment In your Business
As an entrepreneur, your main goal is to keep your business running efficiently and seamlessly. Your employees will play a huge role towards this purpose, so you should provide them with the right office tools and equipment to assist their day-to-day work.
Before starting your office operations, make sure to invest in essential office equipment and purchase from reliable office equipment suppliers like Indexoffice.co.uk. With these in mind, here's a checklist of essential office tools and equipment categorized according to their use for your convenience:
1. Stationery
An efficient workflow is paramount to accomplishing your business tasks. To aid your employees in conceptualizing, brainstorming, and organizing—from mundane to intensive tasks —they'll need good quality stationery items. Despite the shift of most businesses to automation and digitization, you'll still have to get these non-negotiable office stationery supplies:
Writing instruments: Pens, pencils, fountain pens, technical pens, markers, highlighters, and correction fluid (nowadays usually found in pen form)
Paper and writing media: Copy paper, cardstock, listing paper, tally rolls, and receipts
Storage and organization: Folders, ring binders, cardholders, expanding folders and binders, suspension files, clipboards, tray organizers
Adhesives, staplers, and punches: Glue, adhesive tapes, tape dispensers, hook and loop fasteners, glue tapes, staplers, staples, staple removers, hole punches
Other desktop essentials: Scissors, laptop and monitor risers, letter openers, notepads, planners, calendars

Besides ensuring your office workflow's efficiency and continuity, having the right office supplies reflects your value for formality and professionalism. While these items may seem like small things, they can significantly increase your employee morale, as they're assured that they're using quality supplies for work.
2. Furniture
An office isn't just a facility for housing your employees during work hours but a space for fostering creativity, productivity, and collaboration. You can achieve these by optimizing your office environment with the proper furniture.
Here are key office furniture pieces and fixtures you shouldn't hesitate to get for your office:
Individual worktables and desks
Communal work desks
Ergonomic office chairs
Conference tables and chairs
Guest sofas and chairs
Good lighting
Storage units like shelves, mobile pedestals, and file cabinets
Tables or storage units for tech gadgets
Fire-safe storage for important and confidential business paperwork

To get your money's worth, your office furniture should be durable, functional, and comfortable, you can also benefit by looking at second hand office furniture. You may notice that high-quality office furniture tends to be expensive, but they're more worthwhile than cheaper ones as they're sourced from premium materials.
3. Technology
As businesses and consumers operate in the digital world, technology has undoubtedly become a necessity for offices and companies. Devices and tools powered by technology are crucial to your business operations as they can hasten, improve, and automate your tasks.
Since your business is still starting small, getting one to two units of the following machinery, equipment, or gadget will suffice:
Uninterruptible Power Supply (UPS)
Computers, laptops, and smartphones
Computer peripherals such as monitors, keyboards, mice, web cameras, and headsets
Printers, scanners, photocopiers, and fax machines
Internet routers and wireless extenders
Docking stations
Software and applications helpful for daily tasks involving productivity, communication, cybersecurity, and the like
When setting up your office with tech devices, you should observe consistent care and maintenance with the following tips:
Always keep these devices and machines clean
Check them regularly for minor defects and repairs
Place your equipment in a safe and ideal location
Use the devices properly according to the instruction manuals
4. Safety Equipment 
Your workplace should be the epitome of safety and comfort. By maintaining a safe and injury-free workplace, you're ensuring that your employees and customers are in good hands, and you can avoid potentially expensive injury lawsuits.
Thus, make sure you pay attention to the following safety equipment to keep everyone safe and comfortable within your premises. Take note that your safety equipment may vary according to the industry you belong to and the level of safety risks present in your office.
First-aid kit
Fire extinguishers and fire blankets
Flashlights
Smoke and carbon monoxide detectors
Warning signs
Non-slip flooring or floor mats
Safety barriers
Personal protective equipment (PPE)
Also, it's essential to recognize potential safety hazards in your workplace to curate safety protocols that'll prevent and mitigate them. Most importantly, educate your employees on the proper use of office safety equipment.
5. Kitchen Equipment 
Lastly, you should consider getting kitchen equipment. While these supplies and equipment aren't directly related to office work, they promote well-being among your employees.
Investing in basic kitchen equipment and supplies such as coffee machines, cutlery and glasses, mini-refrigerator, condiments, fresh fruits, milk, and healthy snacks can help your employees during breaks.
By providing these kitchen items, you're building a second home for you and your employees where they can feel at ease and take a healthy break whenever they're hungry or tired.
Takeaways
Office equipment is of paramount importance to your workplace. Your workplace should be a reflection of your company's value for employees and customers, professionalism, efficiency, and an overall good environment. You can achieve these ideals with the office equipment enumerated here.