Looking for a business website designer? Well, all the good website creators charge a lot, while the cheaper services do not meet your standards. Price vs. quality – that's what it all comes down to. Therefore, the trick is to find an alternative. SaaS (Software as a Service) presents a DIY approach for users who want to save costs. With SaaS services, your digital requirements are met by a piece of software that is not only easy to use, but fulfills your business requirements. However, there are numerous SaaS services out there and you may choose SaaS development as an option. Choosing the right service involves making an informed decision, why not try this handy website builder comparison tool . For that reason, we offer you the details of the top 10 SaaS business website builder services below:
1. Wix

The strength of this business website development platform lies in making the website building process as smooth and s
imple as possible. As a businessman, the presentation of your website matters, and Wix has the perfect solution in the form of 300 templates that add a unique look to your site. The website builder is quite flexible, and allows for numerous customizations. The lack of sticky back-end options makes the entire process quite refreshing and straightforward. You can make the changes you want simply by pointing-and-clicking on a specific website element. Quick sign-up and activation process means you won't be wasting any time. The platform is quite reliable with no major downtimes and rapid loading times. What's more the "ad-free" package is quite cheap, and you manage to stay well within your budget.
There are only two drawbacks worth mentioning. The first is that if you wish to design an online store, you will need to opt for a more expensive package. Plus, there is no option for exporting data from your website, in case you want to switch platforms.
2. SiteBuilder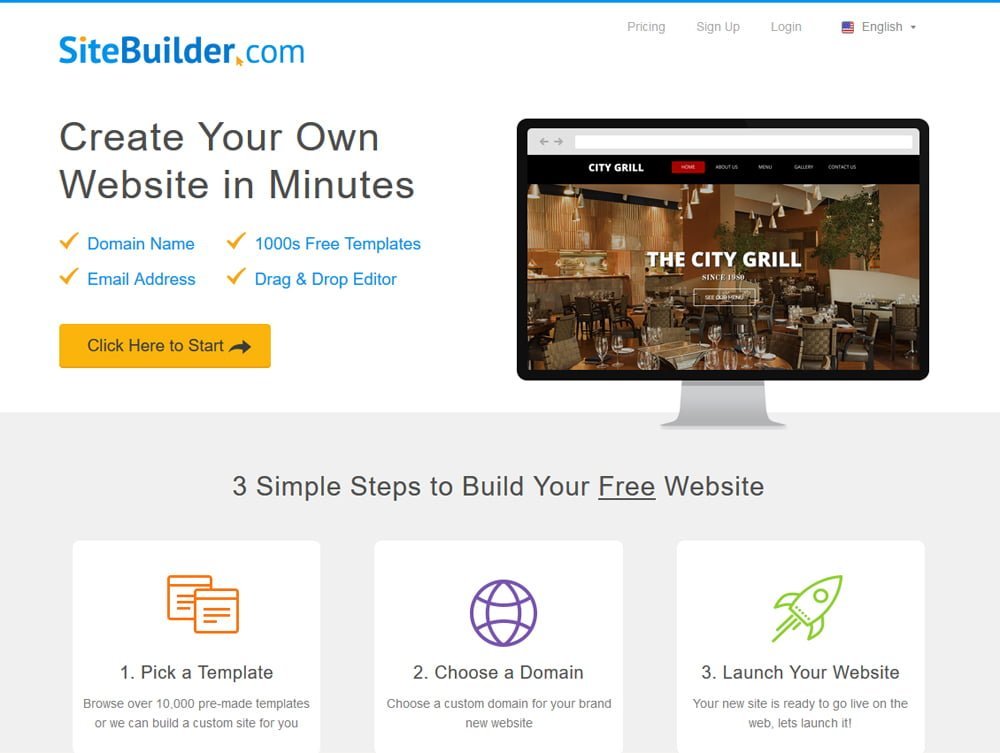 Even users without any web design skills can create a clean, efficient business site with this service. SiteBuilder is simple and intuitive business website builder, one that provides access to a free domain name along with one email account. If the look of your business website is important to you, then you're in luck since SiteBuilder offers access to 1,200 templates. Customization is made easier by the fact that just clicking on a particular page element brings up various options. Sticking to your budget won't be a problem with SiteBuilder since it is among the most inexpensive builders in the market right now. This platform not only lets you build a blog, but has a "Save History" feature too. These unique additions help SiteBuilder stand out from the competition. The only drawback is the late activation of your account.
3. Weebly

A lot of eCommerce website owners prefer Weebly over other online web builders, and with good reason. This platform provides you with everything you need for setting up a professional web store. Selling your services and products online will no longer prove a difficult task when you've got a Weebly-designed website. The signup process is easy, and despite a steep learning curve, you soon get the hang of it. There are almost 80 themes to choose from, and in exchange for a monthly fee, you can host an eCommerce store with more than 25 products. The performance of the website is smooth without any significant downtime. Once you complete the instant signup and activation process, you get access to free email. The unique drag-and-drop options of this builder allow for easy customization of pre-built features. So, you face no problems while adding texts and images, slideshows, etc. You can change the elements to a certain extent.
4. Squarespace

Squarespace is one of the best web builders for business. There are plentiful amazing website templates to choose from, which makes this website creator ideal for bloggers, restaurants, artists, and photographers. The designs of the templates are usually simple but sophisticated, with striking visuals and large image sizes to draw the focus of the visitors. There is a 2-week trial period, which you can opt for without a credit card, but at the end of the term, you have to upgrade to a paid plan. This website builder even features a wonderful community knowledge base where you are free to post questions and seek assistance regarding Squarespace usage. The reason why so many people sign up with Squarespace is often due to the free domain name and the high level of privacy. This platform allows you to form a website, a blog, or an e-commerce business without any sort of limitations. The page loading times and uptimes are quite decent. Your account gets activated almost instantly.
5. BoldGrid

WordPress is a powerful platform, one that is chockful of features, which makes it highly coveted by developers and designers. This unique website builder is based on the WordPress platform. Even though it is technically a CMS, this is one of the most efficient website creators right now, being used not just by beginners but veteran users as well. BoldGrid lets you utilize the power of WordPress for creating your own website quickly and efficiently. There are hundreds of templates you can choose from, all of them with advanced features. While BoldGrid is technically free, you still need to pay for web hosting services. The learning curve is pretty steep, and you might have to invest some time to fully understand it, but it is totally worth the effort. This website builder has almost 3,000 themes on offer, and being WordPress themes, they are highly customizable. Pricing is quite cheap, and you also receive unlimited email accounts, a free domain, as well as the capacity to establish your own eCommerce store.
6. Jimdo

The Jimdo website builder gives you the perfect opportunity to create neat and contemporary business websites. Despite having just 17 themes, you do get great performance, and your website goes live within the hour. You have the freedom to add images and text, and alter the color scheme. However, if you wish for something more advanced, you might find it difficult to make extensive changes on this platform. There is a limit to the number of eCommerce product options you can display if you're using Jimdo for free. However, a monthly fee gives you access to unlimited product choices.
7. Yola

The reason why many users still prefer Yola is the templates. There are 215 of them, and most of them have a classic aesthetic. Customization, however, is quite limited on this platform. Building an eCommerce shop means having to pay an additional monthly fee. You will also have to shell out an annual sum of money for every email account. The signup and activation processes are near-instant, which is always indicative of quality, reliable business.
8. Doodlekit

Doodlekit offers a free trial to new users. This website builder includes a domain name as well as unlimited email accounts. There are no hidden costs, and you can access a library of almost 170 themes. You must shell out a monthly fee for an eCommerce shop. Account activation is quick, but you might have to wait a while before your domain verification is complete.
9. Webs

This website builder has a massive selection of nearly 500 themes, which makes customization easy. Add to this the fact that Webs has a drag-and-drop menu, and editing your website becomes a breeze. There are also some other elements like widgets available for users. The eCommerce store has a 25 product cap, but if you wish to remove any limitations, you can opt for a monthly package. Activation is moderately fast, but the average load time could have been better. Webs provides a free domain name along with three email accounts.
10. Ucraft

This is a block-based site builder. This means websites can be built by stacking blocks in vertical fashion atop one another. Thus, Ucraft is bound to attract users with an eye for design and aesthetics here. There are different effects you can add to the blocks for added impact. You're able to add various fields and integrate your form with Google Docs or Mailchimp.
The website builders described above all have their share of pros and cons. But they represent the best the industry has to offer at the moment. So, if you're interested in a SaaS website builder, choosing one among them is your best bet right now.