Businesses do not operate in isolation. They are constantly faced with internal and external factors that impact on the dynamics of their operations. Monitoring the external environment is vital to identify changes that could affect the business operations. Being able to address and adapt to these changes ensures the longer term survival of the business.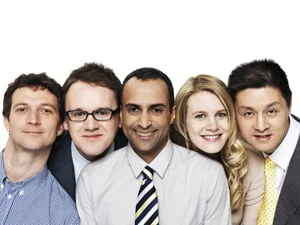 Logica is an innovative IT services organisation that brings people, business and technologies together. Logica employs more than 41,000 people and has clients around the world in a variety of industries including automotive, oil and gas and manufacturing. Logica's services aim to add value for clients through, for example, improving efficiency and productivity or reducing waste.
This case study illustrates how Logica monitors its external environment using PEST analysis. This is a structured business tool that looks at the political, economic, social and technological influences affecting a business. By auditing and monitoring these influences, Logica can be proactive in ensuring it remains competitive by adapting its own business and by generating innovative and unique solutions for its clients.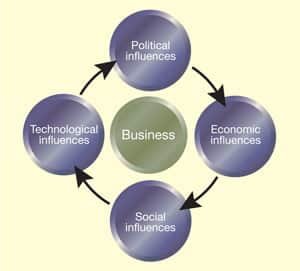 For businesses to stay ahead of their competitors, they have to deliver innovative products and services. Logica works with customers to aid business development. For example, Logica has provided:
the automated ticketing system for London Underground
the outsourcing of IT and technical applications for Taylor Wimpey, the UK house building business
business applications for the Ministry of Justice's Courts, Tribunals and offices
the design of electronic security services for the UK's Department of Defence
the system for generating Premium Bonds (ERNIE).
Logica therefore requires highly skilled employees who are able to adapt and deal with a range of challenges. The work of Logica is not just about developing technology. It is about getting business benefits from the technology available. It is also about enabling clients to reduce environmental impacts. Logica's experts increasingly provide sustainable and long-term solutions for its customers. For example, it works with governments and automotive companies to develop and promote sustainable methods of transport.
Political factors
Business decisions may be influenced by political factors. For example, recent public sector budget cuts by the UK government and increased university fees are affecting the education sector. For students this has meant making key decisions about how they intend to pursue their careers. This in turn has meant that academic providers need to review how they will meet the challenges of generating income.
Logica identified that these changes in the educational landscape could have an impact on the number of potential employees with the skills and competencies that it requires. For example, it had to consider the affordability of higher education for students and how this could influence long-term development opportunities within the company. The increasing cost of becoming a student may restrict the social mobility of talented individuals and they may then need to consider alternative routes to gaining qualifications and experience.
Sponsored training programmes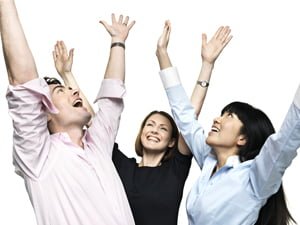 Logica has therefore reviewed its workforce planning. It has now engaged in strategies to ensure it has enough workers with the right skills both now and in the future. To address the changes in the educational landscape, Logica has introduced apprenticeships and enhanced its graduate scheme. Logica has embraced the strategy of direct training as it provides the company with a new pool of talent, with the focus on individuals who have decided to specialise in IT or Computer Science. This is why Logica has embarked on creating Level 3 Apprenticeships in 2012. This widens the range of talented young people that Logica needs and supports the organisation's long-term commitment to career development of its employees.
Also, in 2007 Logica launched a three-year sponsored degree programme with the University of Winchester. The degree programmes BA (Hons) Business Management and BA (Hons) Business Management with IT attract applications from students throughout the UK. These degrees allow students to combine academic study with on-the-job learning. Students spend one day a week studying on campus and four days a week working at Logica. Logica pays the course fees as well as offering students an attractive salary from day one. Upon graduation they can further develop their professional career within Logica.
As part of its sustainable focus, Logica has also responded quickly to government initiatives on climate change and reducing emissions. For example, it has been involved in the government's new Cycle Hire Scheme in London. It secured the contract for the major IT components with Serco, the contractor responsible for designing, building and operating the system. Logica's role is central and focuses on the design and build of the simple-to-use payment system. This is supported by a back office function.
Economic factors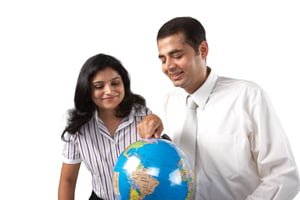 Economic factors change rapidly and are sometimes difficult to predict. The global economic recession has affected how most firms conduct business, perhaps by looking for cost-savings or reducing waste. As businesses focus on areas where efficiencies can be made, some might choose to outsource functions to reduce costs, rather than employing people with specialist skills. This has created increased demand for outsourced services such as those Logica offers. Logica's employees have the specialist IT skills required to offer businesses of all types efficient and effective ways to manage systems and processes.
Logica was selected by BAE Systems, the global defence and security company, to provide a Human Resources outsourcing service for its employees within the UK. Logica works with BAE to increase the effectiveness of its systems and to enhance the efficiency of its operations. This improves how BAE engages with its employees to maximise their potential. This also helps BAE to reduce its costs and focus on growth.
Creating efficiency
The recession in the UK has also heightened the need for the government to cut spending. One example of this is the government's commitment to achieving savings through the better use of its technologies. As a result Logica has been awarded a 10-year outsourcing contract with the Serious Organised Crime Agency. During this contract Logica will manage the Agency's information and communication technologies and related services. This creates efficiencies by bringing together data centres and networks, whilst helping the agency to exploit intelligence and case management more effectively through an integrated system.
Similarly, Logica's services have helped Transport Scotland to put together the largest ticketing scheme in the world. This has involved the installation of new electronic ticket machines on 7,000 buses and 200 bus operator sites. The system processes over 12 million journeys every month and delivers cost-savings in terms of employee time.
Social factors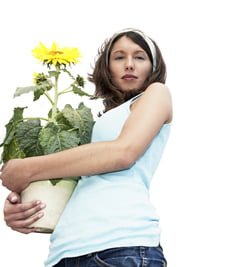 Social factors reflect the constant change in society's interests, beliefs and actions. There are now different working patterns available which allow men and women to balance work and life commitments better. New technology is driving faster and more integrated forms of communication - 25 years ago the mobile phone was just an evolving concept; the personal computer and internet were just starting to make an impact.
The make-up of society is also changing. The UK has an older and more diverse society with people from many different backgrounds and cultures. A diverse workforce brings together people with different skills and competencies. Diversity is therefore a focus of Logica's HR strategy. Logica competes with many other firms for a limited pool of highly talented individuals with good IT and numerical skills. To increase this pool of talent, Logica aims to increase the number of females in its workforce. Within the IT industry, females only account for an average of 16% of the graduates in Computer Science/IT.
Women in the workforce
Logica understands that increasing the number of females in its workforce will bring different strengths. Logica has been heavily involved in driving equality within the workplace. It has supported the Women's Empowerment Principles (WEPs). This is a partnership initiative of the United Nations. It has joined 267 nations across the world in order to improve gender equality. This has helped to empower women within the workplace and the community. To do this they have created a Women's Mentoring Programme aimed at supporting women in their career development. This will ensure that more women rise through the ranks into positions of senior management.
Another way that Logica is addressing this issue is by supporting IT clubs in local schools near Logica's offices across the UK. These clubs promote the importance of IT and demonstrate the variety of exciting career opportunities available within the industry, particularly for young women. By offering a range of different routes into the business and making education more affordable, Logica is able to provide an exciting and desirable option for career development.
Technological factors
The speed of technological advances means that existing electronic equipment, IT processes and systems will quickly become dated. To remain competitive a business must ensure that its processes and systems support innovation and creativity for itself and its customers. Logica has embraced recent advances in technology to offer its clients the most advanced and sustainable services possible.
Cloud technology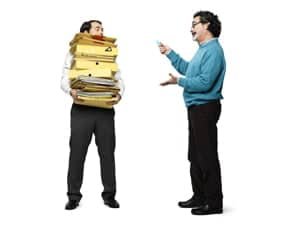 An example of this is the use of 'cloud' technology. Cloud technology allows companies to access and buy into data storage or software 'on demand' through the internet. It enables companies to access a shared infrastructure. This eliminates the need for firms to buy software for every staff member or support a server to store company data and pay for staff to maintain it. This in turn reduces waste in terms of both time and money and can help a business to become more competitive by unlocking capital. This capital can then be invested in other areas.
Logica has also worked with the UK police force to develop the Police National Database. This is the most secure national police system developed to date and only authorised and vetted users will have access to the system. It will make a big difference to policing in the UK as all police forces will now have easy access to key information from forces around the country. The system will make a real difference in protecting people in society.
Sustainability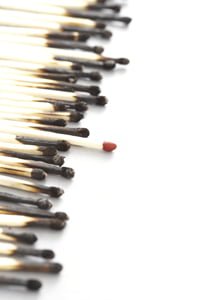 Technology can also help businesses to meet the issues of sustainability. Sustainability is now a high priority and businesses are keen to reduce waste and be more energy-efficient. Using more efficient IT systems can help reduce waste, recycle more or cut carbon emissions. For example Logica has created innovative software for Ford which monitors vehicle emissions. If drivers behave in an environmentally efficient way, they may benefit from fuel discounts. Systems like this help businesses save money through reduced fuel consumption whilst also reducing emissions.
Logica's technology supports its clients in many ways but to do this it needs to be able to offer a dynamic and innovative working environment for its highly skilled employees from diverse backgrounds. Logica's people are key to the technologies that it provides, as employees need to have both the IT skills and an innovative mindset. As an example, graduates within the business may be involved in any part of the organisation, from business consultancy, systems design and development and implementation, to testing the support of new technologies, training or applications management.
Conclusion
The external environment in which businesses operate changes very quickly. Political, economic, social and technological changes all put pressure on organisations. Logica is a global business that provides innovative solutions in data and systems management for its clients, helping their organisations to respond to external factors. The nature of the work that Logica can offer an employee is both challenging and stimulating.
Exploiting opportunities
By monitoring and auditing its own external environment, Logica has also been able to adapt its business to maximise efficiency and exploit opportunities. This has been done through adjusting its service offering to utilise advancements in technology and drive improvements to IT services for clients. In addition, Logica has been proactive in dealing with the political and social influences that have affected the educational landscape. It now offers a variety of entry routes into the business, such as apprenticeships, sponsored degrees and graduate programmes.
The business has created long-term career development opportunities for young people. Logica is also actively addressing the shortage of females within IT. 28% of its recent intake of graduates was female. This is a significant improvement on the industry average of just 16%. Logica hopes to increase this further through its IT clubs in schools, which further promote the exciting and varied career opportunities available within the industry.