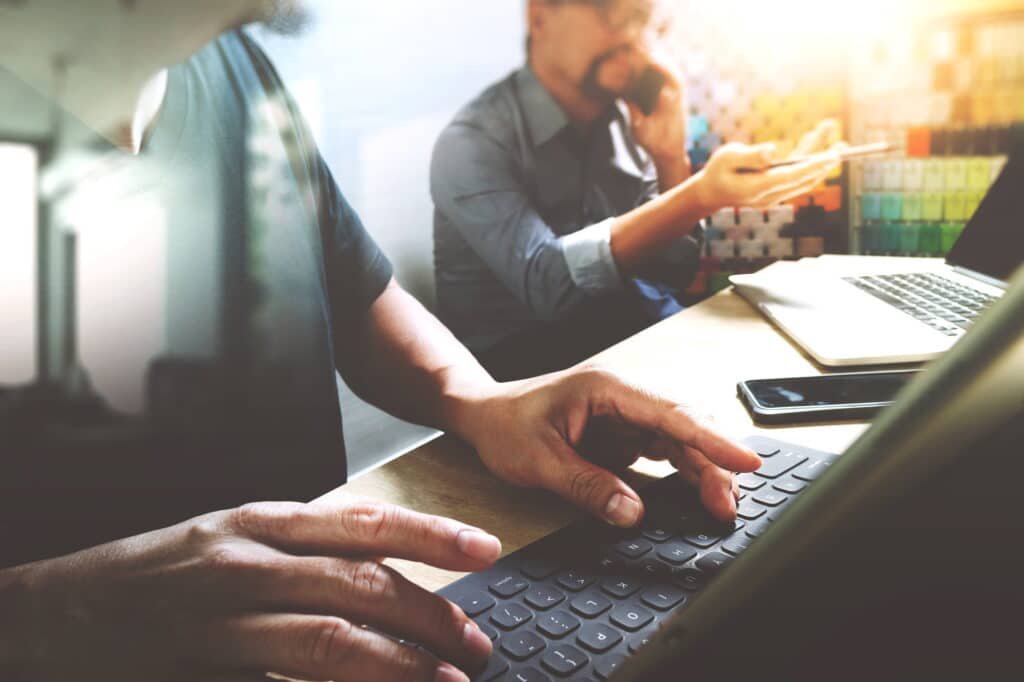 Did you know Netflix started because Reed Hastings forgot to return a movie and was charged $40 in late fees? He was so furious, he decided to rent out movies over the internet. And now we have Netflix!
That's not the only business that started simply out of spite or revenge. But some side project ideas spur creativity and a simple getaway instead.
Maybe someone spurred your revenge. Or you just want a creative escape that can make a bit of money. Either way, there's a side project for you!
Here are 15 side projects people started that had great returns, and blew up.
The Furniture Flipper
If you're a creative person who likes to upcycle, you might want to pick up flipping furniture.
Flipping furniture involves finding cheap furniture and redesigning them. Sources include Craigslist, Facebook, yard sales and garage sales. These pieces are typically a bit worn and in need of new paint or upholstery.
The furniture flipper takes it home and gives it a makeover. It can be soothing and therapeutic to take something destined for the trash bin and give it a new life.
And it's pretty rewarding too, with some great profit margins. For example, Sarah Chen, a school teacher, started flipping furniture just this year. But she brings in $2500 to $3000 a month from it, with profit margins close to 70%.
All while maintaining her full-time teaching job.
Flip Campers
What's halfway between flipping furniture and flipping houses? Flipping campers. Compared to flipping RVs, campers are easy. You don't have to worry about as many mechanical or electrical issues.
So with a bit of research and a lot of elbow grease, you can flip campers for a profit – as high as 70% profit.
Those who flip campers have noticed there's a niche market for vintage campers – 70s and older. They have a quaint exterior that's popular with Millenials. Plus there's not a lot of internal electricity to worry about.
So with a few modern upgrades – think white cabinets and get rid of that awful carpet -, they're easy to flip.
These first two are small one person businesses. But in both cases, they started out as something simple and found an audience. They grew beyond their founder's wildest dreams.
The following examples are truly explosive ideas that turned from a side project to a massive success. 
The Oculus Rift
Palmer Luckey started working on the Oculus Rift in his parent's garage. He had no idea it would blow up, and eventually be purchased by Facebook for $2 billion!
The Oculus Rift was just a side project for him while he worked as an engineer at USC's Mixed Reality lab.
In 2012, he started a Kickstarter project with a goal of $250,000. He was funded $2.4 million for the project.
Kickstarter worked for Luckey, but it's not the only way to get startup funds for your business. You can find more small business financing options here.
And if you've got a great idea, share it with the world. It might be worth $2 billion.
Twitter
Did you know Twitter started as just a side project? Jack Dorsey started the idea while working with Odeo. Originally, it was a platform for Odeo employees. But it launched to the public in October 2006, only five months after its very first tweet.
Khan Academy
Sal Khan started creating brief 10-minute youtube videos about various subjects. He started by tutoring his cousins, but they told him they preferred to see him online.
He didn't let this hurt him, and he ran with the idea. After the videos took off, he quit his full-time job as a hedge fund analyst. He started Khan Academy, an online school where you can learn nearly anything.
Now he has over 100 employees working for him.
Twitch
It's a great time to be alive for video gamers. Just like people like to sit down and watch people play sports, we like to sit down and watch people play video games. Especially if they're good at it.
Thanks to Twitch, we can. Twitch is another million dollar startup that started as someone's side project. It started with Justin Kan, and originally just Justin Kan. It started as Justin.TV where he live-streamed his life.
Then he opened up the platform for other people to live stream their own life. At the time, gaming was just one of many side categories. But when it started to blow up, that's when Justin took his company.
Now videogamers can stream their games – and make money doing it too.
Slack
From the same man who brought us Flickr, we can thank Stewart Butterfield for Slack. It was just one of his many side projects that struck a chord with an audience.
In less than a year and a half, Slack went from a startup to a billion-dollar company.
Groupon
The money-saving group discount platform started as a hobby. The founder, Eric Lefkofsky noticed people banding together to get a cheaper rate. After the 2008 financial crash, everyone was pinching pennies.
Groupon became a way for people to save money on things they loved.
And in only two years, it became worth $1 billion.
Udemy
Another platform to teach people, Udemy started as just a side project. Gagan Biyani, Udemy's cofounder, wanted to get out of IT. So he turned to his side hobby Udemy.
It took off. It's raised over $170 million.
Instagram
Instagram didn't start as the massive photo-sharing platform it is today. Originally, it was designed for people to share whiskey.
But people were using the whiskey platform to share photos. These were shots of everything from whiskey, to everything else.
The founders Kevin Systrom and Mike Krieger took this as a sign. They developed an app where people could share their photos. As we all know, it took off like crazy.
Instagram launched in 2010. Just two years later Facebook bought it for $1 billion.
Apple
Even Apple started as a side hustle. Steve Jobs was working the night shift at Atari at the time. They built their first apple products using discarded Atari parts.
Steve Wozniak was an engineer at HP. Neither of them dedicated full-time energy to Apple, and it started slowly as just a passion project.
Facebook
If you've seen The Social Network, you know Facebook didn't start with big dreams. Instead, it was a college dorm room side hobby.
It started for Harvard students, but spread to other colleges, and of course the entire world! It's now the world's biggest social media platform.
Spanx
Sarah Blakely started her shapewear company in her free time. Her day job was a salesperson selling fax machines.
She researched different materials. She eventually found a manufacturer who would design her prototype.
Finding funding was hard for her though. Any time she had a chance to speak to investors, she was turned down. She knew she had an amazing product, but the investors wouldn't listen. In part, because they were men and this was a product for women.
The first time she talked to a woman in charge, she found people who believed in her product as much as she did.
In 2012, she was named the youngest female self-made billionaire. She had a product she believed in, and she made sure the right people found it.
Under Armor
In college, Kevin Plank hated the way cotton shirts stuck to him when he sweats. So he started researching synthetic materials that wouldn't hold sweat to his body.
It wasn't until after college that he put his prototype to use. He started running a business from his grandmother's basement. He came up with the idea to send his prototype directly to NFL players, and Under Armor took off.
Yankee Candle
What's cool about Yankee Candle? It was started by a teenager. Mike Kittredge made a candle out of crayons as a gift for his parents in 1969. He was 16 at the time. A neighbour saw it and offered Mike $2 to make one for them.
So making candles started as a lucrative side hobby. In 1998, he sold the company for $500 million.
The Best Side Project Ideas Follow Your Passion
Some people started their side projects just as a hobby, a fun way to let their creativity grow. Others did hope to see their business take off.
The point is, these people saw something they loved to do and saw something other people might enjoy too. They created something they hoped would be useful and loved.
Hopefully, these side project ideas inspire you to start something you love. Hopefully, you can see it grow too.
Keep checking back for more ideas to start your business and help it grow!