Everybody wants growth in their business and gives their best efforts to get it. But do they really succeed? Can't say anything, but yes I can share the best tactics which I have used to elevate my business brand. As you all know that expanding the business brand isn't an easy task. You need to discover all the areas and find out all the improvements that are needed.
In this competitive era, no matter how easily you can enhance your business productivity but to be in the top searches for a long time shows your digital presence. I know it's difficult, so you should always keep looking for a variety of ways which strengthen your business efficiency. Furthermore, you need to identify the right marketing strategies to skyrocket your business productivity.
Now, the most buzzing question that might be arising in your mind is- How to find the best marketing strategies which will help you to target the right audience at the right time?
This article will take you to explore effective marketing strategies that match your business situation and lead you to accelerate your business growth.
Let's dive into the top 8 marketing strategies to fuel your business growth by reaching the right audiences in the best possible way.
Tactic 1- Create engaging and informative content
The best way to engage your prospects is to provide them with informative and attractive content. Attracting, engaging and delighting your potential customers through informative content, videos, infographics, etc. will generate more website traffic. This marketing tactic is commonly known as inbound marketing.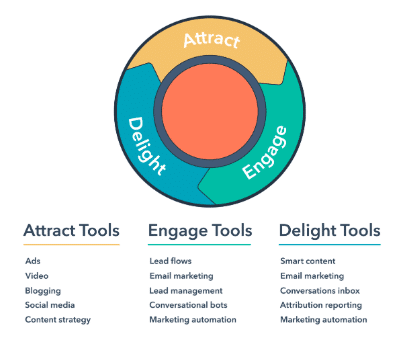 By focusing on an inbound marketing tactic, you can know the user's demands and objectives which will help you to reach the right audiences and convert them into your potential customers. Further, it will help you to escalate your business revenue.
So why spend extra money and effort when there is an amazing inbound marketing strategy which helps you to build trust in your brand and grow your business better over the long run?
Tactic 2- Understand the power of SEO
Every company aims to generate more traffic to their site. It can be possible if your site or content is ranked in the top list of google searches.
As we know, Google changes its algorithm at any time, so we all need to focus on the keywords, content and backlinks added to the blogs. By taking care of all these factors, you can showcase the information to the visitors and get more clicks on your site.
However, Search engine optimization (SEO) is another vital part of marketing as it will help you to build an online presence and boost your conversation rate. If you are interested in implementing an SEO marketing strategy, do read how long does it take to rank in google.
What are you waiting for? Start optimizing your website and content to be in the top searches of the audiences.
Tactic 3- Online Advertising
Online advertising is another good way to make a mark in this digitization world because there are around 3.48 billion active social media users.
Social media advertising is the best tactic to generate direct traffic to your site. Sharing content over social media will allow the audiences to know about your brand and industry. You can grab the visitor's attention by publishing blogs, adding videos, and sharing ads on various social sites like Facebook, LinkedIn, Instagram, etc.
Therefore, social media is the best platform to share your experience with your clients. Are you utilizing this source to target the right audience? If not, then start sending messages, create interactive images/videos and track the right KPIs to escalate your business ROI.
Tactic 4- Host focused webinars
Are you familiar with the term Webinars? It is an invaluable onboarding marketing tool which helps you to attract more customers by sharing quality information on the specific topic you want to grow.
I have noticed that the majority of the organizations focus on hosting webinars to have a better turnout than others. If you wish to attract more visitors and amplify your business revenue, then host a focused webinar which is another effective marketing strategy that you can implement.
Therefore, to promote your blogs and services, you can leverage webinars and resolve the queries of the audiences while giving stunning presentations.
Tactic 5- Add CTAs on top-performing blog posts
Every marketer aims to publish blogs to attract, engage and delight, new customers. If you wish to achieve similar objectives, start optimizing your website to drive more traffic to your site. Now the point is how to level up your website performance.
Adding CTAs to your published blogs is another marketing hack which helps you to be more interactive and bring new visitors to your site. It is one of the strategic approaches to better your business opportunities and target the right audiences at the right time.
As every organization wants to get great more leads for their enhancing their business productivity, you can also capture the leads quickly, just by adding alarming CTAs into your content as this tactic will further help you to generate brand recognition.
Tactic 6- Target your audiences
Let's assume; you are offering the best services, and uploading blogs regularly, but it's totally waste of money and resources if your clients are still unsatisfied.
So, before offering any service or taking any decision, start prioritizing the user experiences. It will help you to know the interest of your clients and desires.
Once you know what user wants, you can engage them easily and double the traffic to your site.
However, most organizations do not run targeted campaigns, despite knowing the importance of targeting customers. So, I recommend you create a perfect target customer profile as it will help you to attract more customers without any hassle.
Tactic 7- Use Email Marketing Sequences
Email is one of the most obvious choices that is used by marketers to engage more people. Commonly, marketers send emails to their clients manually, which consumes their precious time. Are you facing similar problems?
It's the right time to send automated messages and build deeper relationships with customers. Before automating your emails, you need to segment them all for conveying the right message to the right audience.
Identifying buyer needs and interests are the two factors which will help you to segment your emails. Once, you understand which client responds better to which email, you will get more subscribers, which further builds an online presence.
Don't waste your time by sending random emails. Evaluate your audience requirements, segment your emails and automate your process.
Few Words
There are plenty of marketing tactics used by organizations to elevate their revenue and generate more leads. The critical point is to know which strategy will lead you to generate better results.
There are endless opportunities to pursue. It depends on you, which strategy suits you the best for finding targeted customers. I aim to make you aware of some enormous marketing tactics that will bring advancements to your business. Hope! I was able to achieve that goal.
So now think a moment and answer; WANNA! Be part of this growing world? Start focusing on the strategies mentioned above and create a killer marketing plan to get deeper insights into customers and increase your online presence in 2019.