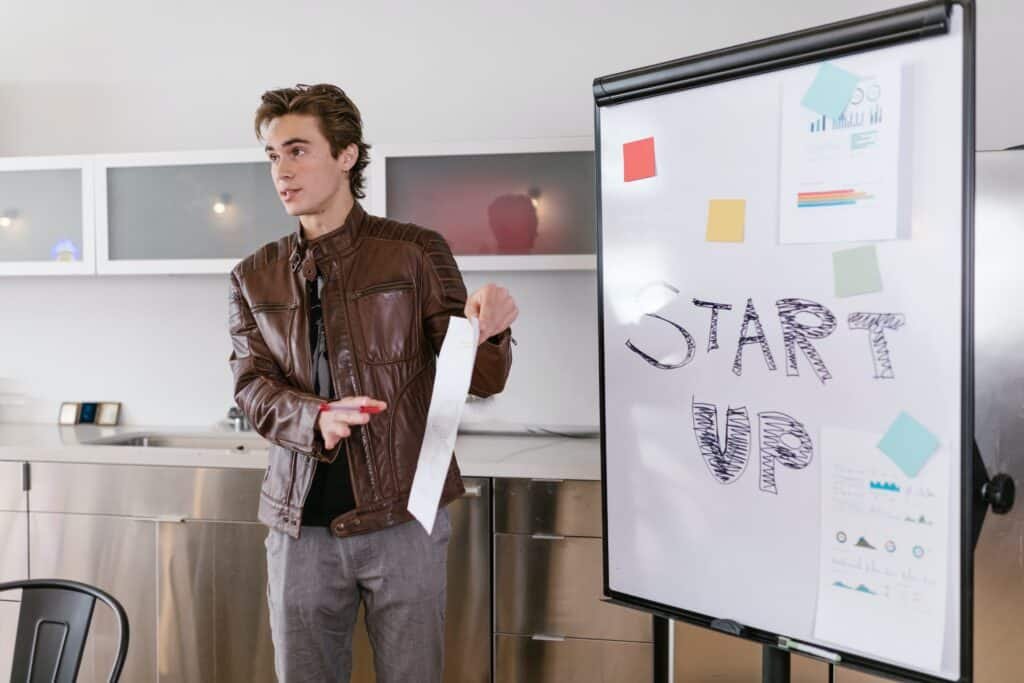 Business is extremely vital in meeting society's requirements. Commercial, professional, organizational, and innovative activities are all included in the term business. Business is a type of organisation that is used to carry out the necessary missions of society. It can be commercial or non-profitable. It is concerned with the sale and purchase of goods and services in order to generate revenue. A business is something that is carried out in order to maximize profit. Not all firms are successful enough to make a large profit; instead, their primary goal is to generate profitable revenue.
The Startup
Startups are entrepreneurs who start up a new business and provide unique services and products. Its goal is to create originality and produce innovative ideas quickly. Although there are no hard and fast rules about what counts as a startup, the term is most associated with the greatest companies that create products that use technology to bring something new or to perform an old task in a creative manner. Small business startups, Buyable startups, Social startups, Scalable startups, Big business startups, and Lifestyle startups are among the most common types of companies. These types of businesses are in high demand in society and can provide a lucrative source of income.
The seven steps to starting a business from the ground up:
There are several stages required to start up a business, which is mentioned below:
Look for an innovative and professional idea.
Create a strong business strategy.
Make sure you have enough money to start your business.
Choose talented employees for your firm.
Choose an appropriate site and create a website of your business.
Learn how to make use of promotional methods.
Develop a customer network
Introduction of Growth Financing
Growth finance is a platform that allows a starting business to receive initial funding and is also beneficial for the expansion and restructure of any business or company. The purpose of growth financing firms is to assist the business community. Many people in our culture are educated but unemployed, and they wish to start their own firm to maximize their profits. However, in other situations, individuals may be unable to establish their own firm owing to a lack of cash or expenses, in which case growth financing will supply them with the initial funding via a contract agreement. Growth Financing establishes a contract with a freshly formed young business and then provides loans or investments. Aside from that, expansion finance aids previously established businesses or companies that create high annual profits. Then, using growth financing, study firms and make investments based on their needs and expectations.
Several steps requires for financing a startup business
Client: It means that in order to obtain startup money, you must first register your company name and prepare legal documentation. For example, if you want to start a clotting brand, you must first register your company before you can obtain funds.
Situation: For instance, the conditions in which you require financial assistance. A substantial order was received by the client from any organization.
Need: The client needed money to pay his international supplier so that goods could be transported and orders could be satisfied.
Solution: Superior worked with a Sales Orders Mortgage lender to fill the order, and Prestige funded the invoice, allowing for a seamless order processing transfer.
Role of Growth Financing in business
Growth financing assists you in reaching your goals by providing the necessary financial resources to capitalize on business expansion prospects. Existing receipts, commodities, technology, and/or infrastructure in your company can be used to accelerate new cash. Growth financing is, without a doubt, the finest alternative for your freshly created organization and is better suitable for high-growth funds. With the support of venture capital investors, it was also used to fund the expansion of previously existing businesses. The business expansion entails the creation of new and existing items, as well as the execution of innovative markets, facilities, and methodological approaches. Growth finance is also beneficial for mature and developed market businesses because it allows them to create in increased profits. There is also another type of capital which is venture capital; it is define as entrepreneurs contribute money, technical skills, or management capability to startups with long-term economic prospects.
MARS Growth Capital use to enhance the quality of your business
The MARS Growth Capital is also a platform that provides aid, funding, and loans to young or newly established enterprises and businesses, as well as assistance with the formation and expansion of mature companies. It is a Singapore-based funding platform that provides capital to newly developed and existing businesses in order to expand their network across the area and make them more profitable. MARS Growth Capital helps mature enterprises and well-established businesses by conducting surveys and tracking their growth rates. They will be able to make an investment decision in that company after this. The MARS Growth Capital will invest in a company if it has a good reputation and can make a lot of money every day. The strategy which mars growth capital adopt for the financing of any business or company, it first conducts a survey of the offered firm or business, and then examines their economic or budgeting reports, as well as their profit ratio, before deciding on an investment or funding. When it comes to providing funds, MARS Growth Capital will sign a contract with the appropriate company or firm, review their legal paperwork, and then provide funding to the company or business. The time MARS Growth Capital takes for transferring funds to the given company; itwill send funds to the contractual company in ten to fifteen days at the most. Aside from that, they can transfer funds quickly in an emergency.
Conclusion:
Growth funding and MARS Growth Capital are the most preferred financial channels if you wish to start your own business or expand an already established firm or organisation. So, if you're worried about your finances, stop worrying and start implementing these strategies to grow your business and income.