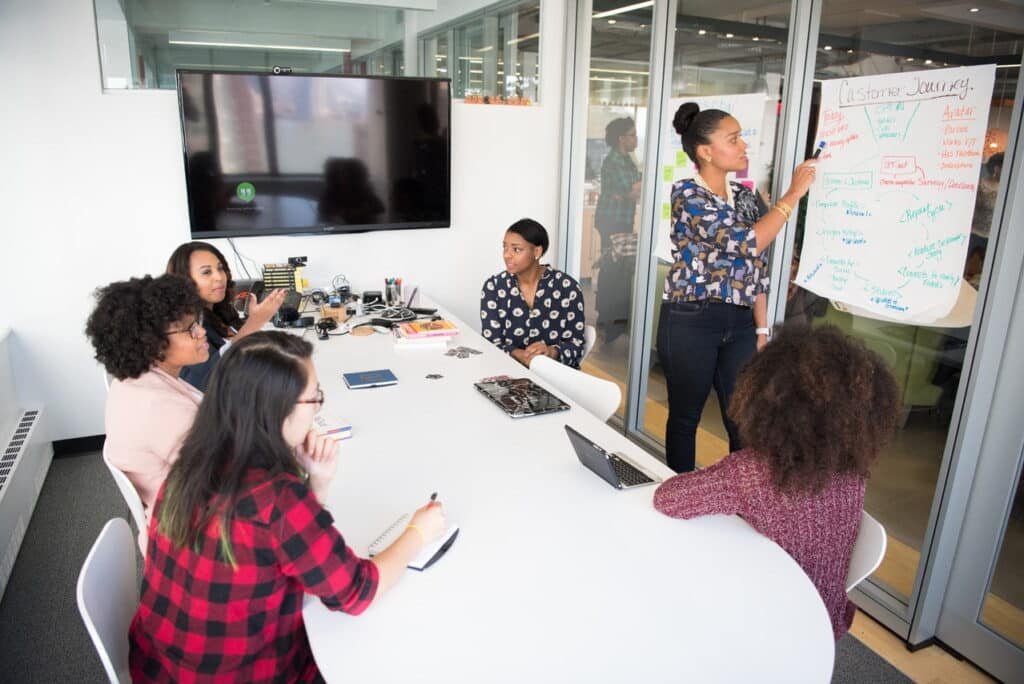 When you study business in college, you have a plethora of employment options. What are your plans for your degree? Have you considered the many advantages of a job in project management?
Project management entails establishing objectives and devising strategies to accomplish them. As a project manager, you will be responsible for planning, coordinating, overseeing, and performing quality control. 
If you are contemplating a career as a project manager, you will enjoy the following nine perks of project management.
1. Have a stable job
When entering this area for the first time, you may be required to work as an assistant. Allow sufficient time to gather expertise and get the PMP certification. As you get to the level of full-fledged project manager, further opportunities will open for you.
When the economy is prospering, project managers are in great demand. Indeed, project management as a professional path is growing in popularity. This is particularly true in the biotechnology and technology sectors. If you are seeking work in these industries, you will discover that many businesses want project managers to help with their initiatives, such as launching a new product or creating new technology.
2. Earn a Handsome Salary
Project managers are required on a global scale. The worldwide median pay is $90,000. Individuals who get their PMP certification often earn at least $10,000 more than non-certified project managers.
Thus, how do project manager wages in the United States compare? In the United States, the typical annual wage exceeds $70,000. Typically, the highest-paid industry is information technology. IT project managers earn an average of around $109,000 per year.
Expect to earn less than six figures from the start. Nonetheless, with enough effort and qualification, you may earn a good living as a project manager.
3. Participate in a Variety of Activities
Certain individuals like to report to work each day and do the same tasks. Others like a career that offers daily variation and challenges. If you fall into the latter type, project management is an excellent choice.
Project managers work on a variety of different types of projects. Each one has unique obstacles that force you to adapt and shift your way of thinking. You must prioritize scheduling, budgeting, supervising staff, and allocating resources. The work will keep you on your toes and prevent you from being bored with the same routine day after day.
4. Work in Collaboration with Others
Are you a team player? One day, as a project manager, you may work with a group of folks from your workplace. Then, on a worldwide scale, your next project may need you to cooperate with individuals from all over the globe.
The project manager is the team's leader. As a result, you must be able to engage with and learn from others when collaborating on projects. You might get a lot of knowledge from the other individuals you work with on the project.
5. Power and Accountability
When finishing a project, there are several stakeholders to consider. You must be able to see the project through to completion while fulfilling the demands of all parties involved. As the team's leader, you bear the entire responsibility for the project's completion.
If you want power and accountability, being a project manager may assist you in achieving those goals. What are your thoughts about your present position? Are you curious as to when you will be granted more responsibilities at work? Then, as a project manager, you may begin to reap the advantages of project management along with all of the associated responsibilities.
6. Make the Most of Your Leadership Potential
What does it mean to you to be a leader? Communication, encouragement, delegating, and positivism are just a few of the top leadership abilities. Do you possess these abilities? Consider yourself a leader.
As a project manager, you are responsible for bringing your team together. You will need to determine their skills and how they may be used in the project. Additionally, consider how you might bring your team members together. Are you capable of inspiring and encouraging them?
If you possess the qualities of a leader and like leading others, project management will be a natural fit for you.
7. Continue to Grow and Learn
A component of engaging in a range of activities on the job is acquiring new skills. To keep current in your area, you must educate yourself on emerging technology. You may learn about new tools and applications that can assist you in achieving your objectives more successfully.
Additionally, you might acquire new talents that can benefit you on the job. Team management, negotiation, organization, risk management, and communication are just a few of the critical talents a project manager should possess.
Consider the talents you already possess and those you need to improve to become a successful project manager. Then consider how improving these talents will benefit you. You will discover that developing and learning on the job may help you become a more successful project manager and can also help you in other areas of your life.
8. Resolve Issues
Do you consider yourself to be a problem solver? Do you love delving into an issue and devising novel solutions? Every day, as a project manager, you will be charged with the duty of resolving complicated challenges. You must determine how to connect the dots and accomplish your objectives.
9. Get Recognized for Your Achievements
Let's be honest. At times, it is gratifying to get a pat on the back for a job well done. It is satisfying to be acknowledged for your efforts. As a project manager, there will be days when you get no recognition for your efforts. However, when you complete a project and see the results of your hard work, you'll feel good about everything that you've accomplished.
And the majority of businesses will do something to reward project managers for meeting their objectives. Why? Because employers profit when project managers identify ways to promote productivity, save costs, improve quality, or enhance the customer experience.
Whatever the case may be, businesses want to see good outcomes. Therefore, if you're a results-driven person, this may be just the thing that you need to motivate you at work, day in and day out.
There are lots of benefits of project management. If you're thinking about leaping into the exciting world of a project manager, consider taking the exam to become a certified PMP.
Then, you can reap all of the benefits of project management and find greater joy in your employment. Learn more about project management and what it takes to become certified, so you can start enjoying the benefits as soon as possible.
To speed up your process, register for Half Double Institute, and moonlight your way towards success NOW.