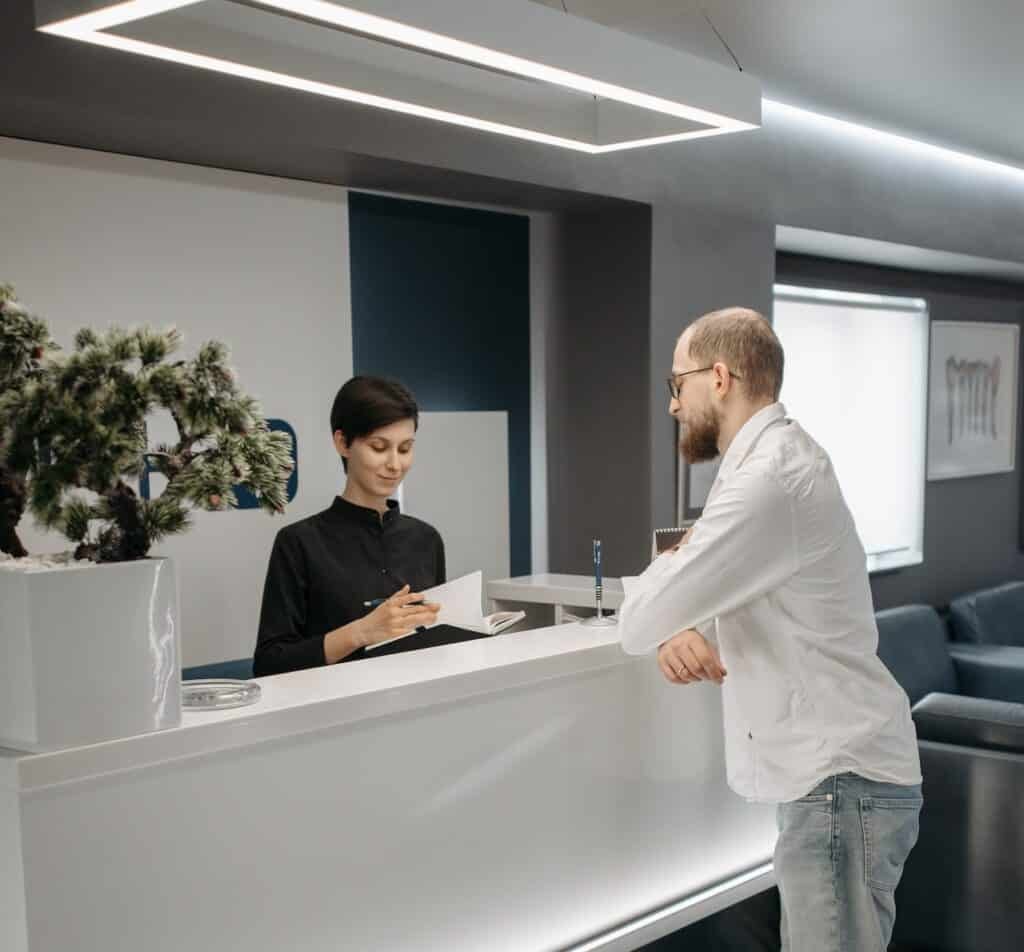 From James Bond's Moneypenny to Waylon Smithers in the Simpsons, receptionists have made some of the most recognisable characters in popular culture.
But are we seeing the end of this 'traditional' style receptionist, sitting behind a desk, ready to greet customers and answer the phone?
With more companies moving to a fully remote or hybrid working model and making more use of shared working spaces, the role of the desk receptionist is becoming less necessary, especially with the difficulties they have fitting into this new world of working.
It's not just the working style that's making desk receptionists less effective.
It's the expectations of customer communication too.
So, let's look at why we could be seeing the decline of traditional receptionists.
They don't fit into a remote working model
This is the main reason desk receptionists are becoming less needed.
With more businesses going remote, there's no place for a receptionist to work.
Employees are spread out over multiple locations, and fewer customers come through the door.
Even when they do, it's for meetings in shared office spaces.
There's no space for a traditional receptionist in this model.
Especially when you consider the alternatives, like a virtual receptionist, which works remotely as standard, slotting right into the new work model.
Traditional receptionists aren't as readily available
One thing about receptionists is that they're only available during your business' opening hours.
Any customer who wants to call after hours will be met with a robotic answering machine.
Virtual receptionists, on the other hand, can extend your business' opening hours beyond the regular 9-5.
This includes adding some weekend call cover if this is something your business needs.
You also have to consider what happens to your call answering when your desk receptionist goes to the loo, pops to make a drink, goes on lunch, or is already on the phone.
Now you've lost your receptionist, and anyone who calls your business won't be greeted properly.
With virtual receptionists, you don't have this problem. That's because they work in teams, so they can cover each other when one needs to nip away from the phone.
They'll struggle to handle call volumes
Calls to businesses are like buses. You can be waiting for the phone to ring, and then two or three people will call at once.
Your receptionist can only handle one call at a time. So what happens to the other callers?
They either get put on hold (which 33% of customers say is unacceptable, according to a PRWeb report), or they'll be left waiting or listening to an engaged line tone.
Either way, you're not dealing with these calls effectively.
Virtual receptionists quickly improve this situation. They can answer every call to your business because they can cover each other when dealing with a caller.
They won't know who to send calls to
When working in an office, it's easy to see who's available to transfer a call to because you can see them. Or you can ask them easily when they're an arm's length away.
This isn't possible when everyone's working remotely, and your receptionist will have no way of knowing who's available to take a call.
This can result in callers being left on hold for a long time (which they don't like), or they could be lost during a transfer.
Virtual receptionists solve this problem because you can set up systems with them to identify who should receive which calls to ensure callers get to the right person quickly.
Should you upgrade your customer service with a virtual receptionist?
While desk receptionists struggle to find a place in the new remote and hybrid way of working, virtual receptionists fit right in.
For a start, they already work remotely, so are experienced working in this type of environment.
They also have the systems to effectively manage your business call handling while working remotely, so you won't have to worry about messy processes disrupting your customer service and damaging your reputation.
If you want to take your customer service to the next level, a virtual receptionist could be the ideal investment.