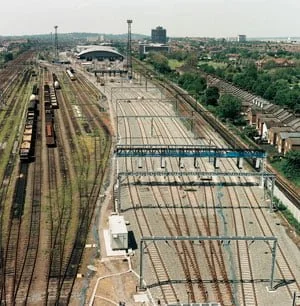 The development of a transportation system which links up places both within the UK and across the world, has enabled people, goods and services to travel to and from distant communities and provide us with access to the lifestyles we enjoy. Recently, the media has spotlighted the increasing concerns regarding the infrastructure of the UK's existing transportation systems.
The competitive position between industries is changing as well as the position between competitors in any single industry. The railway industry has experienced significant change over recent years - not so long ago, it would have seemed inconceivable for a low value bulky load to be driven all the way from the south-east of England to a destination in central Scotland. But now, this is no longer the case. Recent rapid growth of air transportation services has also increased competition for passenger services
The 1993 Railways Act was designed to reform Britain's railways with the hope that the private sector investment and management it would attract could be used to improve the quality and efficiency of rail services. One of the aims of privatisation was to change the competitive position of railways so that much of the traffic lost over the years to roads could be won back. Privatisation aimed to change the shape of the railways and provide new opportunities for business.
This case study focuses on a recent appraisal of a key infrastructure project involving the West Coast Main Line and examines how such a development could significantly change the competitive position of the railway industry.
The West Coast Main Line
The West Coast Main Line is Great Britain's busiest mixed-traffic railway corridor. It runs from London Euston through Birmingham, Manchester and Liverpool to Glasgow and also connects with Edinburgh. The line crosses 16 counties or regions with a population of some 16 million. It connects key towns and cities in the West Midlands, the North West, North Wales and Western Scotland as well as the ports of Holyhead, Liverpool, Heysham and Stranraer for Anglo-Irish traffic.
The line is used by more than 2,000 trains per day, carrying both passengers and freight. Annual traffic is approximately 5 billion passenger-km and 5.5 billion freight gross tonne-km.
The need for modernisation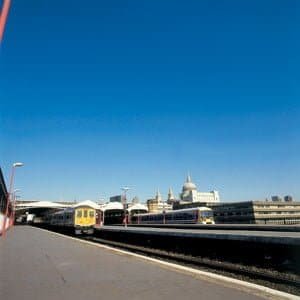 Originally built in the 1830s and 1840s, the West Coast Main Line was the first inter-city railway in the world. In the first half of this century, parts of the line were widened to four tracks and the line was electrified between 1955 and 1975. Although there has been some replacement of signalling and track components, as well as the development of international freight terminals, the line has changed little in the last 20 years.
Today, however, it is clear that the West Coast Main Line is in need of major equipment renewal. In the public sector, the competitive positioning of the Line weakened as resources were not provided to support its development. Modernisation has become more urgent as the Line is now losing business to air travel (particularly on the London- Manchester route) and to road transport on the M1, M40, M6 and M74 corridors.
There have been several previous proposals to upgrade the line. In the late 1960s and 1970s, British Rail developed the Advanced Passenger Train, designed to achieve faster speeds through the use of 'tilting' technology. Although the concept was sound, testing highlighted its unreliability due to less advanced control technology. In the late 1980s, a line modernisation scheme was proposed but rejected in favour of a competing proposal for Networker trains in the South East.
In early 1994, Railtrack and its private sector partner set about examining the best way to modernise the West Coast Main Line. Restoring the Line as the nation's premier rail route represents one of the great railway initiatives of our generation. Since privatisation, ownership of the railway infrastructure has been transferred to Railtrack. Railtrack also has the responsibility for safety, working within the network and the timetable. Its position is central within the structure of the new industry.
Research
Following a statement in Parliament by the Secretary of State for Transport on 1 December 1993, Railtrack began its search for a private sector partner in order to carry out a feasibility study into the modernisation of the West Coast Main Line. Six of the 42 groups that expressed an interest in the study, were pre-qualified and WCML Development Company was selected on 24 March 1994. This company is a consortium formed specifically to invest in modernising the West Coast Main Line and comprises experts in areas such as:
project finance and leasing
management and technology
advanced train control
signalling and communication systems
railway and transportation consultancy.
The feasibility study was designed to investigate what needed to be done to develop the infrastructure of the West Coast Main Line and determine the types of market-led railway services which would be attractive to the train operating companies and rolling stock companies.
Railtrack's terms of reference for the study were to use a business-led approach, balancing managerial, commercial and technical skills, to assess all options for a privately financed modernisation of the West Coast Main Line.
The process of consultation
In order to establish market needs, the study team consulted with:
politicians with constituencies on or near the line
county and metropolitan authorities
district and regional councils
business groups - such as the Confederation of British Industry, Institute of Directors and Chamber of Commerce
railway and transport groups - such as Transport 2000 and various Rail Users' Consultative Committees
organised consortia - such as The North of England Regional Consortium and West Coast Rail 250 Group
customers, potential customers and other stakeholders in the new railway industry.
Over 1,000 organisations and individuals were contacted. Feedback from this research indicated a need for:
Improved reliability. There was a major opportunity for Railtrack to enhance its market image and competitiveness through genuine improvements in reliability, particularly as the two major sources of delay are signalling and civil engineering works.
Increased ride comfort. The business passenger market values ride quality highly, so that passengers can use laptop computers, eat and drink, uninterrupted by disturbance from the ride. This cannot occur unless the track is in a good state of repair.
Reduced journey times. Faster journey times benefit both train operators and passengers. Some groups suggested top speeds of 186 mph while others lobbied for a more modest 125 mph.
Increased structure gauge. Various groups proposed increasing the load and structure gauge along the West Coast Main Line to allow trains carrying lorry trailers (piggyback). This would also enable the introduction of double-deck passenger trains.
Increased capacity. An increase in line capacity could accommodate new passenger services and cater for growth in freight traffic.
Cost reduction. A reduction in costs would not only benefit Railtrack, but also its stakeholders and customers. Technology change offers the potential to reduce infrastructure maintenance costs.
Methodology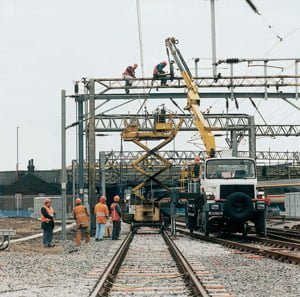 Four approaches were established as a framework to develop, test and refine promising options for the West Coast Main Line. All studies require a base against which proposals can be judged. Two base cases were considered: 'Bedrock' - a patch and mend approach and 'Recovery' which allows some upfront investment to take place to drive down long term costs. Although neither case was viewed as a realistic case on its own, they helped put other proposals into perspective. Two other approaches were considered as investment cases; 'Cost-Driven' would make the railway as cost efficient as possible in terms of infrastructure costs while 'Market- Driven' would create an environment for growth and revenue enhancement.
Technical options
The key role of the study team was to research and analyse the options for the West Coast Main Line. Options which involved unacceptably high risks, environmental impacts, costs exceeding benefits and various technical problems were not developed further. The options which were examined included:
Cost-Driven principal technical options - including improving trackwork components, alternative types of train control and operation for longer trains
Train control options - such as colourlight signalling, track circuit cab-signalling and transmission-based cab train control
Maintenance strategies – designed to keep disruption to a minimum
Market-Driven technical options - such as heavier and faster freight trains, technologically advanced train control systems and high speed passenger trains with tilting systems
Journey times
Increased capacity for passenger services
Freight options - such as piggyback gauge.
After sifting through the various options, the study team decided on a Core Investment Programme which would combine elements of three of the modernisation strategies - Bedrock, Recovery and Cost-Driven - into a programme of works. This would include:
A transmission-based train control system enabling drivers to communicate by digital radio to a control centre and where train location would be determined using passive responders.
A small number of control centres to combine train control, production and traction power control functions.
Renewal of track structures which would be brought to a higher standard of repair.
Power supply points to be renewed or refurbished.
Changes to methods of operation which would be needed to benefit from the proposals.
Market-driven investment options
The study team packaged the best of the upgrade investments for Railtrack and its partners into eight Market-Driven investment options, each of which was carefully considered. These key options would lead to improvements in ride comfort, capacity and journey times and to improved freight services. They included:
Accelerated track renewals programme
Power supplies for extra trains at 175 km/h
200 km/h linespeed for conventional trains
225 km/h linespeed for tilting trains
250 km/h linespeed for tilting trains
Initial piggyback gauge clearance works
Gauge clearance works for double-deck passenger trains
Longer freight trains.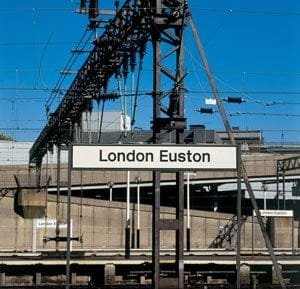 Each option was appraised to see how it might be funded and how it would meet passenger and freight operators' needs as well as the requirements of the Franchise Director. By identifying and appraising these options, Railtrack had set in motion a process which looked at the long-term future and success of the West Coast Main Line.
All aspects of an organisation's operations have a wider impact. For any feasibility study, it is necessary to carry out environmental assessments and analyse community benefits. The study identified areas with a significant increase in population levels as well as trends towards migration to shire areas and the effects upon existing transportation links. It was recognised that a reliable and faster rail service would encourage transfer from roads to rail.
The study also identified that the major cities would benefit from inward investment and employment generation through improved InterCity services. The project would also complement changes in distribution created by the effect of the Channel Tunnel which could lead to a multiplier employment effect. The West Coast Main Line project would also support local authority schemes to encourage a shift away from road transport towards public transport through light rail system and local rail service improvements. The scheme could also benefit other projects under construction, such as the Crewe- Holyhead electrification.
A project as large as the West Coast Main Line modernisation would affect employment - the workforce directly involved in construction and employment related to materials, components and services bought in. Overall, the West Coast Main Line project would be expected to have an economic generation effect through improvement in business confidence, local publicity and general well-being caused by the creation of a major transport infrastructure investment.
The study identified a number of unique heritage features associated with the West Coast Main Line which reflect its size and antiquity. The study also identified sites for nature conservation and sites of special scientific interest. As the Core Investment would require little or no further land, no long-term environmental impacts were predicted. In fact, the study showed that the removal of line-side equipment would bring many environmental benefits.
Railtrack's stakeholders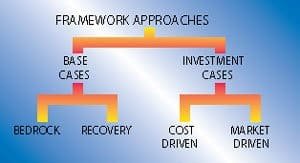 Organisations have a prime responsibility to serve their stakeholders. These are individuals and groups who are affected by the consequences of an organisation's activities. There are many stakeholders who can contribute to or benefit from the success of the West Coast Main Line programme. Although some of these are Railtrack's direct customers, such as train and freight operating companies, other stakeholders include the Franchising Director, the Rail Regulator, Passenger Transport Executives, the Rail Users' Consultative Committees, the Health and Safety Executive, plus manufacturers and infrastructure service providers. It was shown that passengers and freight users would enjoy:
an improved, more reliable service on the West Coast Main Line
a competitive alternative to other forms of transport.
A recommendation of the study was the implementation of the Core Investment Programme. The study showed that this programme would:
save on maintenance, renewals and production costs
improve the reliability and punctuality of services leading to revenue
provide user and non-user benefits
improve train operations.
Railtrack proposes to undertake the development of the train control system through a separate development contract which would be compatible with the Government's Private Finance Initiative (PFI). The upgrading work will require a contract strategy which reflects the changing environment resulting from privatisation. As Railtrack moves towards implementing its strategies, it has to consider access and provision of finance. Railtrack also has to ensure that stakeholders are kept informed about developments. Other options depend on the requirements of the market and the willingness of passenger and freight operators to enter into partnership in order to make market-led proposals work.
Conclusion
The feasibility study identified a Core Investment Programme which would reduce costs in the medium term and benefit the revenues of Railtrack's customers. Railtrack implemented a modernisation strategy which will:
benefit the railway industry and Great Britain's transportation network as well as Railtrack
take a positive first step towards creating a railway fit for the needs of the 21st century.