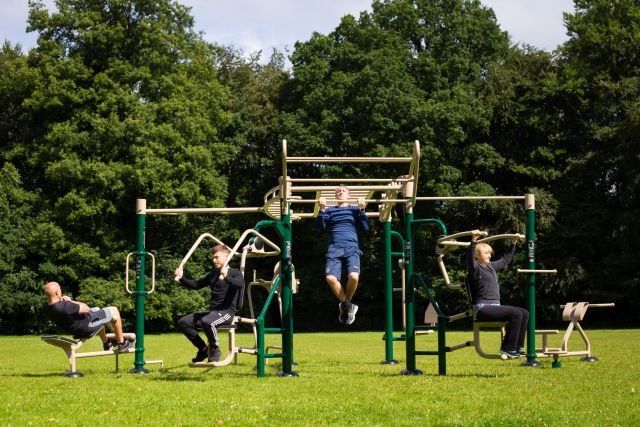 A national outdoor gym equipment provider was celebrating winning a county award for business innovation.
Fresh Air Fitness has been an established installer of outdoor gyms to local colleges, schools and parks since the company was founded in 2007 and has designed and installed more than 2,000 outdoor gyms throughout the UK.
Now the Frimley-based business has been rewarded by winning the Surrey Health Business Innovation Award 2020.
Fresh Air Fitness was required to prove company innovation was directly linked to attaining targets so their award submission focussed on the flagship multi-user product, the Big Rig.
With 16 user stations, which can be used by beginners, advanced users and anyone in between, the Big Rig is innovative as it accommodates group exercise which can be extremely beneficial to whole communities. This one piece of unique outdoor gym equipment acts as a solution by allowing users, from young kids to senior citizens, to benefit from many different exercise options.
Nowhere else in the UK outdoor gym market, is a product as unique and diverse as the Big Rig available, say it makers. It incorporates both dynamic and static options and can be used to provide a full body, strength, cardiovascular, balance and flexibility workout. In addition, it can make the most of a small space as it is able to be installed into a 10 metre by 10 metre area.
Fresh Air Fitness are continuing to innovate, with a collection of YouTube videos having been extended to over 50 and being used to display a range of equipment as well as explaining how to fully benefit from each piece to existing customers. They are first ever outdoor gym provider to offer online instructional animations to go along with the children's range of equipment. Along with all of this, this can be downloaded an app, which is available to download on the Apple Store or Google Play.
Enterprise M3 Growth Champion, Paul Scott, presented the award, said Fresh Air Fitness had shown that the Big Rig was a 'innovation that provided the benefits of group exercise alongside doubling the size of the company's revenue from a standing start'.
He said the feedback on the Big Rig, the amount of people that can use it at once and the cost effectiveness it offers had been 'positively received by the councils, community groups and educational organisations'.
Fresh Air Fitness managing director, Tom Willock, praised his committed staff for being the 'driving force' behind the business, adding: "The Big Rig can be found in green spaces, public parks and educational settings across the UK. Investment in innovation has been one of the foundations on which Fresh Air Fitness has been built and it will continue to play a major part in our plans going forward."