Tension fabric structures are a popular option for various applications due to their adaptability and versatility. Fabric structures allow the creation of residences, industrial structures, sports facilities, and warehouses.
Fabric structures also make good temporary accommodation areas for workers in remote areas or on sites where the construction work has to go on 24-7 and with continuous supervision. The good thing is that there's information available for access regarding workforce lodging solutions.
At construction sites, fabric structures are more frequently employed. As much as fabric structures have numerous advantages, they also have safety implications. This article will discuss the safety precautions when looking at fabric structures.
1. Select the Proper Fabric
It's important to note that there's no one-size-fits-all approach to selecting the best fabric for your project. Every fabric selection has advantages and disadvantages, and various materials have various needs for frame attachments. The project objectives must align with the fabric's performance, and the fabric choice should be made as you begin the design process. Working with an expert or fabric architect to help you choose a suitable material that'll be safe for your construction work is essential. It's also necessary to consider the following factors:
Materials with proper tensile and seam strength for all environments
Get an easy-to-clean fabric to keep away dirt that could damage it.
Consider fabric products that are colour-stable and UV resistant.
Look for fabrics that are flame resistant or those with coating compounds to provide fire resistance.
Choose a durable fabric to serve you for a long time.
The fabric you select is crucial to your project. Learn all there is to know about it.
2. Follow Fabric Construction Structure Safety Protocol
The Health and Safety Executive is a UK government agency specializing in workplace health, safety, and welfare. Everyone, including contractors, temporary workers, supervisors, managers, and visitors, can be trained in this safety program and encouraged to adhere to the regulations.
3. Hire Specialists 
Invest in the top architects, engineers, landscape designers, and membrane specialists to fix the structure because experts have a safety sense and can advise accordingly. Tensile membrane structures must be planned and implemented from design to execution. Specialists will ensure that the structure is safe and that its beauty and comfort remain.
4. Adhere To The Building Code
In most cases, a tensile fabric construction would fail if the code wasn't adhered to during construction. Among the initial steps of the building code is to have certified engineer drawings that give permission and create and install procedures. The code also demonstrates that the structural design has been evaluated and meets all applicable building code requirements, such as wind or snow loads.
5. Safety-First Design
Tensile fabric constructions rely on permanent and semi-permanent foundations and frame materials. Therefore, these must follow the same safety regulations as any other construction project, despite being substantially lighter than conventional building approaches. Specialist design and engineering knowledge are crucial when using uncommon materials like Polytetrafluoroethylene (PTFE) or Polyvinyl Chloride (PVC) Membranes.
6. Lay A Strong Foundation 
It's essential to have a strong foundation for the construction to last a long time. It means ensuring it's solid from the ground up. Don't compromise on the plan or quality because the foundation must support your fabric structure. Create the structure with safety in mind by ensuring you've considered all the necessary checks for a strong foundation.
7. Check The Fabric Structure
It's essential to check the fabric structure before use for any damage, including inspecting whether there are holes or tears and whether connections and fixings are secure. It's not advisable to use the fabric if you find any damage; instead, you should reach out to the manufacturer for advice.
8. Don't Leave The Building Unattended
Remember to take down and properly store the fabric construction when you've finished using it. Leaving the structure unattended can be dangerous, especially if there's nothing inside. For example, if the structure is left alone in a residential area, it could be a hiding place for thieves, posing a security threat.
9. Regular Maintenance
To enhance the safety and stability of the fabric structures so that they're long-lasting, they must be maintained regularly, including repairing, cleaning, and upgrading them where necessary. Clean the fabric by simply washing it with water, mild commercial cleaner, and a soft-bristle brush or sponge to remove dust and leaves in case the structure is close to a tree. Upgrading the structure includes strengthening frames, adding features like insulation or expanding it.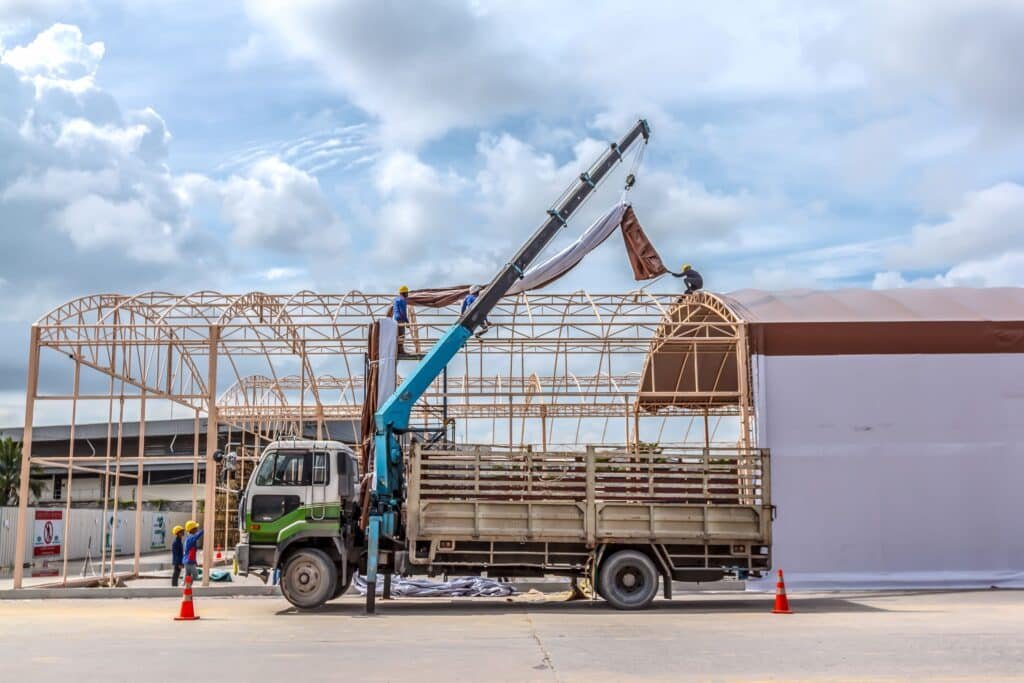 10. Use Proper Personal Protection Gear
Safety begins with you. Putting on proper personal safety equipment is crucial when working with fabric structures. It includes safety gear like gloves, goggles and sturdy shoes. If you're working close to overhead power lines, you should wear gloves and clothing that provides insulation.
In Conclusion
Working with fabric structures can help greatly but also requires a lot of focus on safety to minimise any injuries to personnel or damage to your construction site. You'll reap the benefits of utilising fabric structures if all safety aspects are covered.