H2B Windows Ltd trading as Help to Buy Windows uses profits to pay for new energy-efficient glazing for qualifying applicants, the company directors decided that they wanted to help make a difference for UK homeowners.
Homeowners very often get left out of any schemes or aid provided by the Government, so they thought they would try to build something to benefit hard-working families rather than those living on benefits.
The Scheme launched in June 2018 to help families in need to install new energy-efficient windows and doors, so far since 2018, they have managed to help a total of 17 families with £100,000 retail value worth of windows & doors.
Double Glazing Grant for NICU Parents accommodation
The biggest job installed so far was 22 Windows & 2 Doors installed for the Luton and Dunstable NICU parent's accommodation, the parent's accommodation is there for families that have a baby in the Newborn Intensive Care Unit (NICU).
The NICU installation fell outside of the usual Help to Buy Windows criteria however the directors felt that it was a worthwhile cause that would help many more families than a double glazing grant for a single family.
The Grant for the NICU parent's accommodation was almost £20,000 worth of Windows & Doors.
H2B Windows provides a number of different options to help homeowners install new windows and doors, here is a quick breakdown of the options available:
Free Windows & Doors (Full Double Glazing Grant)
Double Glazing Funding (Partly Funded)
Best For Less (Quality windows with discounts)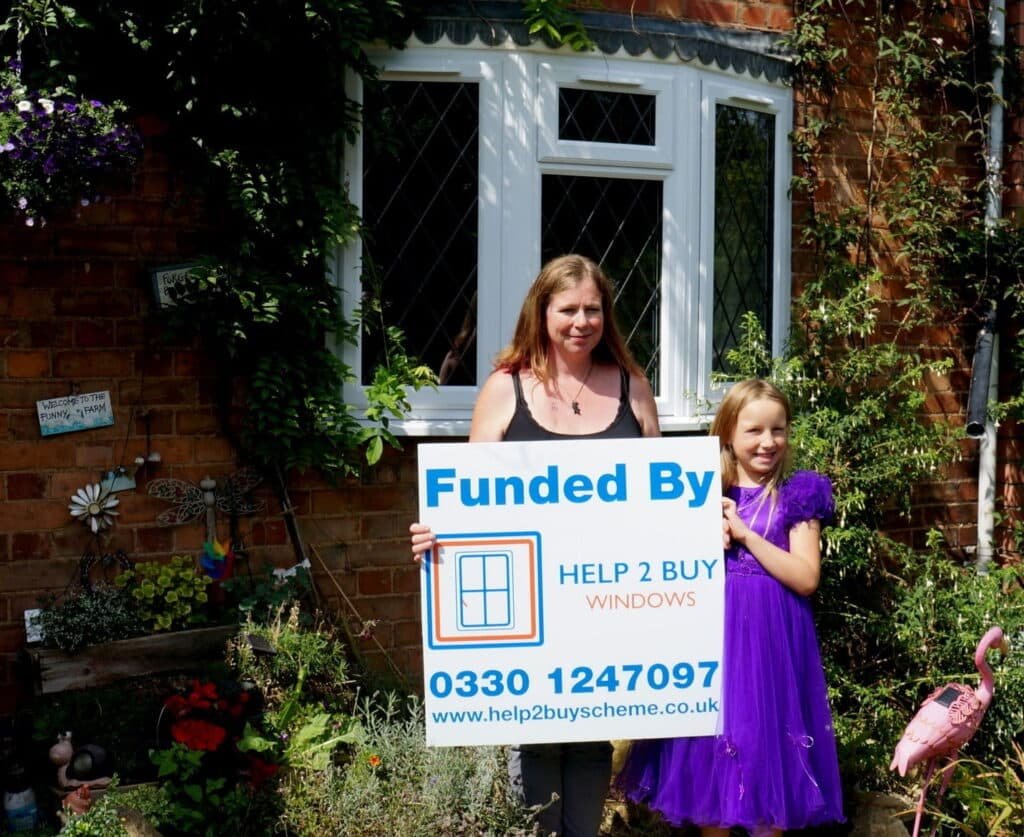 How is Help to Buy Windows Funded?
Help to Buy Windows is funded entirely using the profits generated from referring customers who do not qualify for the grants to double glazing companies across the UK.
H2B Windows are paid a fee for referring customers to double glazing installers, they then use a portion of this income to provide grants for qualifying homeowners.
This is an incredibly generous scheme that relies on customers booking appointments for a quote from double glazing companies through Help to Buy Windows.
If you want new windows, reputable companies such as Horizon Windows also provide work for other glazing/energy efficient grants. Make sure you book your quote with them as not only will you save on your windows, but you will also be helping a family to get a grant.
The service will cost you nothing extra, as all home assessments are carried out free of charge and on a no obligation basis. The company that visits you pays for the quotation, and by arranging your assessment through H2B Windows, the visiting company will also provide a substantial discount.
The process is simple:
Complete the online funding checker, H2B Windows will then contact you to discuss Grants, Funding or Discounts available to you.
If you qualify for a grant you will then be provided documents that should be completed and returned, once your application has been finalised your windows will be surveyed, manufactured and installed completely free of charge.
Help to Buy Windows currently provides Grants and Funding, for single-parent families living with a child with a disability or long-term illness, they also help homeowners that do not fit these criteria to install energy-saving windows and doors with partial funding options and discounts that are often unavailable to the general public.
H2B Windows state on its website that as the Scheme grows and more profits are generated, it may look to increase the criteria to include additional families in need to be considered for a full UPVC Window Grant.
At the time of writing, we have not been able to find any other scheme that offers double glazing grants for homeowners in the UK.