We all know about the impacts that COVID-19 had on sports. Events were cancelled, when they came back stadiums were empty, many athletes could only compete living in isolated bubbles. It was a crazy 18 months, but we're finally coming out of the other side of it all and beginning to return to some kind of normality.
But as well as the events themselves, many sports teams, which operate as businesses, were impacted too. With no attendance in the crowd, sports teams and events lost revenue from ticket sales. With events cancelled, broadcasters were claiming money back for matches not aired. It genuinely put many sports teams on the brink of collapse.
This led to many businesses operating differently or adapting ways they did work in order to help boost revenue. As well as adapting ways businesses operated to get customers back through the doors and to increase sales to begin recovering all the lost revenue experienced. And we're going to take a little look at ways they did this.
New markets for sportsbooks
One business that operates heavily around sports is Sportsbooks like Intertops. When sports stopped, the markets they could offer betting opportunities on disappeared, so these businesses had to get creative and look for new avenues for revenue streams.
There were two main ways that they did this. Firstly, a service that many already offer, virtual sports events. These were computer-generated events that didn't really take place, instead, they were set up with an AI controlling what was going on, and selecting winners at random. It was a good idea but lacked any of the real excitement that genuine sports created.
That's where the second introduction came from, and something many sportsbook sites are still doing to help boost their revenue post-COVID-19. That was introducing betting markets on esports. For those who are unaware, esports is competitive video gaming, where the best of the best compete against each other in tournaments around the globe for huge prizes.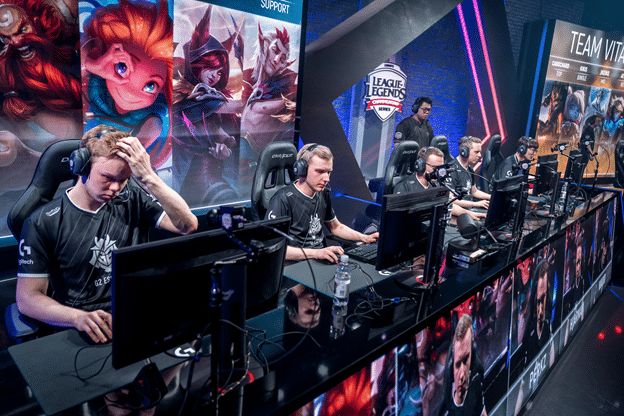 Source: https://www.gamesradar.com/au/what-is-esports/
Esports filled the gap that virtual events were missing, it created a buzz and an atmosphere around it. People were excited to finally see something competitive again, and there was something for everyone. There were competitions for racing games, sports games, and shooting games. You name it, a competitive scene was there or being developed. And the scene is continuing to grow and be invested in post-COVID-19 and will likely continue to do so for the foreseeable future.
Digital ticket systems
One thing that we're still being advised to do by the World Health Organization (WHO) and other health bodies is to continue to clean/disinfect our hands constantly and keep social distancing where possible. Because minimising contact will help to reduce the spread of any variants of COVID-19 that pop up.
To combat this, sports teams that are seeing fans return to stadiums and arenas around the globe have decided to help try and reduce contact by introducing new digital ticketing systems. Rather than having a physical paper ticket that has to be handled, fans will now download apps onto their smart devices which will use NFC technology to be scanned, allowing them entry to watch their favourite sporting events.
This is not only a health benefit though, but it will also help reduce costs of printing tickets to sports teams. Sure, the new equipment may be more expensive in the short term, but in the long term, this will help reduce costs greatly. And not just that, it'll also have a positive impact on the environment too, reducing the carbon footprint of many sports teams.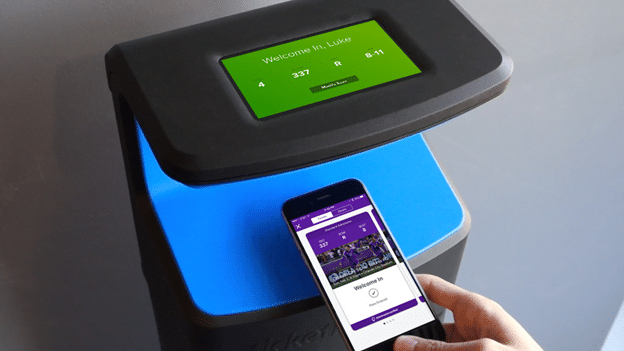 Source: https://sports.cbslocal.com/2018/06/18/nfl-stadiums-ticketmaster-fully-digital-ticket-systems-2018-season/
The way sport is being viewed
We traditionally watch sport in one of two ways. We go to the event itself, or we watch somewhere on a TV screen through sports subscription packages with traditional television providers. However, that is soon to change with DAZN. A relatively new company, although they have been operating for a few years now, dub itself, the Netflix of sports.
They've begun to buy up rights for many of the world's top sports including boxing, the Bundesliga in Germany, amongst many others. Their view is that they'll be able to offer fans new ways to watch sports away from traditional methods. Yes, it can be streamed to a TV, but it can also be streamed to a phone or tablet.
And unlike traditional packages that charge little extras here and there for more channels, DAZN will have one set price that you need to pay which allows you to access content anywhere. The only issue is their options are currently limited, but they have big financial backing, and as TV rights contracts become open for negotiation again, you can expect this company to be in the mix to help boost the content available on their platform.
It'll just be interesting if traditional providers follow suit to create their own rival platform. Otherwise, DAZN could well control the future of how the sport is viewed.