A brief history of Lloyd's -covering risks
Economic prosperity in England during the second half of the 17th century created a significant group of wealthy people with a growing taste for luxury products from other continents. Sailing ships and their cargoes faced many risks, for example treacherous seas, bad weather, piracy, even mutiny. These hazards meant that a merchant's fortune could literally disappear overnight.
Business in those days was conducted very informally. A merchant with a ship to insure would ask a broker to take the risk from one wealthy merchant to another seeking insurance cover. Each merchant would take a portion of the risk and the broker would visit several merchants until the risk was completely covered. The broker's skill lay chiefly in ensuring that policies were underwritten only by people who could meet their share of a claim. This process came to be known as underwriting.

Lloyd's first existed as a coffee house owned by a man called Edward Lloyd. He encouraged ships' captains, owners and merchants to visit his establishment. So, at a time when communications were unreliable, Lloyd's gained an enviable reputation for providing trustworthy shipping news. This was crucial to successful underwriting and ensured that Lloyd's became recognised as the place for obtaining both information and marine insurance.
In 1769, a number of Lloyd's customers broke away and set up a rival establishment. However, the 'New Lloyd's Coffee House' eventually proved too small. A committee was elected and 79 merchants, underwriters and brokers each paid £100 (a large sum then) into the Bank of England for new premises. In 1774 they leased rooms in the Royal Exchange. No longer a coffee house, the modern Lloyd's was born.
Lloyd's is very different today, but still operates using the same principles. The market consists of:
Brokers - They act on behalf of clients (businesses and private individuals), who bring to the market what they wish to insure against.
Underwriters - They accept risks from the brokers on behalf of syndicates who (in return for the payment of a premium) provide insurance cover.
Syndicates - The individual business units that sell insurance in the Lloyd's market.
What gives Lloyd's its competitive edge?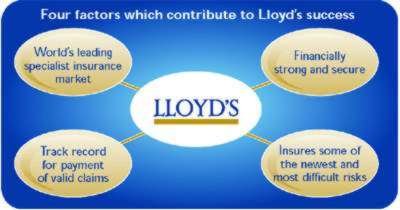 The Lloyd's insurance market:
insures some of the newest and most difficult risks. Underwriters are able to offer tailor-made solutions for many unusual and complex risks. For example, for the launch of the first private-enterprise manned spaceship, Lloyd's provided the insurance cover required.
is the world's leading specialist insurance market - 93% of FTSE and Dow Jones listed companies have policies with Lloyd's, which conducts its business in more than 160 countries and territories worldwide.
is financially strong and secure. This is essential in an unstable global environment characterised by events such as hurricanes and heightened levels of international terrorism. Lloyd's is able to provide appropriate compensation for the risks that it has covered.
has a reputation of Lloyd's for first class security which is recognised by two leading independent international ratings agencies, A.M. Best and Standard & Poor's, who rate Lloyd's as A (Excellent) and A (Strong) respectively.
has a track record for payment of valid cliams. After the terrorist attacks in the USA on September 11, 2001, US Treasury Secretary John Snow spoke movingly about the way Lloyd's had supported the USA and declared 'We are indebted to you'.
Key challenges facing-the Lloyd's market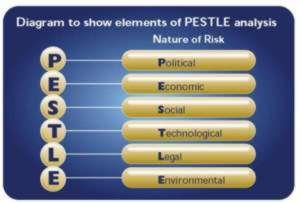 Businesses that are keen to track changes taking place in their business environment may use a PESTLE analysis. PESTLE is an analytical tool that can help organisations to create a strategy for risk management. It does this by classifying risks into different categories. The following illustrates how a PESTLE analysis can be developed.
P - POLITICAL RISK
War and the threat of terrorism.
IMPLICATION FOR INSURANCE INDUSTRY
Since 9/11 companies have found it difficult to find comprehensive insurance cover for any form of political violence, especially those operating in emerging markets.
HOW LLOYD'S HAS ADDRESSED THE CHALLENGE
Lloyd's syndicates teamed up to offer multinational companies terrorism and political violence insurance.
E - ECONOMIC RISK
Rising house prices mean people are borrowing larger multiples of their income to buy their homes.
IMPLICATION FOR INSURANCE INDUSTRY
People are keen to protect their biggest investment (their home) from falling in value due to unforeseen circumstances such as noisy neighbours, derelict properties next door and even lengthy building work.
HOW LLOYD'S HAS ADDRESSED THE CHALLENGE
A Lloyd's syndicate launched a Home Value Protection policy to provide cover should their home reduce in value because of the unforeseen factors mentioned. This unique policy was the first new solution to enter the household insurance market in a generation.
S - SOCIAL RISK
The nanny profession has grown in size considerably due to the increase in both parents working.
IMPLICATION FOR INSURANCE INDUSTRY
Changes in legislation and public awareness campaigns make sure children are given a greater level of protection - but what about nannies - how are they protected if something goes wrong?
HOW LLOYD'S HAS ADDRESSED THE CHALLENGE
A new insurance product entitled 'Nannycare' launched by a Lloyd's syndicate offers Nannies protection against liability claims, for example if there was an accident involving a child, injury and property loss or damage.
T - TECHNOLOGICAL RISK
Today's reliance on computers and technology means that companies now face new types of risk. Putting the effects of a virus or hacker right is costly and more and more companies want to insure against the risk of things going wrong. The 'e-risk' market is projected to generate premiums of $2.5 billion annually by 2005.
IMPLICATION FOR INSURANCE INDUSTRY
All businesses need to insure against their systems 'crashing' and losing data, or against being the victims of industrial espionage carried out by hackers.
HOW LLOYD'S HAS ADDRESSED THE CHALLENGE
Underwriting agency, 'Click for Cover', has launched Club Esurance, a worldwide product offering small and medium-sized businesses cover for cyberliability.
L - LEGAL RISK
There is strong evidence that a compensation culture is growing in the UK. Actuaries predict that this will cost UK organisations £10 billion in 2004 - and will continue to rise at a rate of 15% per annum.
IMPLICATION FOR INSURANCE INDUSTRY
This increase in litigation means that it becomes more risky and expensive for insurers to offer cover.
HOW LLOYD'S HAS ADDRESSED THE CHALLENGE
The effect of spiralling litigation costs are felt across industries and country borders. Legal reform is one of the main things that will solve the problem, something that is beyond the remit of a single company. Lloyd's is lobbying for legislative change to address this problem.
E - ENVIRONMENTAL RISK
Global warming.
IMPLICATION FOR INSURANCE INDUSTRY
Changing weather patterns are making the Earth a more hazardous planet and are adversely affecting both people and property. Climate change affects property insurance because, for example, it increases the frequency and severity of highly destructive weather events.
HOW LLOYD'S HAS ADDRESSED THE CHALLENGE
The market is funding research, in an effort to understand exactly what is happening and how underwriters might best prepare to face challenges ahead. Not everything is doom and gloom. Improved weather forecasting means, for example, that ships can take avoiding action and reduce the risks to themselves. UK citizens with homes on flood plains, however, face much higher insurance premiums and, in some cases, the prospect of being unable to buy property insurance cover.
Conclusion

Prudent businesses protect their future by ensuring they are covered against the risks that they face. They wish to purchase their insurance cover in a specialist market that has assessed the level of risk correctly and is offering appropriate cover at competitive prices.
Lloyd's provides a highly expert insurance market that enables businesses both in the UK and also worldwide to obtain insurance cover. This cover safeguards not only the business but the welfare of millions of people as employees, consumers and citizens.