How To Make Your Home Gym Look Professional
Who says you can't make your home gym look a million bucks? In this article, we hear from a British Olympic athlete Harry Aikines-Aryeetey 100m & 200m individual and relay runner, who has recently redeveloped his home Gym with Mirafit. In this case study, we will investigate how to maximise the function and look of your home Gym without a commercial budget.
Five Ways to make your Gym look professional
Making the most of your space and budget is important when creating your professional-looking Gym. Creating a professional look can be separated into five key sections, explained in points one to five.
One – Gym Flooring
Gym flooring is one of the most important features of a home Gym, it gives the feel of a commercial space, and you can buy commercial-grade Gym flooring competitively. Rubber flooring is effective because it immediately feels high-end underfoot, looks professional, and absorbs sound. In this case study, Harry has selected a black-and-white speck. The flooring looks particularly strong with his bright white skirting or baseboards. If you can afford to use a rubber floor in your home Gym, it's a great investment. However, achieving a similar look with a dark commercial carpet tile is possible.
Key features of rubber floor
Looks and feels professional
Absorbs sound
Easy clean
Provides stability underfoot
Can echo the room's aesthetic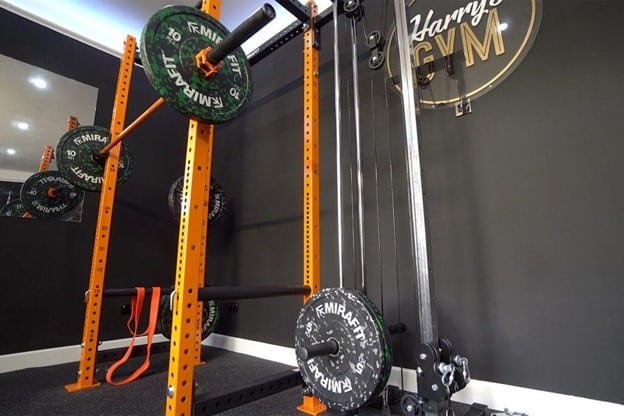 Two – Wall Paint
Choose a wall paint colour that allows your fitness equipment to stand out. Matt-finish paints work well in a home Gym. They look premium, absorb light and allow you to focus on the equipment and exercise in hand. Harry has chosen a heritage-style charcoal, it looks premium against the shiny Gym equipment.
Three – Lighting
In Harry's example, he has can lighting In the shape of spots strategically placed overhead. More than that, Harry used LED lighting in the picture rail around his Gym. The clean white-blue hue from the LED strips bounces light up to the ceiling, giving a sense of space while looking high-end. When considering your home Gym lighting LED lights are a low-cost solution with a high-end feel.
Four – Signage
Although, a small detail signage in your home Gym brings a sense of finesse and completes the look. Harry's example uses a clear acrylic with gold and white lettering against the heritage grey/black walls. Once lit up, this backlit sign illuminates the dark wall and presents just as a commercial Gym might. Harry's home Gym is not huge by any measure, so it shows what an amazing job you can do with a relatively small space, as he uses zoned areas for key exercises.
Five – Equipment selection
When you first create your home Gym, choosing the right equipment is difficult but essential. In Harry'scase study, he has selected a weight rack in orange. Causing the equipment to pop against the dull Matt walls and immediately drawing your eye to the professional-looking kit.
Hear from Harry
In the picture below, we also see that Harry has chosen.
Plyo-boxes are designed for jumping and stepping activities that, again, focus on the leg muscles and certain types of muscle development; in Harry's case, he needs explosive muscle fibres developed from jumping-type exercises.
GHD machine makes sense for Harry as a runner as this focuses primarily on leg and delt strength.
Dumbbells and rack, Harry has selected a range of dumbbells and a rack to house the dumbbells. Racks work well as they lift the dumbbells from the floor and stack them vertically, saving space.
Cable machines are exceptional for a variety of exercises. Harry's selected with cable machine which gleams with polished stainless steel elements. Cable machines are pretty good for home Gyms because of their range of movement and, typically, the space economy. Harry's cable machine looks commercial grade but is narrow and small enough to occupy very little space when space is a premium.
Six – Storage
In your home Gym, when space the premium, it's really important to utilise vertical space, this keeps your floor clean and clear and your equipment organised. Harry's uses storage shelves to hang, hold and store light Gym items like resistance bands, Gym mats, skipping ropes and even a towel. Wire Rack Storage contributes to the professional look of the success of Harry's space.
Seven – Mirrors
Never underestimate the power of mirrors in your home Gym. This provides a real commercial feel. Mirrors give the illusion of additional space and pound light around the room. In addition, they allow the user to check the form and encourage effort and resulting change. Mirrors do not need to be expensive but will add a luxurious feel to your Gym by bouncing light around. 
Get a Gym like Harry.
Consider your space, develop accordingly, and consider the fitness equipment you purchase. If unsure, start with the rack, bench, bar and plates, then move on to other equipment. Finally, consider your supplier and if they have any packages to help you get the basics together.
Final thoughts
Creating a serious-looking home Gym can be achieved with good planning and cost-effective suppliers, and remember, Rome was not built in a day. Building on your home Gym over time will allow you to create the perfect-looking professional gym. Remember the points above and use this guide to make the most of your design and finishes. It is important to consider flooring, paint and lighting at the foremost as this will be more difficult to change later. It is crucial, above all, to remember to enjoy the process of creating your professional-looking home gym will be a sense of pride and beauty. Take your time and enjoy creating your space. We hope this has helped.