Training and innovation
The Group aims to be Europe's most innovative, profitable and customer focused printing company. It is constantly looking for ways to enhance its service to its customers through better products, new approaches and innovative techniques. Progress in these areas relies on skilled staff using hi-tech digital equipment. Polestar recognises that it needs a well informed and highly trained workforce to be the best in the industry.
Most employees will benefit from a variety of training opportunities during their working lives. Some training is completed on the job, e.g. to learn how to use the latest machinery or how to mix inks. Staff are also trained off the job. This is more suitable for activities when learning about health and safety, the latest management techniques or taking part in team building activities.
Polestar's employees experience training at work in a variety of forms. These include:
induction training - when new employees learn about their roles and responsibilities
training in new ways of working, technology and software
multi skilling - employees are trained to do several different inter-related jobs so their days are more varied and rewarding, and they can become more flexible within their sites
learning management, organisational and leadership skills - developing skills through a wide range of personal enhancement programmes promotes greater job satisfaction and improves staff retention.

Printing is a highly competitive industry, in terms of both quality and price. A company that wishes to retain or increase its market share must deliver to the highest possible standards. Skilled print workers are in short supply, and the average age of the workforce is high.
Polestar works hard to retain its specialist skilled staff and to attract new employees who are capable of supporting innovation. The Group engages high calibre people by offering them job satisfaction and security through training, personal development and support programmes which lead to a fulfilling career in the world of printing. Its new training package 'Printdynamics' is an excellent example of such innovation.
The importance of training
The UK currently has around 12,000 printing companies. This market is worth £14 billion a year. Clearly, Polestar operates in an extremely competitive market. The majority of these companies are small firms typically with less than 20 employees. Many find ways of keeping their overheads to a minimum enabling them to compete on price. Also, unlike Polestar, a small printing firm may not have the resources to keep training its staff and is unlikely to be able to afford the very latest machinery.

The print industry is dynamic with constant changes driven by innovative technologies that continue to transform the way it operates. Polestar is able (due to its size and resources) to acquire the latest technology and train its staff accordingly. This means Polestar can gain a clear competitive advantage over its key competitors. This is a continuous process so that Polestar can carry on delivering high quality products and services to its clients.
Ongoing training often results in improved productivity by eliminating waste and avoiding delays. A high quality product that has been produced efficiently will help to increase profit levels.
Printing prices are usually set by fixed price tendering. This means the job has to be completed by a specific date and at a given price. If the job takes longer or uses more materials than planned, the printer cannot pass these increased costs to the client. This results in reduced profit or a loss on that particular job. Therefore it is better and more profitable to ensure staff are highly trained and efficient.
Training and staff motivation
Staff retention is key to Polestar's success. Well-trained, experienced staff are vital. The business also wants staff to 'take ownership' of their work, to be proud of what they produce and to understand the importance of accuracy, consistency and quality in every aspect of it.
The development of Printdynamics plays a key role in this, by ensuring that staff feel valued and empowered, team members will strive to do their best, get more job satisfaction and be encouraged to stay.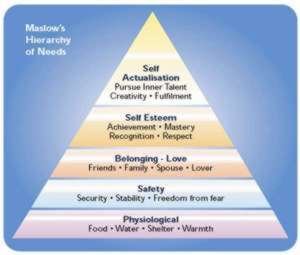 There have been many studies about what makes people work well and how employers can maintain staff motivation.
Studies undertaken by Elton Mayo concluded that workers respond positively when managers take more interest in them and their welfare.
Abraham Maslow categorised individuals' needs. He concluded that, once basic needs have been met, individuals are motivated towards making themselves secure and free from anxiety. Having achieved this, they go on to seek higher levels of self esteem and personal fulfilment and look 'to become everything that one is capable of becoming'.
When an employer like Polestar demonstrates how much it values its employees through its training programme, career structure and opportunities, these highly trained individuals become increasingly motivated whilst meeting the market need.
Polestar thinks beyond rewards such as pay and working conditions. As a result for many workers, the rewards associated with a particular job are not limited to their take home pay. The printing industry offers many opportunities for employees to be creative and to show flair and ingenuity. They take great personal pride in the finished product and in a customer's satisfaction with it.
Polestar has set up Printdynamics, an interactive CD-Rom and online training package that offers comprehensive coverage of the print industry. It is designed to guide the employee or trainee through the different print processes. All aspects of the job from preparing estimates or quotes to monitoring the final product are included. The package uses colourful and interesting video, photos, illustration processes and flow charts to examine the development of design at each stage of the process.
In the past, print workers tended to specialise in just one aspect of the process and had little involvement in the printing process as a whole. Printdynamics offers employees an opportunity to develop skills in a variety of different processes. Ensuring that employees are multi-skilled has two main outcomes:
It provides a more flexible workforce that is better placed to cope with change for the business.
It offers the prospect of a more satisfying, more fulfilling job to the employees.
By offering employees an overview of the whole process, Printdynamics lets them see how their work contributes to the end product. This raises employees' feeling of self worth: they can see their contribution. They experience a greater sense of ownership, and take pride in that ownership.
This in turn leads to individuals ensuring that their own contribution is high quality as they will not wish to be responsible for, or associated with, a final product that is below standard or behind schedule.
Everyone stands to gain from this training initiative. Individuals are rewarded with a greater degree of job satisfaction and the business is rewarded with a high quality product and satisfied customers. This will help to raise profitability, which will ultimately lead to higher wages and greater job satisfaction. This should in turn improve Polestar's retention of its best staff.
Printdynamics has produced further important outcomes. Working closely together has enabled employees to gain heightened respect for each other's contributions. It has also broken down old barriers, opened up better channels of communication and contributed to team building and team spirit.
Polestar's Apprenticeship Scheme
Polestar has introduced the printing industry's largest Apprenticeship Scheme which is very closely linked to Printdynamics. This is now into its second year and it enables young people aged 16 to 21 to come directly into the industry whilst receiving training. Staff on the scheme work towards a print specific qualification that also provides a platform which can lead on to a degree equivalent award.
By tailoring a scheme to the needs of individuals and the company, Polestar is able to attract and recruit young people of high calibre who will safeguard its future in the extremely challenging print environment.
Under the scheme, apprentices work towards NVQ Level 2 or 3 qualifications. The trainees develop skills across a variety of print disciplines on site. Additionally block release and distance learning at Leeds College of Technology is provided. The scheme is supported by the British Printing Industries Federation (BPIF).

Polestar wants to remain at the cutting edge of the printing industry. In order to do this it must maintain a well informed, highly skilled and happy workforce that is ready and able to produce the ideal printing solutions that customers seek. This scheme recognises that many print workers currently employed are approaching retirement age. This could result in a skills shortage in the printing industry as a whole and Polestar in particular.
The Modern Apprentice Scheme aims to fill that shortage for Polestar which will then be able to maintain its leading position. It aims to ensure that Polestar's staff are trained in the most up to date and ever changing technology that is revolutionising the printing industry.
Polestar's Group HR Director, Catherine Hearn, has evaluated the Scheme's impact to date. She writes:
'The success to date of our scheme and the high calibre of our current apprentices is confirmation that we are adopting a strategy that will raise skill levels and standards across the Group. We are very much looking forward to working with the new recruits and continuing with our overall training and development programme, as all plants benefit from the wide-scale investment that is underway'.
Conclusion
Polestar's mission statement is: 'To be Europe's most innovative, profitable and customer focused printing company'.

To achieve this, the company must constantly look at ways to improve its service to customers. This involves ensuring that it has a highly skilled and motivated workforce who are equipped for the challenges of innovative technology, changing ideas and the quest for ever better quality.
Polestar has made great strides towards developing the calibre of workforce that will achieve its goals. At the same time it is looking to ensure that its employees are well rewarded, have a great deal of job satisfaction, and take pride in what they achieve.
Polestar Group | Investing in training to safeguard the future