Introduction
Go-Ahead is one of the UK's leading providers in the fields of bus, rail and aviation support services. The company employs over 24,000 people nationally. Around 800 million passenger journeys are made on its services annually.
The business' recent achievements are reflected in:
turnover growth (the value of revenue from sales)
operating profit (the profit it makes from day-to-day transport activities)These figures show major growth in sales and profits.

Go-Ahead typically operates in densely populated areas, where its expertise lies in getting people to places on time in a clean, reliable and fuel-efficient way.
Deregulation

Go-Ahead's history is closely tied to the story of transport privatisation in this country. The company was created as a result of bus privatisation and deregulation in 1986.
Previously buses had operated in the public sector. Privatisation took the various bus companies into private company ownership while deregulation gave bus companies the freedom to set where and when bus services could operate. Previously, local authorities had controlled this.
After deregulation, Go-Ahead successfully bid to take over the bus operation in Tyne & Wear and parts of County Durham in a management buy-out. In 1994 it then became a public limited company one in which anyone can buy a share.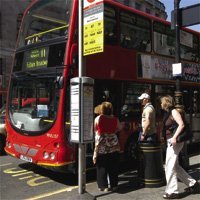 The bus division has grown from strength to strength. From its original base in the north, the company spread south. It took over the following bus companies in centres of population:
Brighton and Hove (1993)
Oxford (1994)
London bus operations (between 1994 and 1996)
Metrobus (1999)
Wilts and Dorset (2003)
Southern Vectis/Solent Blue Line and Birmingham Coach Company (2005)
Probus, Docklands Minibuses and Marchwood Buses (2006)
These companies were purchased from previous owners. In 1996 British Rail (the government-owned-and-run rail industry) was privatised. Some private companies took over maintaining the rail tracks, signalling and stations, while others put in bids to carry passengers.
Go-Ahead initially won the franchise for Thames Trains and Thameslink. These contracts were subsequently taken by another party when they ended. Go-Ahead acquired the franchises for South Central (re-branded as Southern) as well as South-Eastern, making Go-Ahead the largest commuter train operator in London.
Privatisation
Privatisation benefits passengers of companies and other transport users. There are now more companies offering bus/train services on popular routes so passengers can choose who to travel with.
Managers at Go-Ahead know that its passengers can choose other bus services. In a privatised industry the emphasis is on giving customers value for money and choice, such as Go-Ahead. Competition benefits customers because the different companies lose passengers if they do not offer good services.
In a privatised industry the emphasis is on giving customers value for money and choice. Throughout the travel industry the government still has some control over privatised companies by setting out rules about what they are able to do, e.g:
Rail - the government uses its control during the franchise bidding process, after which companies have to operate within the scope of the agreed franchise.
Deregulated buses (outside London) - the Traffic Commissioners can monitor compliance to published timetables, etc. They can impose fines for companies providing poor timekeeping, etc.
London Bus Transport for London - has a greater level of control in this area. It sets fares, timetables, etc but is outside central government control.
Measuring performance
Tight performance standards are created for example, relating to the punctuality of services. Companies failing to meet these standards suffer tough fiscal penalties.
Contracts (for regulated bus and rail franchises) are renewed every few years. At these times competitors can bid to take over certain routes. As a result, privatised transport companies will only survive if they offer customers value for money.
Consultation

Go-Ahead consults passengers and employees. It has discovered that the most important factors that influence the choice to travel by public transport are:
reliability, convenience and punctuality
accessibility for all
safety and security
affordability.
Privatised companies, such as Go-Ahead, have to identify what customers want and provide the required services.
Customers will only use their buses and trains if they want to. It is therefore essential to take a market-orientated approach where customers' needs are put first.
Growth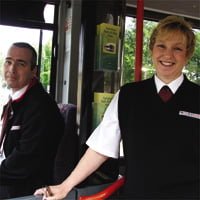 Growth is essential for business. As more customers buy services turnover grows, this leads to extra profit which can then be put back into expansion.
Go-Ahead has grown steadily since 1994. The turnover and profit figures shown in the introduction demonstrate this. The company grows in two main ways:
organic growth - ploughing back profits into expanding its businesses
taking over other businesses.
Go-Ahead looked at ways of integrating car journeys with public transport. Both approaches work well when extra resources are put into building up what is already a profitable business.
While Go-Ahead would recognise that its biggest competitor is the private car, its ownership of Meteor Parking has led to a change in this approach. Public transport cannot always match the flexibility of the private car, so Go-Ahead looked at ways of integrating car journeys with public transport. It encourages individuals to use public transport for as much of their journey as possible. Park & Ride and rail station parking have made a large contribution to reducing the congestion in urban centres.
Rail is Go-Ahead's second major business area. It accounts for one out of three journeys made on public transport. More than 280 million passenger journeys are made on Go-Ahead's train franchises for Southern and Southeastern in the south-east of England.
Planning for the future
In 2000, what is now the Department for Transport (DfT) published its Transport 2010 The 10 Year Plan (the government's transport plan). It was firmly backed by Go-Ahead because it works towards a truly integrated transport system.
It is crucial to create a seamless network of transport services taking us from school/university, work, home and leisure facilities. It aims to increase bus journeys by 10% providing more light-rail projects and more Park & Ride schemes.
The government is also looking at ways of charging people who use roads, including motorways and roads in city centres. This is in order to reduce congestion and pollution. The integration of transport systems is a key issue for the government and transport companies.
Environmental impacts
Another main issue for transport is the control of environmental impact. Go-Ahead takes its responsibility to this very seriously. Because more people already travel by car, this has had a poor impact on our surroundings. Public transport must therefore provide a viable and convenient alternative.
Go-Ahead has produced environmental and social responsibility reports on all its operations. The Group came top of the public transport companies that took part in the Business in the Community Corporate Responsibility Index.
66% of public transport journeys are made by bus. Go-Ahead prides itself on operating fleets of buses that are well ahead of European environmental standards. They use ultra-low sulphur diesel as well as particulate traps, which cut exhaust emission levels and improve air quality in cities.
Expanding Go-Ahead's services
Go-Ahead is looking at more ways of forming convenient public transport systems involving the mixing of bus, rail, aviation and car parking links to meet government policy and improve its service to passengers. Go-Ahead's other operations already create some of these but car parking for example, is a vital part of integrated transport.
Go-Ahead is responsible for 156 rail station car parks and a number of Park & Ride sites. Additionally it purchased Meteor (the third-largest operator of off-street parking in the UK in 2002) which has around 60,000 car-parking spaces across 20 sites.
The largest part of the business is airport parking. Services include:
managing car parks
car park security
transporting people to and from terminal buildings.
Meteor operates under a number of brands, including Pink Elephant and e-parking. The business is growing to provide services at hospitals and shopping centres.
Another part of Go-Ahead, aviance, provides a range of airport facilities. The business loads and unloads commercial cargo from freight flights and provides baggage handling and check-in services for passenger airlines.
It also operates executive lounges and information desks, and manages aircraft slots and customs clearance. These services are offered at airports like Manchester, Birmingham and the main London airports.
Decentralisation
Managing and controlling operations is a major issue for any organisation. Some companies are highly centralised decisions would be made at Head Office level and filtered down. This is called a centralised or top-down view of decision making.
A decentralised approach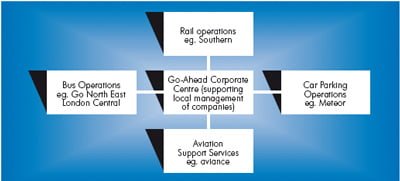 The other approach, which is used by Go-Ahead, is decentralisation. Meeting needs is central to a company's success. Transport needs vary from place to place. Go-Ahead has a decentralised approach, so managers can better meet local needs. This gives it a competitive edge over its rivals.
Go-Ahead's unique approach within the transport sector offers its operating companies the freedom to develop and run their businesses. Local people make local decisions in running local services.
For example, each of the companies will decide how and when it will run its services. They also have the choice to agree terms and conditions in the local labour market, in order to react better to the local job market.
The diagram shows a decentralised approach rather than a centralised one where Headquarters dictates all procedures. However, there are areas that are centrally managed. These include policies relating to impact on society and the environment. All companies in the group must operate in an environmentally friendly way.
Conclusion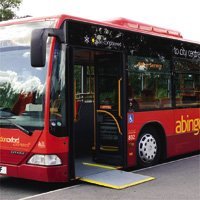 Public transport is at the heart of any economy. The public needs and demands high-quality, modern and efficient transport services, particularly in dense centres of population.
Go-Ahead has put itself in a strong position within this market by recognising the needs of car users e.g. Park & Ride and rail station car parking.
It supports the government's initiatives to create well-run, combined services. It has listened to its customers and other stakeholders, and continues to grow to give more efficient bus, rail, aviation and car parking links. This ensures that people can get to where they want with minimum fuss and least environmental impact.
Decentralisation gives Go-Ahead the flexibility to cater for local needs. Go-Ahead continues to grow in a buoyant market. It has many rivals, each offering attractive services to customers.
Go-Ahead | Meeting needs in a competitive sector