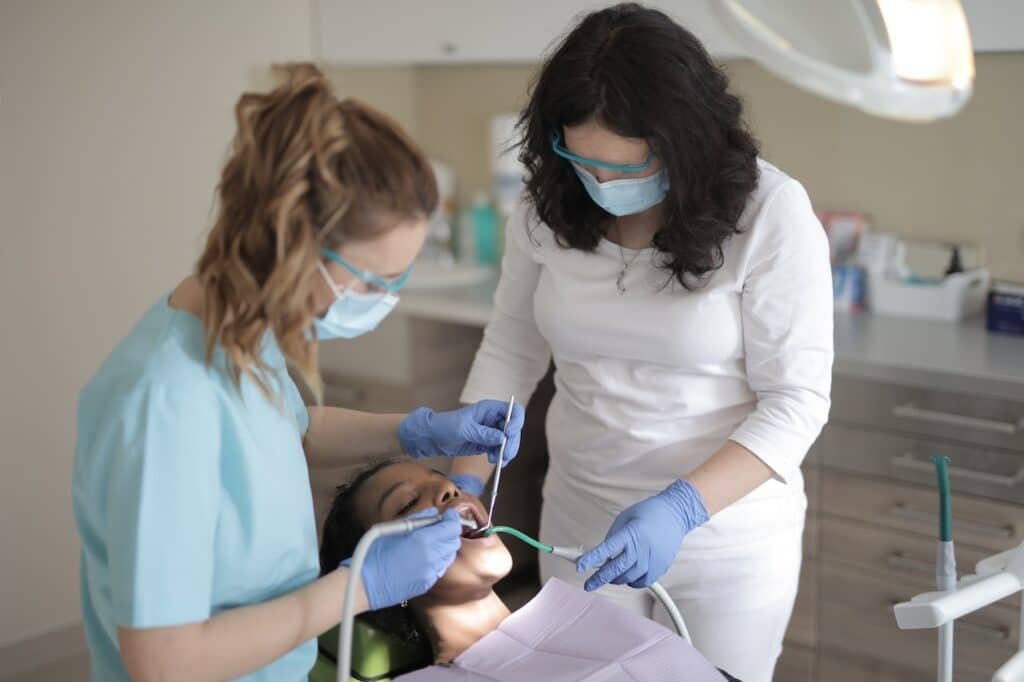 The dental practice is now emerging as a very attractive career with the potential to grow by 19% by 2026. More and more dental clinics continue to emerge, and patients are going to dentists less and less. With increased competition and lessening clients, you need strategies to keep you relevant.
If you have just started out your clinic, you have just spent a fortune in overheads, the cost of furniture and dental equipment, not forgetting the money you spent to get through dental school. You probably have little money left in your budget to carry out your marketing.
Your competition has probably been in the business for decades, retaining many of its original patients while still getting new referrals.
Time is different for everyone, and you shouldn't be alarmed. There are still some dental practice management strategies for you to implement to get more clients in your dental practice.
Need More Patients? 8 Dental Practice Management Tips
Starting a new practice can be challenging. it requires getting new clients to sign up as customers to seek services from your practice and retaining of those who do. Here are 8 tips that will help you reach this goal.
1. Excellent Customer Service
Customer service is important in creating loyal customers. Because this is the service industry, there is no product making the pitch for you after the customer has left. You give your own pitch by having excellent customer service. Unhappy customers will rarely complain, much less after a dental procedure. They may never return to tell you where you went wrong or how you can be better. They just never return to your practice.
Dissatisfied patients will not only fail to return to your practice, but they will also tell their friends about the rude or unappealing dentist they encountered. It will take you a very long time to counteract the ripple effect that will arise from this single event. You could have poorly served one patient, and ended up losing thousands of them.
Ensure that all medical and non-medical personnel in your practice have the necessary training to provide patients with excellent patient care. Ensure everyone on your staff understands the importance of making your patients feel wanted and cared for by learning everything there is to learn on how to become a dental assistant.
2. Create a Healthy Patient-Doctor Relationship
Dental appointments are among the things people want least to do. The pain and discomfort that follows the procedure are challenging enough for a patient not to want to come back for more. So how can you make the patient feel better about the whole process?
A little humanity goes a long way. You may have graduated top of your class. You may even be the best at your job when ranked amongst your peers, yet you could still fain to retain a single client.
Without connecting with your patient, you may not manage to convert a walk-in patient into a loyal patient. With dental procedures like any other medical procedure, patients are not only looking for the available treatment option or insurance coverage. Patients look for care, compassion, and trust with their dentist.
Creating a healthy patient-doctor relationship while remaining 100% professional ensures your patients feel reassured regarding their oral health as they leave.
They will be very likely to come back for future dental procedures.
3. Have an Online Presence
The age we are in is where people go online to look for literally every service. Therefore, it is important that you and your dental practice have an online presence. Consider using different platforms. This important strategy is one of the marketing strategies that build brands.
The first is that it makes you more personable. Potential clients will find you more relatable when they find you online. Additionally, it gives you a chance to show a higher number of people your practice. It is also a great place for your existing customers to review your work with a greater audience.
Of course, the downside is that you leave yourself vulnerable to negative feedback. If you manage this appropriately, you will earn respect as a person and as a practice.
The youth of today will spend a lot of time online. In a way, having a social presence allows you to reach this market. These potential customers will not respond to regular advertisements in the paper or brochures. Use online branding strategies to build your brand. This will help you reach the increasingly paperless generation and gain a large number of potential customers.
4. Educate People
People can get tired of hearing your name and the services you offer all the time in your marketing pitch. This may go against your goal of bringing in more patients to your practice.
So why not try something new? Information. Agreeably, you have created a social media presence. Your business has a website through which you are working on getting new patients.
Build your blog with a myriad of articles on dental and oral health and other useful pieces of information that people can use. This information will come at no cost to you but it will help you establish yourself as an authority in the field.
After creating and posting the sites on your blog, you can then proceed to share the links on your social networking sites to draw traffic to your website. This traffic will translate to your practice, giving you many new clients. From there, wow them with your skill, professionalism, and customer care to ensure they remain loyal to your clinic.
5. Feedback From Existing Patients
You might be applying all these dental practice management tips but still be failing at a single point. This is the reason reviews are extremely important.
While they might seem intimidating since you have just started, and they are completely out of control, they are equally important as they highlight the areas of improvement you could have missed.
Asking your patients about their experience is one way to go. Whether you ask them before they leave or contact them a few days later, ensure you ask them about what they liked, and didn't like about the entire experience.
Ask them in a direct manner, if there is anything they feel you and your team could improve upon in their next visit, and actually improve on it. One of the fastest ways to lose patients is by promising a change and not implementing it.
This kind of distrust will have you losing patients must faster than you thought.
6. Professionalism
A profession like dentistry requires your best foot forward in terms of your mannerisms, politeness, and conventions. Ensure that you carry yourself as a representation of the brand you intend to create for your practice. Ensure you and your colleagues adhere to the code of ethics, portray etiquette, and are as professional as possible.
Things like resolving disputes in front of clients can be detrimental to your practice. Avoid situations where the patients witness points of weakness in your practice management and especially in your craft. In addition, ensure that your practice is free of avoidable workplace hazards.
From the moment that the patient walks into the clinic, to the point at which they have left and you are conducting a review of services, ensure you present the brand in the best manner possible. Politeness and respect for both the patient and the dentistry profession will go a long way in reaching and retaining customers.
7. Prioritize the Patient
While a dental practice is a money-making venture, its most important role is to provide patient care. Ensure that you and your staff understand this fact as you carry on with the business. This means that you should prioritize having the best technology in the field over getting new soft furnishings for the office. Ensure your decision-making process gears towards patient care.
Also, prioritize the humane part of your practice. Treat your patient with the caution you would want yourself treated with when in the same situation.
Understand that the patient will feel safe enough to become a loyal customer if they find an understanding and compassionate staff.
This will not only increase staff morale as the practice operates from a relatable point of view, but it will be a significant boost to staff morale. Ensure you are available to the client if they have any questions before and after their procedure.
Make the client feel wanted and cared for at all times. If necessary, work a few extra hours to help reduce a patient's pain and discomfort.
8. Offer Assistance With Financing
One of the reasons many people fail to seek out dental treatment is the lack of funds. Dentistry is quite expensive. The majority of people do not have dental in their insurance package, and others don't have insurance at all. This information can set you apart from other practices if you use it right.
Ensure you educate potential clients on the financial options they can use to receive services at your practice.
Also, look into offering attractive offers and deals that are cheaper than the standard price to attract more clients. Offer freebies in the process, and free advice to help create a relationship with the potential clients.
Consider attractive deals especially with new patients, like getting half off the second or third service. Also, look for ways to reward existing loyal customers by offering them discounts.
Stay Ahead in the Game by Using the Right Dental Practice Management Strategy
Strategy is key in any practice. Nobody enjoys a trip to the dentist. Using the right dental practice management tips, you can make this trip a little less difficult with patients looking forward to receiving services at your practice.
Read more on our blog and learn how to effectively manage your team and achieve success.