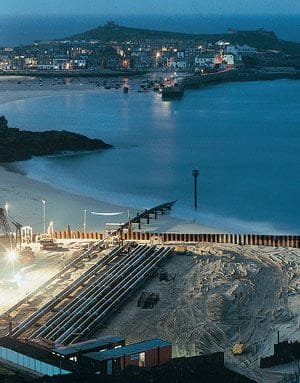 We all rely upon having access to water throughout each day every day of our lives. Think how many times over a 24 hour period we use a tap, flush a toilet, fill a kettle, brush our teeth, cook, drink or wash. Industry also requires water to bring us all of the other goods and services we require for our daily needs. In these and many other ways water is an integral and essential part of our everyday lives; important for our health and well-being, something upon which we depend and the quality of which we need to be able to trust.
Water has not always been as available or as safe to drink as it is today. During the nineteenth century there were many public health concerns resulting in the passing of a number of Acts of Parliament, notably the Public Health Act of 1848. Since then it has been accepted that it is important to monitor the sufficiency and wholesomeness of water supplies, not just for the protection of the public, but also to ensure that the wider interests of the community and the environment are met.
1989
Until 1989, water supply and sewerage services in England and Wales were largely provided by 10 regional authorities, based upon river basin catchment areas. In addition to water supply and sewerage services, their wider responsibilities included resource planning, pollution control, fisheries, land drainage, flood protection and care for the environment. These authorities also had the responsibility to monitor their own activities, which from time-to-time led to conflicting responsibilities.
1989 was the year which signalled change for the water industry. TheWater Act of 1989 set out the framework for a process of privatisation with the government issuing licences to companies for the provision of water and sewerage services throughout England and Wales. Ten companies were formed to provide both water supply and sewerage services and these have become known as water service companies (WSC). Twenty-one others provide only water supply services to about 25% of the population, are known as water supply companies and have always been in the private sector.
Though privatisation brought many new-found freedoms for the water service companies, e.g. the freedom to borrow money to fund long overdue improvements, it also brought many responsibilities. By creating localised monopolies, where the only source of supply was a particular privately-owned water company, there were understandable fears for the whole process. For example, customers were concerned about how the changes would affect standards of service and the prices which were charged, as well as how these newly formed companies would try to meet their wider responsibilities.
The answer was regulation. Regulation involves the development of rules or conditions which govern the behaviour of an organisation, by setting standards which are clearly defined, understood and designed to be achieved.
The external environment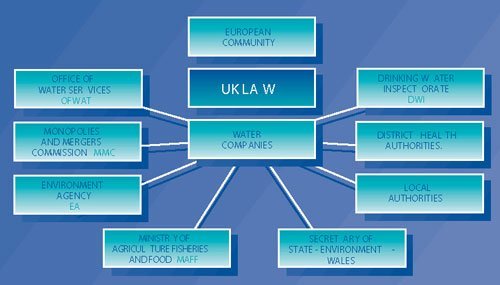 The external environment within which water companies operate is complex. Water companies, like all organisations, have a prime responsibility to serve their stakeholders. These are not only individuals or groups who have a financial stake in an organisation, but also those likely to be affected by the consequences of that organisation's activities. They may include shareholders, managers, employees, suppliers, customers, creditors, society as well as the public at large. It was important that the process of regulation took into account the interests of these groups.
The expectations of stakeholders will influence how each company seeks to achieve its objectives and while most stakeholders will share common expectations, in some situations conflicts of interest may arise. For this reason, the regulatory framework for water services is made up of a whole series of environmental, quality and economic regulators, designed to represent the various groups of stakeholders in different ways and to provide a comprehensive framework of enforcement.
European Commission
The European Commission has three main tasks:
to make proposals for European Union laws.
to ensure that laws are carried out.
to manage EU policies to ensure fair competition within the Union.
The British government, on behalf of the public has, along with the other member governments of the European Union, agreed to minimum environmental standards. These standards are expressed in European Directives which are then passed into British Law. Activities of the Water Service Companies and the Water Supply Companies are affected by the requirements of these European Directives, including the EC Drinking Water Directive, the EC Bathing Water Directive and the EC Urban Waste Water Treatment Directive. These Directives are binding on the UK government, NOT the Water Companies themselves and have to be achieved within a specified time period. If the Commission considered that the UK or any other member state had failed to fulfil any of its obligations, then it could take legal proceedings designed to require that member state to comply with the appropriate directives. The directives only become binding upon Water Companies when they are translated into the law of England and Wales.
Secretary of State for the Environment and Secretary of State for Wales
The main functions of the Secretaries of State are to:
appoint companies to act as water and sewerage undertakers, the Director General of Water Services and individuals to serve in the Environment Agency.
provide a regulatory framework by means of subordinate legislation. For example, this might involve setting standards of performance on the Water Companies or to set out criteria for the classification of river quality.
approve various codes of practice, including conservation and recreational duties.
enforce statutory obligations.
control the activities of the Environment Agency, such as designating water protection zones, making drought orders and appointing technical assessors of water quality.
Director General of Water Services (OFWAT)
OFWAT stands for Office of Water Services. The Director General acts both as the industry's economic regulator and watchdog. To do this the Director General:
protects the interests of customers in respect of charges and quality of services.
promotes economy and efficiency on the part of the Water Companies by setting price limits and tough efficiency targets.
has a duty to facilitate competition between suppliers and potential suppliers, ensuring that a framework exists in which competition can develop.
Customer Service Committees (CSCs)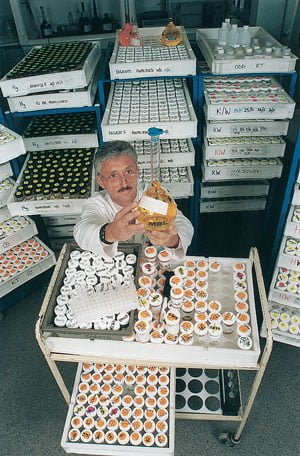 Under the Water Act, ten regional OFWAT Customer Service Committees were established by the Director General. There is one Customer Service Committee for each region covering the water and sewerage company areas and incorporating the water supply companies which also fall in that area. The CSCs are independent of water companies. These committees represent the interests of customers and investigate customers' complaints.
Drinking Water Inspectorate
The main role of the DWI is to check that water companies are carrying out their obligations, in the interests of public health, with regard to the quality of water we drink and use. While doing so, they make sure that companies comply with legal requirements and investigate incidents which affect water quality and advise the Secretary of State on prosecution of water companies if water which is unfit for human consumption has been supplied. In doing this, they investigate incidents and concerns affecting water quality and monitor the large numbers of tests carried out each year by the Water Service Companies.
The Environment Agency and Ministry of Agriculture, Fisheries and Food (MAFF)

This non-departmental public body came into operation on 1st April 1996 to inherit the functions from the National Rivers Authority (NRA), Her Majesty's Inspectorate of Pollution (HMIP) and the waste regulation activities of local authorities. The Agency operates in eight regions and was set up to provide a more integrated approach to environmental management and the regulation of activities affecting the environment. The Environment Agency has inherited a range of traditional responsibilities previously undertaken by the NRA, as well as the oversight of industrial processes with the greatest pollution potential, pollution regulation and control.
The Ministry of Agriculture, Fisheries and Food appoints two members of the Environment Agency to reflect MAFF's responsibilities for flood defence and fisheries. The Ministry appoints members of regional flood defence committees and also licences, monitors and controls the deposit of substances in the sea.
Monopolies and Mergers Commission (MMC) and The Office of Fair Trading (OFT)
The role of the MMC is as a court of appeal both for the Director General of Water Services (OFWAT) and the Water Service Companies. In doing so it provides a counter-balance against the power of the Director General.
The Office of Fair Trading (OFT) is a senior governmental agency which deals with regulations under a number of different Acts of Parliament which might relate to issues affecting water customers.
Legislation and Codes of Practice
Various Acts of Parliament introduced by successive Governments have a regulatory effect upon the water industry. The Water Act of 1989 was almost entirely replaced by a number of consolidation Acts in 1991, such as the Water Industry Act and the Water Resources Act.
There are a number of statutory agreements which by law require water companies to keep their products, services and activities within certain standards. These cover areas such as the environment, agriculture and the use of private land.
The cost of quality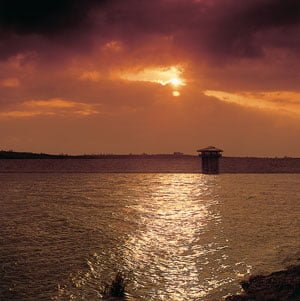 Since privatisation the water industry has, more than at any other time in its past, been in full public view. Water Service Companies are undertakers providing an important public service and it is important that any regulatory system is seen to work efficiently. In most instances, regulatory bodies will share common expectations with each other. For example, all regulatory bodies support increased investment in the water industry and the development of higher performance standards. However, given the different roles of each of the regulatory bodies, each seeking to protect the interests of a different group of stakeholders, there are likely to be some areas of conflict, though a compromise can usually be reached. This balancing process tries to maximise the quality of water services provided, whilst keeping costs down to a reasonable level.
There are many issues that have to be balanced between the regulatory bodies.
For example, these might include:
OFWAT and Customer Service Committees may object to a hosepipe ban, while the Environment Agency may be looking to encourage water conservation or augment water resources.
The Ministry of Agriculture, Fisheries and Food has targets controlling the dumping of sewage sludge at sea. The danger is that the extra cost involved in developing new processes to avoid doing this, such as incineration, may lead to conflict with both OFWAT and the Environment Agency.
OFWAT will be seeking to safeguard the interests of customers by keeping water bills down, while the Environment Agency will be seeking to improve the environment, which may require higher spending on cleaning processes.
OFWAT seeks to develop a fair system of charges. A Water Service Company may dispute its price limits and refer this to the Monopolies and Mergers Commission.
Charges set by OFWAT may reduce a Water Service Company's ability to raise standards over and above those required by law.
Other factors that might affect the balancing process of cost and quality include:
Political parties may have different views towards regulation and any legislation they may develop may affect the roles of each of the regulators in years to come.
Compliance with European Directives has involved considerable investment and this has had an effect on water charges.
Over recent years the balancing process between regulatory bodies has been highlighted by the media and has put the water industry in a spotlight that is likely to remain focused upon the water industry for a long time to come. The Cost of Quality debate has been successful in developing public and media attention on water bills and the financial impact of higher quality and environmental standards. At recent conferences leading figures from both major political parties contributed to the debate on regulation. For the Conservative Government Ian Lang, the President of the Board of Trade, confirmed that he would continue to interfere within the market while it was in a 'transitional phase.' Labour's John Battle referred to 'incentive-based price capping,' 'intra-industry and cross utility mergers' and 'vertical integration.'
It has been argued that Water Service Companies in England and Wales are among the most regulated businesses in the world. However, though the framework may be seen by some as being restrictive, it has been designed to allow companies to act independently on behalf of customers and shareholders. For the water industry, private sector regulation is certainly far tougher than in the days of the public sector, when many felt that standards had been compromised by under-investment. Good regulation means that the Water Service Companies have the resources necessary to deliver high quality services, whilst ensuring the customer has value for money.
A period of change
The regulatory framework for Water Service Companies has contributed to the unprecedented change experienced by the water industry over recent years. Some of the changes are as follows:

Fair charging methods for water services OFWAT believes that any charging method must be fair. The Director General has a duty to protect the interests of customers and, at the same time, provide the Water Service Companies with adequate revenue for necessary investment. The formula which limits the charges the water companies make for their services is known as 'the K factor.' This is simply RPI (Retail Price Index) + K. K is a charging limit which represents the amount by which average charges can rise in any one year. (However, 'the K factor' can become negative, like that imposed on British Telecom by OFTEL, the telecommunications regulator). K is set individually for each company. So, for example, if K is +4 and the RPI is 3% in the November prior to the new charging year, then the average charges can increase by no more than 7%.
Increases in capital expenditure to meet new investment requirements - current legislation places a huge burden upon Water Service Companies to commit resources to meet new standards and requirements. Over recent years there have been increased expenditures to meet ever-higher standards of performance, both in terms of water quality and environmental improvement, including some massive projects such as the London Ring Main and huge coastal clean up programmes around the country.
Improved customer representation - customers do not have the freedom to take their business elsewhere. Customer Service Committees have helped to deal with the interests of customers, ensuring that companies are aware of, and responsive to, concerns about the range and quality of services provided. Companies are seeking customers' views on how services can be improved and developing more customer-friendly policies.
Comparisons of company performance - OFWAT has worked with the industry to develop a broad spectrum of indicators which are used to assess the relative efficiency of the various water and sewerage companies.
Improvements in quality - in 1996 the Drinking Water Inspectorate produced its sixth annual report. Of more than three million tests carried out on drinking water samples, 99.5 per cent met all the British and EC standards.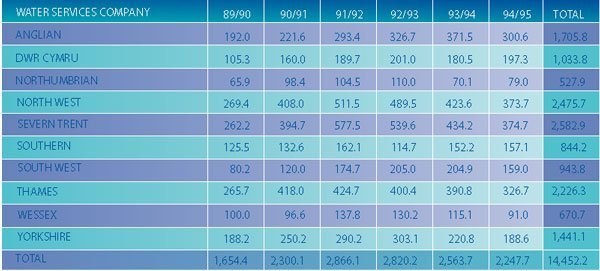 Environmental improvements - the principles of sustainable development require the balancing of present and future needs, so by satisfying our needs today, we should not be compromising the needs of the future. EC Directives have set minimum standards for the treatment of waste-water, the disposal of sewage sludge and the quality of bathing water. The quality of rivers and canals has improved significantly from 1990 to 1994 with a 26% net upgrading.
Conclusion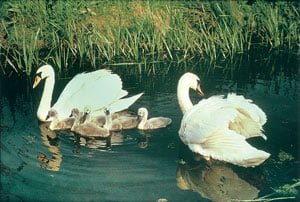 Regulation is a developing process and there are many different views about how well the water companies are operating within this demanding environment. These views may largely depend upon how each individual is influenced and this may be on several counts (e.g. as customers, shareholders, members of a community, etc.). However, at the sharp-end, despite all of the changes in the ways in which these businesses have to operate, their core activity is still the provision of essential water services, upon which our well-being depends.