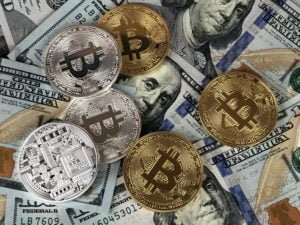 Let's face it: most cryptocurrency traders are only interested in the top 100. New coins are developed every week, and most of them crash within a few months after opening. With most cryptocurrency having unsustainable volatility, the top 10 cryptocurrencies are sometimes the safest bets for investment.
After all, trading in cryptocurrencies is largely a matter of speculation. There is no single cryptocurrency with guaranteed success. However, some coins have been around for more than three years. Some, like Bitcoin, are in their ninth year. They have a proven platform with huge demand.
If you want to trade cryptos that are always in demand, the top 10 coins are the best option. Once you become an experienced trader, you can start trading the top 100 list and ICOs. But before then, here are the top cryptocurrencies based on market capitalization.
Bitcoin
Market Cap-$124.48 Billion
Launched in 2009 by Satoshi Nakamoto, Bitcoin is the inspiration behind most cryptocurrencies in operation today. It's the largest cryptocurrency based on market capitalization, daily trading volumes, and industry dominance.
At the time of writing, 39% of cryptocurrency trading is done in Bitcoin. Its closest rival, Ethereum, controls 17% of trading volumes. Bitcoin's biggest use in the industry is as a base currency for trading other coins. Its pseudo anonymous founder, Satoshi, built the coin to be the cryptocurrency used on the Bitcoin payment network.
The Bitcoin payment network is a decentralized public ledger known as the blockchain. Data stored on the blockchain can be retrieved by anyone. However, the data is stored as cryptographed characters, which makes it difficult to trace traders.
Ethereum
Market Cap- $53.8 Billion
Launched in 2015, Ethereum was developed to offer a blockchain platform for developing decentralized applications. Its founder, Vitalik Buterin, is barely 25 years old. Vitalik heads a small team of developers who have steered the coin to its current rank.
Ethereum was one of the fastest growing cryptocurrencies in 2017. In January last year, the crypto was trading at a mere $10. By the end of the year, Ethereum was valued at more than $700. At one point in January 2018, Ethereum was trading at $1500.
Today, Ethereum is the second largest cryptocurrency based on daily trading volumes and market capitalization. It remains is one of the most popular coins in mainstream media in spite of declining prices in recent months.
Ripple (XRP)
Market Cap- $22.97 Billion
Ripple is the third largest cryptocurrency based on market cap and daily trading volumes. It was launched in 2012 to enable secure, fast and low transaction blockchain-based payments among financial institutions.
While individuals could also use the Ripple payment network, it is used almost entirely by banks. Ripple is one of a few cryptocurrencies not to explode in value. With a maximum market supply of $100 billion, the coin was designed to remain affordable for the longest period possible.
Bitcoin Cash
Market Cap- $16.09 Billion
Controlling 5% of all cryptocurrency trading, it's remarkable how the coin forked from Bitcoin has developed. Following disputes as to how to scale Bitcoin in 2017, a group of developers forked Bitcoin cash and designed it to have larger block sizes of 8MB for better scalability.
Everyone who owned Bitcoins before the fork was rewarded an equal amount of their Bitcoins. The coin grew fast from $1 to a price of more than $3000 by January 2018. Bitcoin Cash remains one of the most popular coins in mainstream media.
EOS
Market Cap-$10.84 Billion
EOS, like Ethereum, is a blockchain platform for building decentralized applications and executing smart contracts. The network provides developers with all the tools they need to develop decentralized applications, including a toolkit for developing the user interface.
Litecoin
Market Cap- $6.53 Billion
Launched in 2012 to improve on Bitcoin's weaknesses, Litecoin has often been defined as silver to Bitcoin's gold. Litecoin was developed by Charlie Lee, who has since then given control of the Litecoin network to a dedicated foundation.
Like Bitcoin, Litecoin is a peer to peer payment protocol. Litecoin's sole purpose was to provide a payment protocol that would be 4 times faster than Bitcoin, having a block time of 2.5 minutes as opposed to Bitcoin's 10. Its developer also wanted the cryptocurrency to have wider supply and hence capped its supply at $84 million instead of Bitcoin's 21 million.
Stellar (XLM)
Market Cap- $4.92 billion
Developed by a co-founder of Ripple, Jed McCaled, Stellar was designed as a peer to peer, decentralized payment protocol. Its base currency was stellar coins while the company would be managed by a nonprofit organization.
Over time, the Stellar network was scaled to provide the tools needed to build decentralized applications. Contrary to Ripple or EOS networks, Stellar's platform target developers in the banking world.
Cardano (ADA)
Market Cap- $4.76 Billion
Cardano is a decentralized blockchain network developed by former Ethereum and BitShares co-founder, Charles Hoskinson and Output Hong Kong. The network platform was designed to provide decentralized applications, smart contracts, meta-data and side chains. Learn more about Cardano here.
Tron (TRX)
Market Cap – $4.36 Billion
Tron is one of the most controversial cryptocurrency networks but yet one of the largest based on market capitalization. It was developed in 2017 to be a decentralized blockchain network for digital content developers.
The network was founded by a Singapore-based NGO inspired by the founder of the Internet, Tim Berners Lee. Users who create content on the Tron network own the rights to charge for their content in whichever way they decide. Tron users can also build custom tokens and decentralized applications.
MIOTA
Market Cap- $3.95 Billion
MIOTA is the largest cryptocurrency network not based on the blockchain. MIOTA's equivalent of the blockchain is known as Tangle. The network also targets a specific group of developers, the Internet of Things (IoT) developers.
MIOTA was designed to leverage distributed networking to help IOT projects build secure and scalable platforms. The MIOTA network works quite different when compared to Ethereum or any blockchain. Its nodes, for example, are distributed through a light graphical manner. The network's transaction verification process is also unique while it has unlimited scalability.
In Conclusion
The top 10 cryptocurrencies consist of cryptocurrencies with unique services and different market targets. However, the coins all complement one another. When it comes to trading, the top 10 coins are more stable than all other coins, which make them better off for most investors.