The Coca-Cola Company is truly global, and its main product is recognised and consumed worldwide. The Company organises and structures itself in a way that reflects that fact. At the same time, the Company looks to meet the particular needs of regional markets sensitively and its structure also needs to reflect that fact.
This Case Study illustrates the way in which the Company has built an organisational structure that is robust and yet also flexible enough to meet these particular requirements.
A global and local strategy
The Coca-Cola Company is the world's largest beverage company and is the leading producer and marketer of soft drinks. The Company markets four of the world's top five soft drinks brands: Coca-Cola, Diet Coke, Fanta and Sprite.
The success of The Coca-Cola Company revolves around five main factors:
A unique and recognised brand – Coca-Cola is among the most recognised trademarks around the globe
Quality – consistently offering consumers products of the highest quality
Marketing – delivering creative and innovative marketing programmes worldwide
Global availability – Coca-Cola products are bottled and distributed worldwide
Ongoing innovation – continually providing consumers with new product offerings e.g. Diet Coke (1982), and Coca-Cola Vanilla (2002).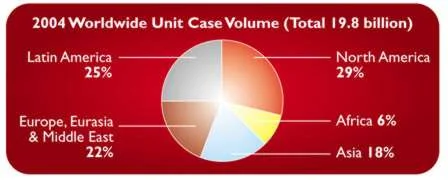 The illustration shows the worldwide distribution of sales of Coca-Cola products by quantity in 2003. Although Coca-Cola is a global product with universal appeal, the Company actually operates in local environments around the world, with each country having its own unique needs and requirements.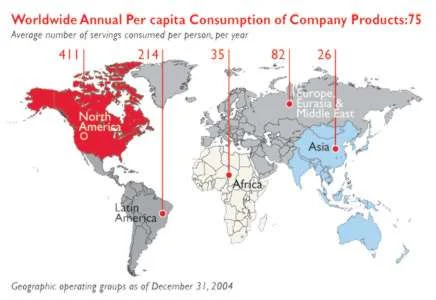 So while Coca-Cola is probably the only product in the world that is universally relevant in every corner of the globe, the Company feels that its responsibility is to ensure that with every single can or bottle of Coca-Cola sold and enjoyed, individual connections are made with their consumer. That can only be achieved at a local level.
The challenge facing The Coca-Cola Company today is therefore to continue to build an organisational structure that will deliver a global and local strategy.