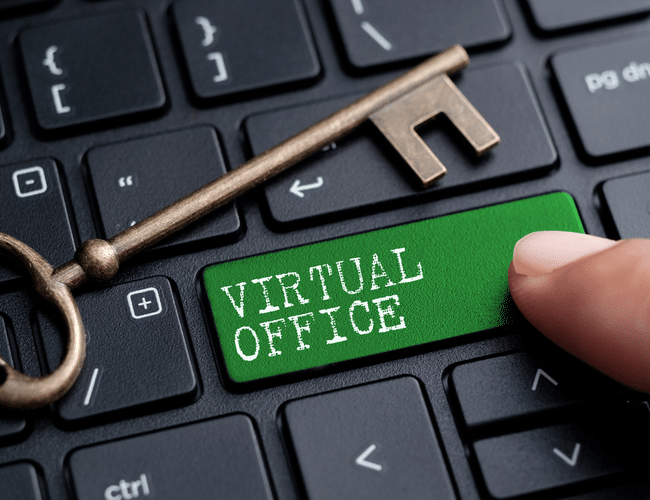 According to recent research, the number of non-self-employed remote workers has grown 140% since 2005 and an increasing number of businesses are choosing to operate without any physical office space.
Implementing a virtual office can save money, attract top talent, and boost staff morale and productivity along with a host of additional benefits for companies and their employees. Let's take a closer look at why and how you should implement a virtual office.
What Is a Virtual Office?
Implementing a virtual office involves subscribing to a collection of services rather than renting a physical office space. These services allow employees and contractors to work remotely — that is — from any wifi-enabled location they choose.
The service package you create will be specific to the individual needs of your business and its people. Virtual office services can include:
A business phone number that lends credibility to the company and allows you to build a presence in a target location. Calls will redirect to specified devices such as your mobile phone
Auto-attendant or virtual receptionist services that answer and forward calls to specific individuals, departments or voicemail
A desirable postal address and mail forwarding services
A virtual PA to provide comprehensive business admin support
Video conferencing calls for team meetings and client calls
Why Should I Set up a Virtual Office for My Business?
There are many benefits to implementing a virtual office, especially for small businesses and startups.
Slash running costs. The costs of virtual office services are negligible in comparison to those associated with setting up and running a physical office space. There are no office rental costs — which can be a significant saving — especially for those operating in high-cost locations like London. Neither is it necessary to invest in expensive office equipment nor to heat and light space. This reduction in overheads and operating costs can be especially beneficial to startups that need every penny they can save to get up and running.
Attract the best candidates for staff vacancies and widen the talent pool from which you can draw applicants. One in four workers (26%) would move jobs if the offer of remote work was on the table and flexible working is one of the most sought after "work perks". Employers that offer this option will find it easier to attract top talent for open positions. They can also target potential applicants in a much wider geographical area if people are not required to relocate for the job. This is especially useful for companies operating in niche areas where the pool of highly-skilled professionals is relatively small.
Make your business "greener". Businesses that operate solely via a virtual office have a much smaller carbon footprint than those that use traditional office space. Allowing your employees to work from home and cut the commute helps to reduce air pollution from traffic. As most remote workers choose to work from home, heating and energy savings are increased as there is no need to run a separate office space just for work purposes. Consumers have increasingly high expectations of the companies that provide their products and services. A recent study found 88% of people in the UK and the US want brands to help them be more environmentally friendly and ethical. A business that shows a commitment to eco-friendly and sustainable practices will be more attractive to customers.
Create a happy, motivated and productive workforce. A Stanford study recently found remote workers take fewer sick days and are 13% more productive than office-based employees. Remote working allows people to work how and when they are most productive without the distractions of a busy office. Remote workers also tend to be happier as they feel valued and trusted, making them more likely to remain loyal to a company for longer.
Create a diverse, inclusive and ethical work culture. Allowing people to work from home or another location of their preference can promote a more inclusive work culture. Employees who are unable to travel to an office every day due to disabilities or personal circumstances can become excluded and isolated. Equally, businesses are denied access to a source of talented and skilled professionals who could benefit their organisation. There is also research that suggests virtual working conditions may promote gender equality in the workplace. A study of women working in technology in the UK found 76% felt that remote work is necessary to attract and retain females in the industry.
How Can I Implement a Virtual Office?
Implementing a virtual office is generally much easier, quicker and more cost-effective than setting up physical business premises. Follow these simple steps to get started:
Communicate with your team. For virtual working to be a success, you need to get your team on board with the idea. Unless you're a team of one, be sure to involve employees in planning a virtual office, ask their opinions and address any concerns. Explain why you've chosen to implement a virtual office, how it will benefit the business and what's in it for your employees.
Identify the services you need and choose a virtual office provider. You may need to start small and scale up the service you subscribe to as the business grows. Brainstorm with your team to identify the most important features and functionalities the business needs a virtual office to provide. Once you have a list of "must-have" services, research providers and choose the one that is established, trustworthy and can meet your needs within budget.
Run a trial. Schedule a day to try out the virtual office system. This will help you to assess if this way of working suits the business and its people. You can also weed out any services that don't fit the bill as many offer a free trial or demo. Don't forget to ask for employee feedback so you can address any issues or concerns that could result in unhappy staff members who might choose to leave the company. If the trial is a success, try a full week.
Launch the virtual office as a permanent way of working. If you're a startup, this should be relatively straightforward. For businesses transitioning from a physical office space, this process will be more involved. It's a good idea to launch the virtual office with a month or two remaining on the lease for your premises to allow for a gradual transition.
A virtual office is a great way for startups and small businesses to get off the ground without incurring exorbitant costs for setting up physical office space. Employees increasingly expect flexible and remote working options.
A company that offers these ways of working can attract top talent and maintain a happy, highly-productive workforce. It's relatively quick, easy and cost-effective to implement a virtual office. Why not start planning today?