Studies show that nurtured leads help in increasing sales opportunities by over 20%. Ebooks have been one of the most effective ways to capture leads – these leads are then typically channeled into a sales funnel for prospecting.
Success with such marketing campaigns however rely heavily on how effectively your marketing assets are promoted and distributed. Here is a step by step guide on how to build a targeted pipeline for your business with ebooks.
Content is everything
What your ebook is about is absolutely everything when it comes to eliciting your prospects' interests. There are a few things to note here. While you may be tempted to write an exhaustive document that explains everything on the topic, it is worth remembering that this may not always be necessary as a lead magnet. There may be other, niche topics or areas of interest that can bring about the same level of ROI.
Creating multiple, short ebooks is also valuable since it allows you to implement A/B testing methods to check what strategy works and what doesn't. Even if you choose to write only one ebook, it is a good idea to test multiple titles and perspectives since they have a big impact on the conversion rate.
Plugging leaks in your funnel
A big reason why many ebook marketing campaigns fail is because of ineffective distribution. Consider this – ebooks are routinely shared as email attachments or as a downloadable link to prospects who submit their lead data. Once downloaded, these ebooks are then widely shared among users. Marketers miss out on capturing the details of these secondary readers.
Plugging leaks in your sales funnel could dramatically increase the ROI of your campaign. One way to do this is by creating multiple lead magnets and promoting them within one another.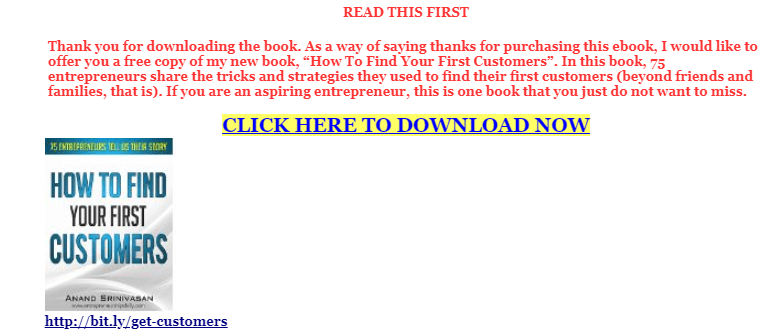 In the screenshot above, you can see that the author is promoting a free ebook inside another. This way, marketers can capture the lead details of prospects who get access to your assets through secondary sources.
The next step in your ebook marketing process is to devise a strategy to produce multiple secondary ebooks that can be marketed inside one another. You can create a separate squeeze page for each of these ebooks and build separate marketing lists. This way, your prospects can personalize the nurturing process based on the ebook that they expressed interest in. Also, this allows you to nurture the same prospect through multiple funnels.
Effective distribution
Your ebook marketing campaign is essentially a numbers game. The more targeted people you reach with your campaign, the higher the number of prospects who sign up. This eventually determines how many people you eventually convert into paying customers.
Establish an omni-channel marketing campaign that targets prospects over multiple channels including organic search, social media, advertisements and partnerships. Once you pick the channels to target, create a customized strategy to reach users on this platform. For instance, Instagram Stories have proven to be a highly engaging medium and organizing contests here can be highly effective in lead generation – users engaging and participating in your contests may then be directed to your squeeze page to convert into leads for your sales funnel.
Effective nurturing and follow-up
All said and done, your ROI with any marketing campaign depends on how well you nurture your prospects and follow up with them through the conversion process. It is good practice to integrate your marketing process to your CRM – this way, your sales team will stay updated on your prospect's status and can reach out to them with a unique proposition based on their engagement.
For instance, if a prospect clicks on specific links related to your product or service from within one of your nurturing emails, you may trigger a notification to your CRM that updates your sales team on this event. Your sales team will thus be able to reach out to your prospect at the right time with the right messaging in order to make a sale.