Marketing can't be done without tools in 2020. A business without a marketing stack won't stand anywhere especially when all your competitors use marketing tools. Whether it be social media marketing, content marketing, SEO, email marketing, or online advertising, you can't do it without tools.
Finding the right and the best marketing tools for business is essential. But the problem is there are around 8,000 marketing tools available in the market in 2020. You can't even check the websites of these 8K marketing tools. Deciding what tools to add in your martech is a tough job.
To help you get started and to solve your problem, this article lists the top marketing tools for businesses in 2020.
1. Ubersuggest for SEO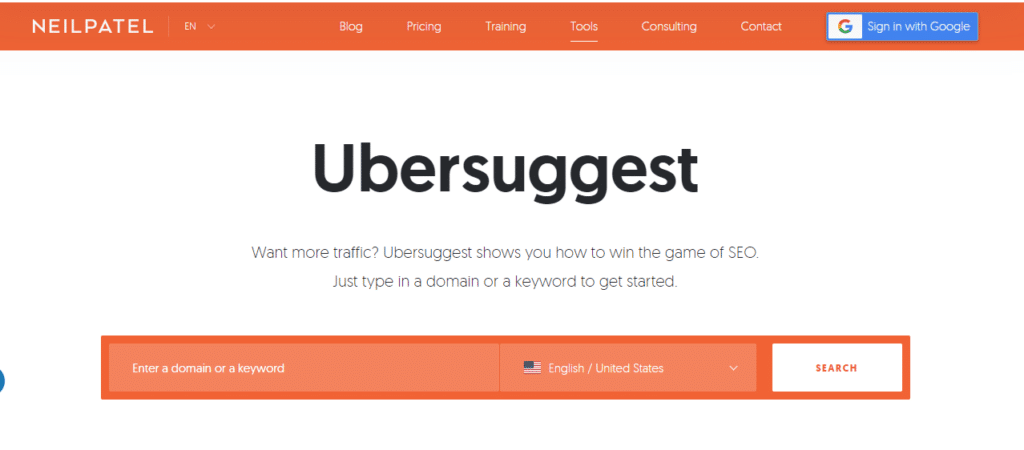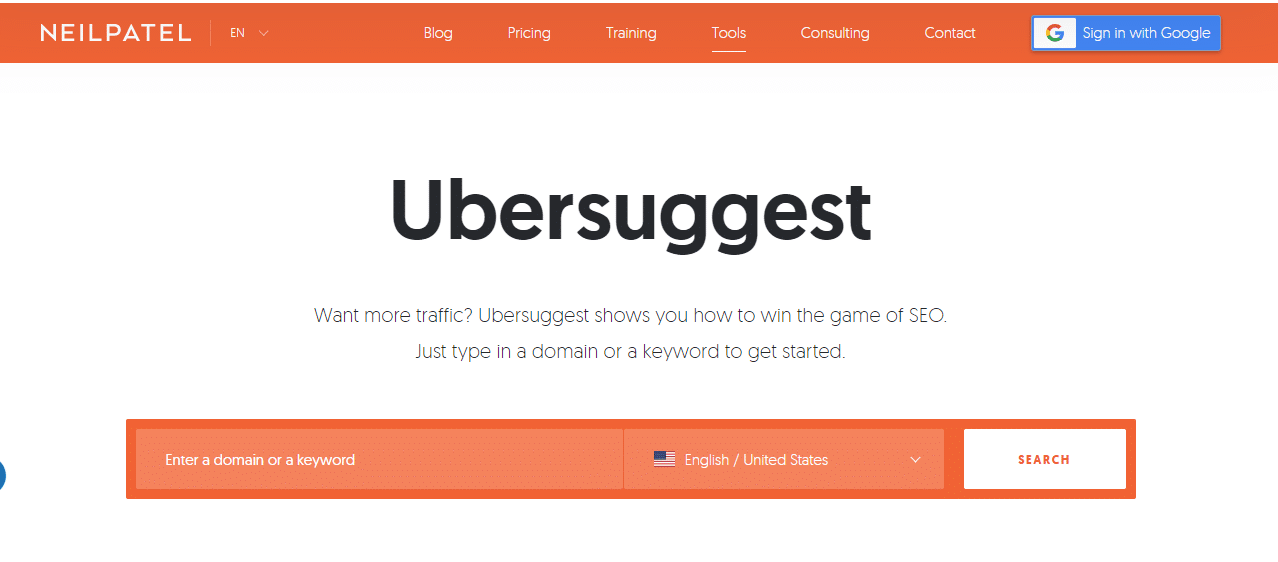 Ubersuggest is a freemium keyword tool by Neil Patel. It is an all-in-one SEO tool that does a lot of things including keyword research, keyword suggestions, content ideas, site audit, backlink analysis, competitor analysis, rank tracking, and more.
A powerful Ubersuggest feature is site audit that lets you scan up to 150 pages on your website free. It shows you errors and bugs that hurt your site's SEO. You can follow recommendations to quickly fix errors and warnings. You can analyze your competitor website and see what keywords it is ranking for, analyze backlinks, and find opportunities for your website.
If you need content ideas and topics for your blog post that will work exceptionally well, you can get ideas from Ubersuggest. It will show you top pages ranking for your keyword and you can inspect each URL and see what keywords it is targeting, position in SERPs, visits per month, backlinks, and social shares.
You can enjoy all the features with the free plan. Paid plans are very affordable as compared to other SEO tools in the market. Paid plans don't come with search query limits.
2. GetResponse for Email Marketing

GetResponse is a powerful email marketing and marketing automation platform. It offers multiple solutions including email marketing, conversion funnels, marketing automation, landing page builder, webinar builder, and more. It is much more than your traditional email marketing tool.
The email marketing by GetResponse is suitable for businesses of all list sizes. You can create newsletters and autoresponders with its intuitive dashboard. Its email design editor is a handy drag-and-drop builder that lets you design professional emails within minutes.
Marketing automation is a powerful feature that helps you create funnels, automation workflows, and connect everything with your email campaigns. You get access to hundreds of templates that can be customized as per need including landing page templates, email templates, automation templates, funnel templates, form templates, and more.
You can try GetResponse free for 30 days. All plans come with a free trial. You get a chance to explore the platform before making a final decision.
3. Canva for Designs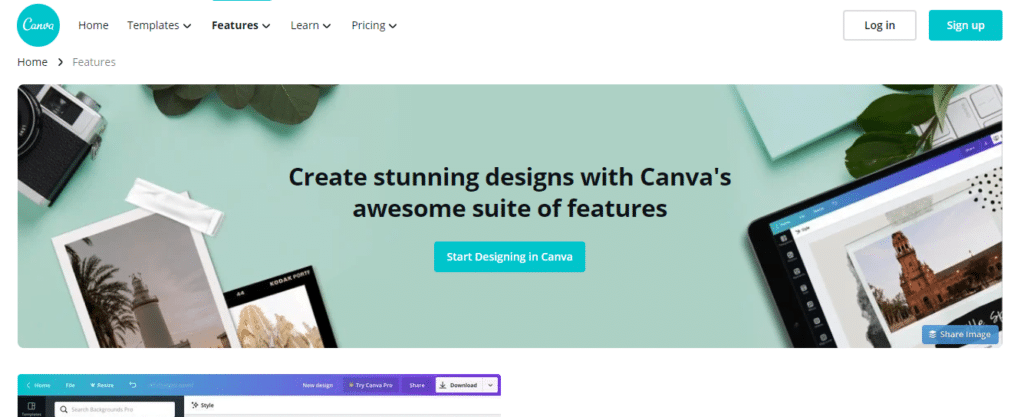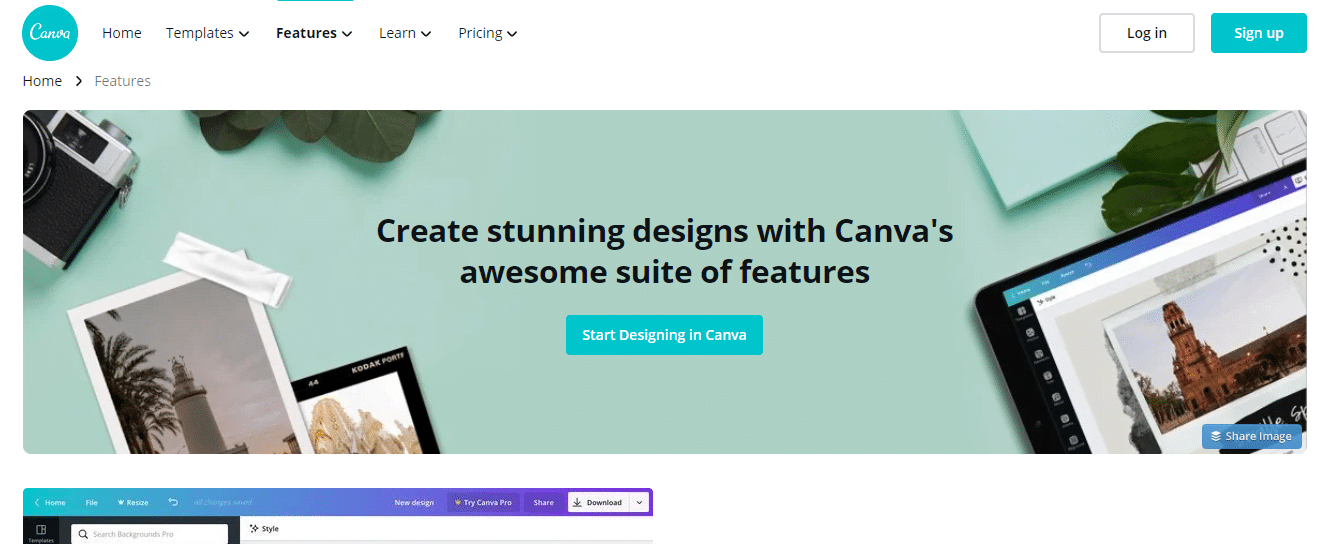 Canva is one of the best free marketing tools for businesses that you can't go without. It is a design tool with a drag-and-drop editor that makes it super-easy to create professional designs and graphics for marketing purposes.
Canva has more than 50K free templates and 60+ million stock images, videos, graphics, and photos to supercharge your designs. You can create social media posts, flyers, letters, infographics, charts, and pretty much any type of design with templates. You can download your designs without any watermarks. You own the design and you can use it wherever you like.
It has a robust team sharing and collaboration feature that makes it an ideal design tool for large teams. You can share designs, edit access, comment, and create workflows for design approvals.
It has a free for life plan that comes with limitations. Switching to a premium plan gives you access to more templates and graphics including free and premium ones.
4. Buffer for Social Media Management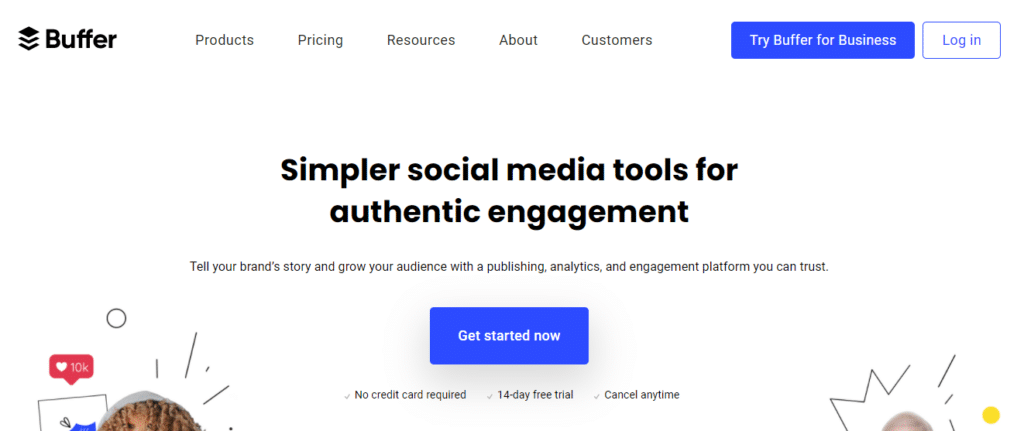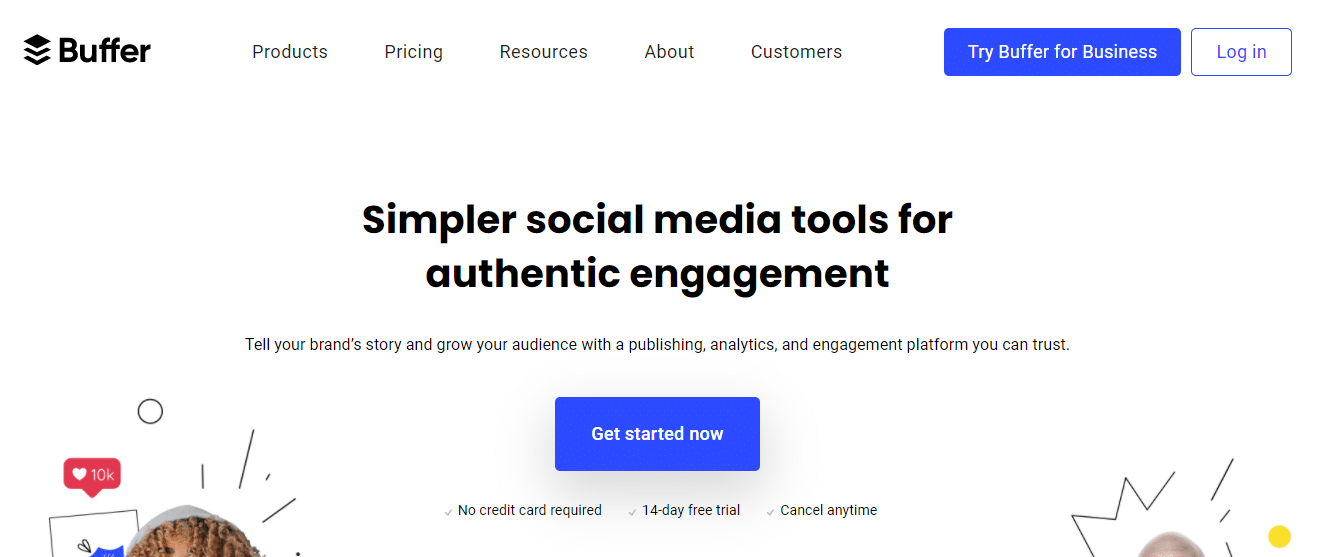 Social media is a must-have marketing channel for today's businesses and having a social media scheduling and management tool is essential. Buffer is a perfect social media management tool for businesses of all sizes.
Buffer simplify social media posting, scheduling, and analysis. You can schedule up to 2,000 posts with a single click for all the leading social networks. Buffer supports Facebook, Instagram, Twitter, LinkedIn, and Pinterest. You can manage multiple social media accounts including Facebook pages from a single Buffer account.
It has a mobile app and a browser extension that lets you quickly add any post, content, image, or article in your queue. The best thing about Buffer is its design tool Pablo that lets you quickly design social media images and posts with an easy-to-use drag-and-drop editor. You can add any text to Pablo with the Buffer browser extension, design it, and schedule or download the photo within a minute. It is a perfect tool to increase social media engagement without making things complicated. Buffer offers a free trial for all the plans. The trial comes with restricted access to features, but it gives you a good idea of the tool.
5. Unbounce for Landing Pages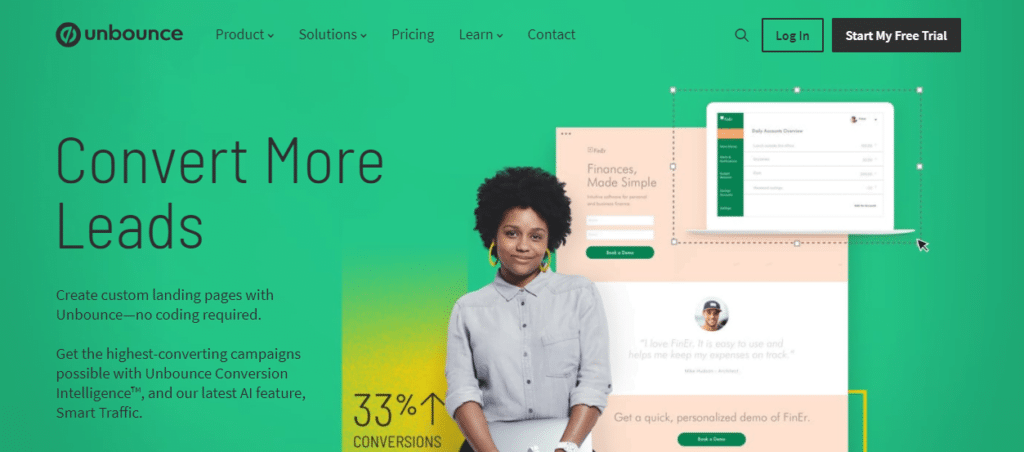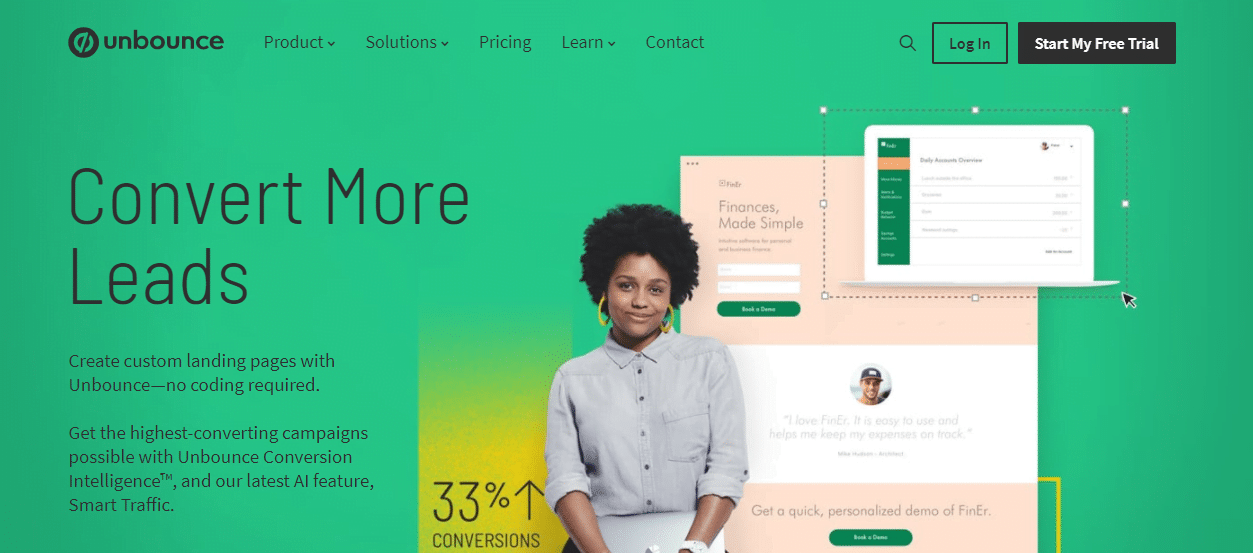 Landing pages drive conversions and marketing. Businesses need multiple landing pages for testing and conversion optimization, and this is where an easy-to-use landing page builder comes in. Unbounce is a popular landing page builder platform that makes creating, editing, and testing landing pages a piece of cake. You can create professional landing pages without any coding or designing skills.
It has a drag-and-drop landing page builder tool with 100+ landing page templates. You can get started immediately and can have your first landing page ready in less than 5-minutes. All the elements on the landing page can be customized easily. You can publish the landing page on your domain as soon as it is ready.
You can A/B test landing pages with the built-in A/B testing feature. This helps you improve the conversion rate and understand what type of landing pages work best for your audience.
Unbounce also lets you create popups and sticky bars to generate more leads with the same traffic. This is a core feature and is available with all the plans. This makes it a perfect lead generation tool for businesses.
Unbounce provides you with a 14 days free trial on all premium plans so you can explore the platform and features.
Final Thoughts
What marketing tool you use for your business depends on your business and marketing strategy, and what tools you have already in the stack. Integration is essential. Choose a marketing tool for your business that integrates seamlessly with the existing tools you are already using.
If it doesn't, it isn't of much use.
The right marketing tool for your business is out there, keep hunting.