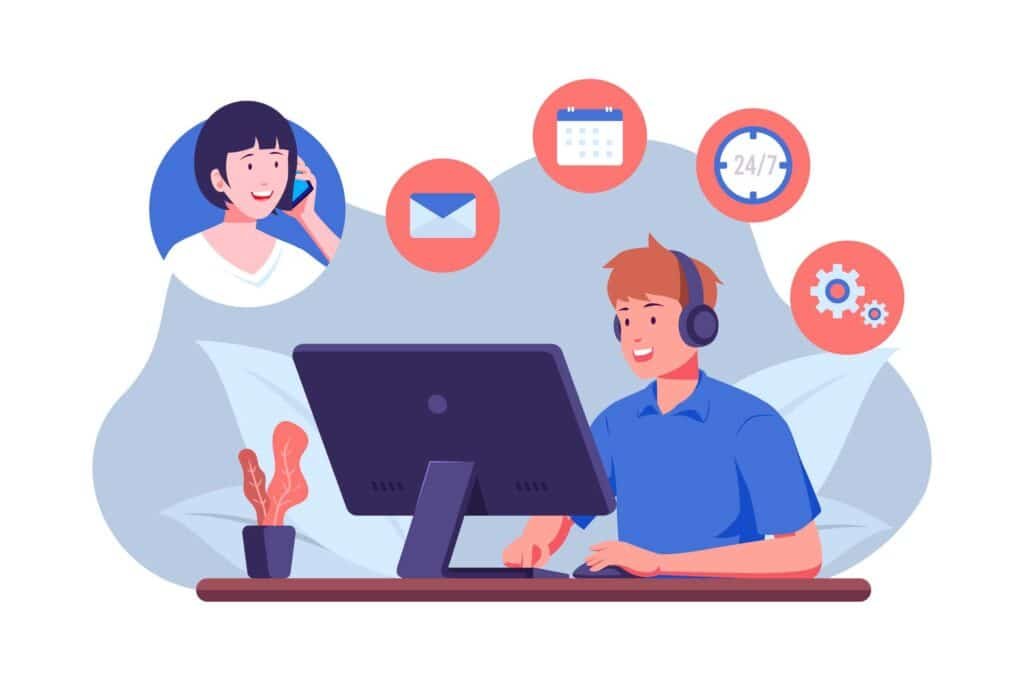 Customer support is majorly about fulfilling the needs of your customers as regards your products or services. It allows you to fix any issues or inconveniences so they can remain loyal to your brand. However, customer service is more efficient with the help of automated tools or software. In this article, we'll discuss those important customer support tools that you should equip your support staff with.
What is customer support?
Although both terms are often used interchangeably, help desk and customer service aren't the same thing. The customer support function of a business aims to assist with potential and existing customers. Service reps would typically answer customer questions and help to resolve product or service-related complaints.
On the other hand, the help desk is concerned with providing technical support to customers. They would resolve simple faults and escalate complex issues to the IT department. Some companies tend to have the same team for both helpdesk and customer support. But it's best to keep them separate so each aspect would be handled by experts.
Why is fast and efficient customer support important?
Businesses must provide great customer service to stay competitive. According to Salesforce Research, 88% of customers say the experience a company provides is just as important as its products or services. HubSpot Research says that 93% of customers buy repeatedly from companies that seem to offer excellent customer service. 
Poor customer service is a red flag for most customers and will chase them away. According to Microsoft, nearly two-thirds of customers will stop doing business with a brand once they receive poor customer service. Zendesk also says that roughly 61% of customers would likely switch to a new brand after one bad service experience.
5 Tools that will instantly improve your customer support
Apart from having skilled and competent support agents, you should invest in customer service software. They help to streamline support tasks for more efficiency. You can use support tools to reduce the workload on your agents as well as improve response and resolution times. Let's explore tools that you should use for customer support.
1. Help desk ticketing system.
If you would like to track and manage customer requests more efficiently, you should consider help desk ticketing software. It can automatically turn requests into support tickets and send them to the best possible agent available. It helps to automate repetitive tasks so agents can focus on resolving customer issues as soon as possible.
The features of a good helpdesk ticketing system would typically include an omnichannel experience, routing and tagging, third-party integrations, AI-powered self-service, reporting and analytics, etc. It allows agents to personalize conversations as well as record previous interactions with each customer for a smooth and seamless continuation.
2. Chatbots.
Live chat allows customers to speak with support agents and resolve issues in real time. It's available as a chat box on the company's website or store that customers can use to discuss their concerns. About 73% of customers feel more satisfied when using live chat to communicate with a company. However, live chat support is only accessible during work hours when support agents are active.
Chatbots are software applications that use AI and machine learning to understand natural language. They are available 24/7 and can answer customer queries. You can use them to recommend FAQs or help centre articles, provide common information, and collect user feedback. A chatbot helps to provide quick replies and connects to an agent when there are complex queries or technical issues.
3. Knowledge base software.
More customers are looking to find answers and solutions on their own using self-service options. These may include a knowledge base, discussion forum, or customer portal. It eliminates the need for speaking with a human agent and customers can resolve their issues almost immediately.
A knowledge base contains articles and guides that help customers understand your products and services better. You can publish various content such as answers to FAQs, product tips, visual guides, and step-by-step instructions. It helps to reduce support tickets and frees up agent time.
4. Social listening and monitoring tools.
It's a good idea to keep track of conversations about your brand and your competitors. It allows you to understand what customers are interested in and also discover new opportunities in the market. You can also learn what you're doing perfectly well and what needs to be improved on.
Social listening also involves monitoring brand mentions and responding to your customers. You need to engage with customers and adjust your communication and marketing strategies to match public sentiment. Popular monitoring tools include Hootsuite and Sprout Social.
5. Customer feedback tools.
You have to collect feedback to know how customers perceive your company's products and customer service. There are many ways to collect customer feedback e.g. social media discussions, online reviews, surveys, etc. It helps to determine how to improve products and services.
Many companies also ask for feedback and ratings after every support interaction. Chatbots and live chat software can also request customers to complete a feedback form. This allows you to understand how satisfactory the customer service experience is for your customers.