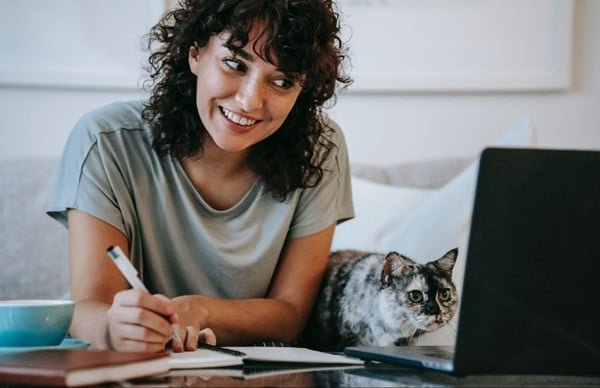 Whether you freelance on the side or run your own content-writing business, there is ample opportunity to learn new skills and scale your income. Freelance writing is one of the most lucrative side gigs because of the low start-up cost and high demand.
All businesses rely on some form of content writing to market their products and services or engage with customers.
Companies need content from writers to effectively communicate with their audience, provide valuable information, and establish credibility and authority in their industry.
Well-crafted content can help businesses engage with their target audience, generate leads, drive traffic to their website, and ultimately increase revenue. Consistently producing high-quality content can also help companies improve their search engine rankings, leading to more visibility and traffic.
As a skilled writer, you can help businesses create several content types, including blog posts, website copy, email newsletters, and more.
Overall, having access to well-written content can be the main factor in a company's success in today's digital landscape. Here's a closer look at seven of the most popular content types and how you can use them to boost your income. 
Product Descriptions
Product descriptions are some of the simplest forms of content because they are shorter and don't require much research if you're familiar with the product.
Companies use product descriptions to differentiate their products from competitors, highlight unique selling points, and showcase the value of their products.
Product descriptions can also be optimized for search engines, increasing the visibility of a business's products and driving more traffic to its website.
The increase in traffic will help companies recognize your value as a writer, making them more likely to pay higher fees. 
Blog Posts
Writing blog posts, or articles, is another type of content that's easy to learn. Articles that are lengthy and well-researched require more time, giving you good reason to charge more as your clients make more.
Well-written and informative blog posts can help businesses build relationships with their audience, leading to an increase in brand loyalty and customer retention.
By consistently producing high-quality blog content, companies can establish themselves as thought leaders in their industry and remain top of mind for their target audience.
Video Scripts
Many companies have realized how effective video marketing can be for their bottom line. Video marketing is a form of digital marketing that uses video content to promote products, services, or brands.
You can use this short and punchy content writing to make more money in less time. Video marketing can take many forms, including promotional videos, product demonstrations, how-to videos, customer testimonials, and more.
Businesses use this content to create an emotional connection with the audience, communicate brand messages, and encourage viewers to take a desired action, such as making a purchase or subscribing to a newsletter.
You can work with video marketing companies or individual clients by writing engaging scripts for their videos. 
Case Studies
If you enjoy telling stories, you will love writing case studies. Companies rely on case studies to showcase their products or services and demonstrate how they have solved a problem or provided value to customers.
Case studies are typically in-depth stories that include specific details about the challenge faced by the customer, the solution provided by the company, and the outcomes achieved.
They are often used in sales to build trust and credibility with potential customers and are used across various marketing channels, including websites, social media, and email campaigns.
The rates for case studies can range from a few hundred to several thousand dollars per case study!
E-Books
Companies should offer a freebie, such as a free resource or sample, on their website to attract and engage potential customers. Offering something of value for free is another way companies can build trust and credibility with their audience.
Freebies can also be used to collect valuable customer information, such as email addresses, that can be used for future marketing efforts.
One of the most common freebies for companies is an e-book or guide. Business owners and marketers are good at what they do, but many don't have time to write an e-book. That's where you come in.
Writing an e-book requires planning, research, and careful execution, and being an expert in an industry can help you make good money because of the high demand. 
Web Content
The demand for web content is also extremely high, as thousands of solopreneurs and companies need websites to market their products and services.
Writing web content requires a different approach than writing for other mediums.
Web content should be optimized for both search engines and user experience. It should be easy to read, scannable, and engaging.
Writing website content can be extremely lucrative because of the value it brings when it focuses on the reader or potential customer. 
E-newsletters
E-newsletters are another valuable tool for companies to communicate with their audience and establish long-term relationships.
Companies use newsletters to share company news, industry updates, and relevant content with customers, keeping them informed and engaged.
Like blog posts, your clients need e-newsletters regularly, allowing you to earn retainer income.
Clients may choose to send monthly or even weekly newsletters to build brand loyalty and drive revenue.
Newsletters can also be short forms of content that are fun to write, and clients will pay you decent money to write them. 
Final Thoughts
Successful freelance writers often have a diverse range of income streams and are skilled in marketing themselves and their services.
As a content writer, you can scale your income by specializing in an industry that interests you and developing your skills.
Some of the most popular and lucrative forms of content include product descriptions, blog posts, video scripts, and case studies.
You can also specialize in e-books, web content, and e-newsletters to make more money while helping companies reach more customers.
Content writing is a valuable skill, and you can use it to secure financial freedom and support the businesses you love at the same time.