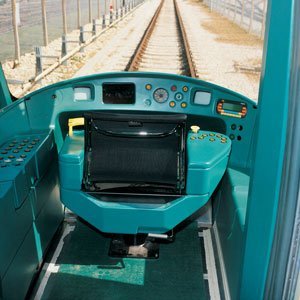 Cities are not just concentrations of people, they are also centres of economic activity and decision-making. Many European cities now face a transportation crisis. The popularity of the car has caused widespread congestion and for many, serious atmospheric pollution poses a serious threat to health.
This case study outlines the way in which Adtranz is Creating a New Transport System for a Modern City, the EUROTRAM, for Strasbourg – the European city lying at the hub of the European Union. The EUROTRAM will be at the centre of the Strasbourg transport policy into the next millennium.
Adtranz is a major force in the railway industry, with a new name and a new identity. The Group was legally formed in January 1996, as a result of a 50/50 merger of the transportation activities of the electrical engineering group ABB Ltd, Zurich, Switzerland and Daimler-Benz AG, Stuttgart, Germany.
The Adtranz group is an international railway company with a strong local presence. It is the world's most complete provider of railway systems for local, urban, regional and interurban passenger and freight transport. The Group employs over 22,000 people worldwide. Adtranz UK & Ireland employs around 4,500 people at 14 sites.
Strasbourg is one of the most prestigious European cities and has recently grown in eminence because it houses the European Parliament. It is a vibrant and growing city and a pivotal communications centre with the rest of the European Union. It is not surprising, therefore, that Strasbourg has opted for one of the most advanced internal transport systems in the world today – the EUROTRAM.
If you were asked to design a new tram system for a modern European city, what would be your prime considerations? Features might include – style and sophistication, reliability and accessibility, ease of entry and exit to trams, good value for money and, of course, harmony with the environment. This case study focuses on how Adtranz developed a product that would meet Strasbourg's needs.