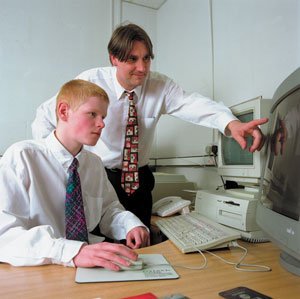 If you ask your friends about how school or college is helping them to achieve their ambitions, they will probably talk about their performance in obtaining formal qualifications such as A levels or GNVQs, or the prospect of moving on to university to become a graduate.
Some may talk about the professional or work-related qualifications they need for their chosen career and they may discuss their plans to take a modern apprenticeship and obtain NVQs in various fields. Qualifications are very important as they provide the knowledge and understanding required for work.
However, in today's competitive market place, where the pace of change is increasing, employers are concerned with how well their employees are equipped with skills as well as academic qualifications. We only have to read the job advertisements in the press to see such requirements such as these:
'The credibility and authority to establish a rapport with highly successful and busy people'
'Problem solving skills'
'Clarity in thinking and articulate in expression'
'Entrepreneurial and management skills'
'Strong leadership and strategic marketing skills'
'Capable of working effectively as part of a team'.
The economy consists of many different sectors including the secondary sector which is concerned with manufacturing and construction and the tertiary sector which is comprised of commercial services concerned with trading activity and direct services such as teaching and medicine.
Since the 1960s, employment in manufacturing has fallen from one in three of the workforce, to under one in five. This has been mirrored by a huge rise in jobs in service industries which now account for over two-thirds of employees. Modern societies are often said to be in their 'third wave'. The 'first wave' depended upon agriculture, the 'second wave' saw the domination of manufacturing and today the 'third wave' involves increasing emphasis upon service industries.
The Industrial Revolution was built on capital investment in plant and machinery, manual skills and hard labour. Today's information and knowledge driven revolution is based upon a very different foundation – investment in the intellect and creativity of people. Below are some examples of this trend:
The shift to service sector employment has increased the number of people who interact directly with customers as part of their daily work.
Team working within projects has increased across all industries.
Older technologies are being replaced by integrated approaches to manufacture, i.e. Computer Aided Design and Manufacture (CADCAM).
Core people today are required to work flexibly across a range of job roles.
Organisations have fewer layers of management.
Empowerment has increased the participation of employees within their organisations.
Flexible working is changing people's working patterns.
Within the workplace individuals have more independence to manage themselves and their activities, rather than having this done for them by management.
Department For Education And Employment 5 Image 7In the past when we thought about skills, we thought about those that were specific to particular occupations. Skills were defined by job titles such as 'joiner' or 'toolmaker'. Though many of these skills still exist, there are a number of skills required for any job whatever it may entail. These are known as Key Skills.
Key Skills are general skills related to almost any occupation. They include the ability to:
communicate and work well with others
organise one's own work and solve problems
use information and communication technologies
work accurately with numbers and apply them to tasks.
There is a growing recognition that many individuals entering the workforce for the first time lack some of the necessary Key Skills essential to face the challenges they are presented with. People in the workforce must be flexible, multi-skilled and able to respond quickly to new business opportunities and organisational change.
There is also a recognition that individual employees need to take more responsibility for collecting, developing and monitoring their own Key Skills. In order for them to adapt with flexibility to all that is happening in their workplace, this process of developing Key Skills should be part of lifelong learning and development. Lifelong learning is the continuous development of the skills, knowledge and understanding that are essential for employability and fulfilment.
The reasoning behind Key Skills is to create a long term policy which enables people to develop the special skills necessary to become effective members of a flexible and adaptable work force where everybody is an active participant in lifelong learning.
Each of these activities may in themselves present a range of problems. For example, you may need a teacher to accompany you to the careers convention, or there may be a lack of accommodation for the one-day conference. The starting point would be for the group to meet together to discuss your proposals.
Planning will be involved, as you need clear deadlines and responsibilities. You may wish to use some form of information technology to communicate or process information. Some numerical data such as fees or charges may be required and may involve calculations and drawing up a budget.
As you work through this project you are learning about your own strengths and skills. In fact you will be developing and using many of the same Key Skills that employers look for in their young workers and employees. But, remember that such skills are not just helpful at work, but also improve your ability to organise, manage and develop yourself within your life outside work.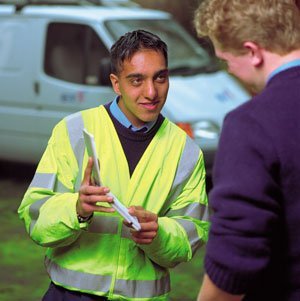 Employers feel that attitude and personality, the ability to work with others and problem solving are additionally important. They emphasise the need for people to bring a wide range of knowledge and skills to work-based tasks that will complement their occupational, technical or professional qualifications.
Organisations have to rely on the continual development of the skills of their current and future workforce in order to maintain their competitive edge. Research has shown that high skill economies are much more likely to succeed than those that depend upon low skills.
These and other research findings have helped to construct six nationally accredited Key Skills. These are as follows:
Communication - Communication is part of everyday life in business and involves taking part in discussions, making presentations, producing written materials, using diagrams, tables, drawings, plans, reading and responding to written material.
Working with others - People are an organisation's most important asset. An organisation needs staff who are able to adapt to working with a range of different individuals and work together effectively in order to build teams that can be relied upon. Working with others involves co-operating with others, planning team goals, responsibilities and working to these goals within deadlines.
Improving own learning and performance - Employers need staff to be flexible, use their initiative and take ownership of tasks. Increasingly employees have to take responsibility for their own development through processes such as appraisal, extending job roles and adapting to new procedures.
Information technology - The computer has become an essential tool for every business. Using information technology involves preparing and entering information, processing the information by editing and sorting, presenting it in the most appropriate way and evaluating the use of an IT system, including safe working practices. Safe working practices means that everyone who uses IT takes into account Health & Safety requirements.
Problem solving - Problem solving skills are now of greater importance to employees at all levels of operation. For example, junior staff will be expected to deal with simple problems through established procedures, while more senior staff will be expected to develop original and creative approaches to complex problems.
Application of numbers - All organisations deal with numbers on a daily basis, sometimes by handling cash, checking stock or meeting production targets. The skill of number work includes collecting and recording numerical data, tackling problems using calculations and interpreting and presenting data.
BT and The Prince's Trust Volunteers
BT has linked up with The Prince's Trust Volunteers to support modern apprentices in developing their Key Skills. This project has helped young people to become more responsible for their own learning and development and has made a dramatic difference to their lives and contribution to work. For example, it has improved the confidence of many young people, helped others to gain promotion and enabled some to tackle tasks they would otherwise have found too challenging.
The needs of employers are constantly developing and you are likely to work for a number of different employers in different roles during your working life. Never before has the responsibility of retaining and developing your own employability as part of your own personal development been so firmly placed on your shoulders.
The challenge you face during this time is to equip yourself with a new and broader range of skills. This places new demands upon you as an individual employee as well as the organisation you may work for. To stay in the labour market you will constantly have to maintain the currency of your skills. At the same time employers must actively encourage the development of your skills in order to maintain their own flexibility, creativity and innovation.