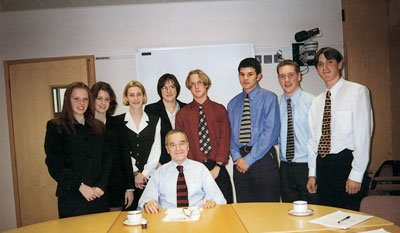 The world of work has changed dramatically in recent years. Gone are the days of jobs for life in which an individual might work for a single employer until their retirement. Today, organisations operate in an environment of constant change and, therefore, they need to adjust their structures and work patterns to adapt to these changes. This requires individual employees to be more flexible in their approach to work. Individuals entering work need to engage in a process of lifelong learning, continually adding to their portfolio of skills, knowledge and capabilities. This case study focuses on ways in which a well known business organisation has set about building a workforce to meet the challenges of the future. It examines the recruitment of young people with the necessary qualities of innovation and adaptability to operate in a challenging business environment. Additionally, it outlines some of the important training schemes developed to help trainees progress whilst working for the organisation.
The equitable life assurance society
The Equitable Life Assurance Society is a successful provider of financial and associated services consisting mainly of Life Assurance and Pensions. It focuses on high net worth individuals (i.e. people whose incomes and wealth are higher than average) and selling pensions and insurance to groups e.g. through company pension schemes.
The Society still essentially follows the principles of its founding members. In modern terms they are:
to operate as a mutual body providing financial and associated services directly to the policy holders at cost. Unlike many other societies, The Equitable Life Assurance Society has not become a public limited company (Plc). The owners of a mutual society are its members rather than shareholders.
to run a full 'distribution of profits' policy and to avoid the unfairness created by the retention of profits earned by one generation of policyholders for the benefit of successors. Furthermore, to aim at 'fair' bonuses between all classes and durations of policy.
'Equitable' means fair. The Society sets out to treat its members fairly, so that those people who have bought policies with the Society should receive a fair share of the profits. The Society is now the highest producer of new annual premium business in the UK. This position has been achieved by steady growth over a number of years.
In recent years, The Equitable Life Assurance Society has set out its aim as that of:
'Growing more contented customers.' This simple statement is very important. It shows a customer led approach - finding out what the customer needs and delivering it.
In the 1970s and 1980s, many companies in the UK had a top down approach. Senior managers at the top of each organisation passed down decisions and instructions to lower level employees. Today, thinking has completely changed. It is now more typical to see customers placed at the top of an organisation chart, followed by the customer service employees who interface directly with customers and who are best placed to determine their needs.
Training and development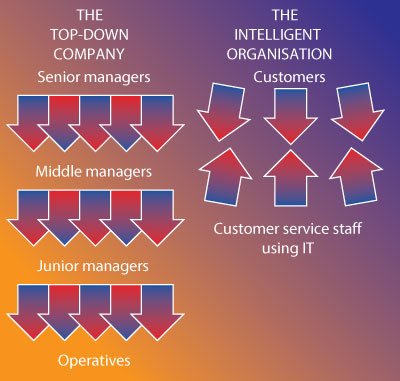 In order for this to be successful, organisations like The Equitable Life have focused on the recruitment and training of highly able customer service employees who are trusted to take decisions themselves. These are people who will not wait to be given orders, they are intelligent and innovative enough to take suitable decisions themselves and are highly proficient in the use of Information Technology. Business writers refer to them as 'knowledge workers' and state that 'intelligence is the greatest asset of the modern organisation.' By providing good quality customer service, linked to good returns for policyholders, The Equitable Life hopes that:
existing customers will make increased payments to the Society
new customers will join the Society.
The Society listens to customers and shows concern for their needs. The product range reflects the needs of its policyholders and is recognised for innovation. In recent years, the Society has also introduced new IT systems and undergone organisational change to meet the service requirements of policyholders. A steady growth in new business has occurred and has brought about growth of the business as a whole.
This growth has been achieved whilst keeping expenses under control. These tables show how the Society has grown over the past 10 years and has steadily driven down costs of operation. In other words, there are more policyholders benefiting from the existence of the Society today with lower operating costs than in previous years.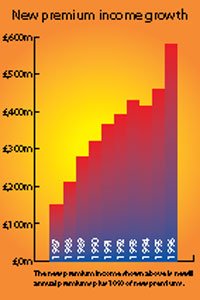 Training and development are essential for all individuals working for organisations as well as for the organisation itself. The aim of training is to ensure that people can reach an appropriate level of performance in their jobs as quickly as possible. It sets out to fill the gap between what someone can do and what the business requires them to do. Training, therefore, builds up skills and knowledge to increase the competence and confidence of people in the workplace. It helps those being trained and also benefits the organisation they work for. Training can, therefore, be of great value to the organisation.
Benefits to individuals include greater skills, more knowledge, increased confidence and better career prospects. Benefits to the organisation include more productive employees, better quality work, lower absenteeism through increased job satisfaction, lower staff turnover and a greater ability to use the latest technology. A common definition of development is 'the modification of behaviour through experience'. Development operates at all levels in an organisation from the new apprentice to the managing director. Development enables individuals to perform their existing duties better.
Types of training
There are a number of different types of training:
Induction. Induction training is given to new employees. It familiarises them with the organisation and its rules. It can also be used to show the new employees specific job skills e.g. filling in a proposal form, dealing with customers over the telephone etc.
Upgrading skills. As we have seen, the nature of work changes constantly. This has been particularly true in recent years at The Equitable Life with the introduction of new technology. It is therefore necessary to upgrade employees' skills constantly e.g. by helping them master new IT skills, but also to develop their customer service skills e.g. letter writing and telephone skills, to cope with the demands of today's customers.
Multi-skilling. Multi-skilling is the process of training employees to do a number of different tasks. Today's employees need to have a multitude of different skills in order to be able to cope with a variety of tasks. This work flexibility can be developed through training. Today, organisations like The Equitable Life want employees with a 'can do' approach to problem solving and decision making.
'On-the-job' and 'Off-the-job' training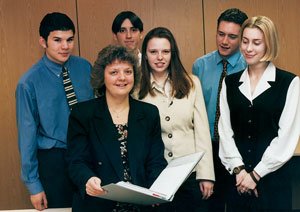 On-the-job training involves learning new skills through experience at work. A new employee will be given a 'mentor' to help them settle into the organisation and to coach them. The employee is able to try out new skills in real situations. Charles Anderson of Lloyds Bank argued (Ashridge Journal, April 1994) that due to the complexity of new products, higher expectations of customers and ever more elaborate and sophisticated support systems 'it is simply impossible to prescribe the correct way to handle all possible situations. On-the-job coaching is the only way for people to learn the necessary skills: by working with an experienced coach, who can help them to extract the general principles and issues which lie behind specific incidents.'
Off-the-job training involves taking employees away from their jobs to be trained. It can be done within the company's premises or externally, at courses run by specialist training groups. Off-the-job training tends to be more expensive due to trainers' fees and because the employees are unable to produce any work while they are away. However, off-the-job training enables employees to look at a wider variety of approaches and can provide a refreshing change of scene.
The Society's staff have been instrumental in its success because of their adaptability to change. In recent years, the Society has introduced a number of initiatives to help existing and new staff become more effective.
Restructuring the organisation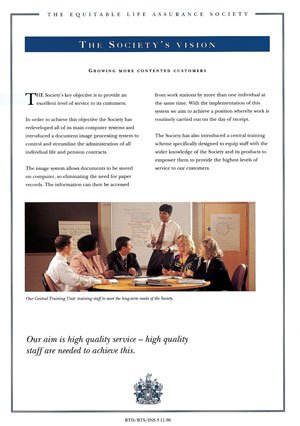 The Central Training Unit at The Equitable Life has played a key part in the restructuring of the organisation and in helping staff to update their skills and ability to work in a modern business environment. The Unit offers an eight week off-the-job training and development programme for existing staff which focuses on working to develop new approaches to customer relations to help the Society to 'grow more contented customers.' The course begins with 'Learning To Learn' – an approach designed to enable trainees to become 'lifelong learners' and to make good use of learning opportunities.
The course aims 'to help individuals develop their attitude, direction, knowledge and skills so that they are able to contribute effectively towards growing more contented customers.' This is achieved by:
helping trainees to feel confident about themselves and believe that they can play a significant part in growing more contented customers
helping them to understand and deal positively with change
helping them understand and think about the Society as a business, bearing in mind the Society's products and standing in the financial services sector
ensuring that they receive appropriate technical and skills training to meet their individual needs.
Business trainee scheme
This is a highly important initiative which involves bringing top quality young people into the organisation and helping them to find their feet. It consists of an eight to twelve month training and development programme for 8 school or college leavers from the Aylesbury Vale area.
The Graduate Management Development Scheme is a development scheme that has been designed to improve the management skills of graduates. It involves a system of attainment targets for individuals without specific time limits.
Induction programme
Designed as a flexible programme for new recruits, it consists of up to 8 weeks mainly off-the-job training. The Society feels it is important that individuals have a wide range of skills and aptitudes along with the desire to provide high quality service. These are:
interpersonal skills
desire to help clients
sensitivity to others
problem solving skills
product knowledge
understanding of the Society's business aims
systems knowledge
innovation
understanding of the Society's place in the business world.
The training & development programmes use a variety of methods to help each person develop. The idea for the Business Trainee Scheme first arose during a period when the Society had suspended general external recruitment following the introduction of new systems. It was felt that young recruits were needed to keep the Society vibrant. It would also help the local community at a time when job opportunities for young people were very limited. The foundation stones were:
concentrate on the local area (Aylesbury Vale)
recruit staff with the skills and attributes to serve customers well
training and development should include personal attitudes and skills
the recognition that each person would have different needs and would learn at their own pace
a wide variety of methods was needed
that trainees starting in September should be ready to help the business during its peak workload between February and April.
The recruitment process is seen as part of the training and development process. It is limited to pupils of schools and colleges within the Aylesbury Vale area and is 'advertised' through the schools and the local Careers Service. To obtain an application pack, it is necessary to attend a seminar giving more information about:
the Society
the Scheme
the talents the Society is looking for
useful hints on applying.
The emphasis is on the choice that applicants need to make – 'Is the Society right for them?' If so, apply. The application process is then designed to help the recruitment team assess whether the candidate is right for the Society. Although the Application Pack includes a great deal of information, the Application Form is simple in concept. The main information about the candidate is derived from a series of questions. These questions are designed to allow the candidate to show the qualities that the recruiters are looking for. These qualities include:
ability to work in a team
flexibility
initiative
sensitivity to others
ability to take responsibility for themselves.
Applicants are encouraged to be creative in their responses. The Society agrees to accept most formats and styles - after all they are looking for creativity and innovation. Successful applicants are invited to a selection day when they undergo:
interviews
aptitude tests
a group exercise
visits to the working environment.
It is hoped that this selection day is a useful experience in the development of all candidates. Once trainees have started to work for the Society, they will be given a series of learning targets for the first 10-12 months. Some of these will be standard for the Scheme but many of them will be individual. They will be set by trainers in consultation with the individual and others. The Society believes that individuals 'learn by doing' and by taking responsibility for their own learning. Each individual will, therefore, be involved in identifying his/her needs and suggesting how to meet them. A variety of learning methods are used including:
overviews by experienced staff from all areas of the Society
work shadowing
coaching and counselling
group training
recording individual learning in a training planner
projects
work placements
fact finding at various branches and areas throughout the Society
options to study for further qualifications
computer based and interactive video training courses
reading.
A proven success
The first trainees were recruited in 1993 and of a total of 31 trainees recruited, 29 remain with the Society today. This is an excellent retention rate, proving that recruits enjoy working through the training scheme and have begun successful careers with The Equitable Life.
The managers within The Equitable Life's business units are very keen to have trainees working in their area and to encourage the continuation of their development.
Conclusion
This case study has shown how The Equitable Life Assurance Society has adapted positively to the changing world of work. Through its training, development and recruitment schemes, the Society is building a more knowledgeable and competent workforce for the future.