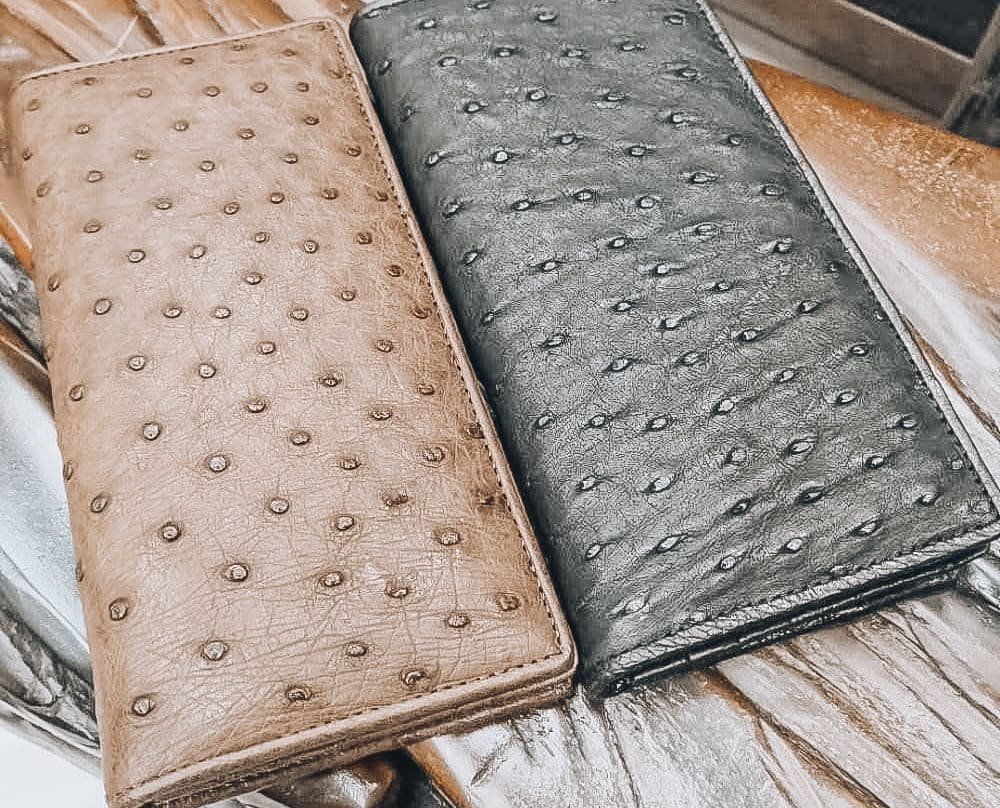 Every person who values practicality needs a wallet. Not just a wallet, but a durable accessory made of genuine leather. Why leather? Because it will serve you well for 10, 20, 50, and even more years; it all depends on the type of leather and its quality.
If you're looking for a resilient and simultaneously durable wallet, it's worth considering ostrich leather. Below, we are going to pinpoint some of its strong suits.
This is How You Can Recognize Ostrich Leather
Ostrich leather is known for its unique features and flexibility of processing, although the processing itself is rather complicated. Ostrich skin is full of natural oils and resists drying, cracking, and stiffness.
You can unmistakably recognize ostrich skin by its appearance. No other material looks like it. The dorsal and chest skin of an ostrich has a smooth surface with characteristic bumps.
These bumps are follicles at the base of feathers, and they are otherwise known as the crown. Along with that, the skin taken from the ostrich's legs has a unique scaly texture. In fact, only one-third of an ostrich hide features follicles.
It is the crown that determines the price of ostrich leather: the more bumps a piece has, the more expensive it is. The number of follicles doesn't change throughout the animal's life, so the skin of an adult ostrich will have the same number of follicles as the skin of a young individual.
The possibilities of using ostrich skin from the back and chest are almost endless: jackets, coats, skirts, gloves, briefcases, bags, shoes, belts, upholstery, and wallets, just to name a few. The leather covering the tarsus is ideal for constructing ostrich shoes, belts, bags, and other high-class accessories.
Price for Ostrich Leather Goods
Since the dorsal area is small yet the most sought-after, it is clear why high-quality ostrich products are much more expensive than those made of cowhide leather. This, along with the fact that ostrich is among the best-selling leathers, turns genuine ostrich wallets into items of luxury.
The more distinct and denser the follicle pattern, the higher its price. Real ostrich skin is easy to tell from fakes. You just need to look closer at the follicles. Simulations are going to have a rather flat texture.
On top of that, the follicle pattern is unique for every hide, it never repeats, and it is never ideally arranged. So, if you take an alleged ostrich wallet and you see uniform and lookalike bumps, it is a sign of a fake.
Sound follicles give off are also a clue. If you press your finger against one of these bumps, you must hear a characteristic squeak. If you hear nothing, this material is not genuine leather.
Benefits of Ostrich Leather
Ostrich leather boasts one-of-a-kind features. Despite its thickness, it is amazingly soft, supple, and extremely durable. A topnotch ostrich wallet will last an average of 30 years, while a calf leather product will serve you for less than a decade.
Along with that, ostrich leather is incredibly easy to work with. It is dyed and sewn by hand, and it lends itself well to tanning. Now let's take a closer look at these benefits.
Ostrich leather established itself as one of the softest and most resilient materials for accessory-making. Initially, it contains so many natural oils that it barely acquires cracks or scratches over time. This leather is very durable, waterproof, and ductile.
Thanks to its suppleness, it easily takes any required shape. On top of that, the distinctive crown pattern makes counterfeiting nearly impossible (at least, when experts and seasoned buyers are involved).
Ostrich leather is often considered alongside genuine crocodile leather. When being stacked up against each, the skin of the giant bird comes out on top in the category of suppresses, and its waterproof properties are on par with reptiles'. Another important fact to think about is: ostrich skin lends itself well to dying.
As a result, ostrich leather wallets are available in more than 100 different shades. Unfortunately, the same can't be said about crocodile leather. Yes, it is dyed but the process itself is slow and complicated. Plus, even the most luxurious products may have 'blind spots', i.e. areas of the original colour.
This happens because crocodile skin features bony plates that resist dying. Price-wise, wallets made of ostrich skin tend to cost lower than counterparts made of reptile leather but they are more expensive than python items.
One more benefit of ostrich leather is that it doesn't require CITES certificates, unlike python and crocodile leather goods. This makes it easier and faster to send products to every corner of the world. Plus, there is less hustle during customs clearance.
Last but not least, ostrich farms have sustainable production. Ostrich carcasses are cut for meat, their feathers are used for folk crafts, and the skin is indispensable for leather goods production. Unfortunately, it is not always the case when it comes to exotic leathers – oftentimes, manufacturers have to dispose of animal carcasses after their skin has been harvested.