Today, we are aware of the close links between business growth and protection of the environment. The emphasis is on sustainable development; on creating patterns and practices within industry and commerce that can ensure long-term prosperity, but not at the expense of nature and society.
Travis Perkins fully intends to be a sustainable business. To be sustainable, a business needs to:
generate profits for its shareholders
provide good employment conditions for its employees
trade fairly with its suppliers
look after the communities in which it operates
act as a guardian and improver of the environment.
Travis Perkins looks to do all of these things.
This case study shows how the company has built an Environmental Management System (EMS) based on the International Standard ISO 14001 in order to reduce costs and make a major contribution to 'sustainability'.
Travis Perkins plc is a leading UK builders' merchant, operating under the Travis Perkins, Keyline, TP Plumbing & Heating, Connections, DW Archer and Atkins brands. The company sells a wide range of building materials from a national branch network. Company operations also include timber manufacturing and tool hire outlets. A large fleet of commercial vehicles delivers these materials to its customers.
An Environmental Management System identifies and establishes a set of rules and practices to help everyone within an organisation to understand and accept how, through their actions, they can best ensure high standards of environmental care.
The nature of its business means that Travis Perkins interacts with the environment in many ways. The company intends to minimise its impact on the environment.
Travis Perkins has identified four key pressures affecting the organisation in relation to environmental issues. The company had to respond to these pressures in appropriate ways whilst still providing good returns to shareholders.
Scientists and other experts worldwide have increasingly been concerned about the possible environmental impact of industrial activity. This has led to increasing international pressures for changes in industrial practice. Several inter-governmental conferences have taken place with the aim of creating international agreements. These included the Johannesburg Conference in 2002, and most notably the Rio Conference which established the Rio Treaty in 1992, and Agenda 21; A set of Action Steps for the 21st century.
These conferences and the resulting European Union regulations have led to many new UK laws. In particular, the Environment Protection and the Pollution Prevention and Control regulations have placed legal obligations on businesses and how they operate.
For example, all companies operating large wood mills must have a permit. This sets out monitoring and record keeping requirements and also strict controls on the releases from these processes. Industrial wastes must be identified, documented and transported by authorised carriers only.
There are additional regulations for special wastes such as toxic materials. In addition the Water Resources Act protects 'controlled waters' including rivers, lakes, coastal seas and groundwater. It is illegal for businesses to discharge wastes into these controlled waters without consent, and only then under strict regulations.
There are also controls on deposits into sinks and drains. Businesses that fail to comply face heavy fines and, in the worst cases, custodial sentences. Firms can also be prosecuted for failing to keep product-packaging materials to a minimum.
Today, Britain has some of the world's tightest environmental regulations. Complying with these raises firms' costs. As existing landfill sites fill up, firms have to transport waste over greater distances. Also, a rising Landfill Tax is putting pressure on firms to recycle. The Carbon Tax on energy consumption encourages businesses to use less energy.
Consumers influence business activity because they can always buy elsewhere. Environmental criteria are increasingly becoming critical factors in purchasing decisions. For example, many companies will buy only from suppliers that conform with ISO 14001.
Several of Travis Perkins' customers now insist that timber comes from sustainable sources, and many invitations to tender for contracts include questions on the company's environmental approach.
Organisations also require a 'licence to operate' from the local community. Citizens today are rarely in favour of anything that is carried to excess including producing noise, odour and dust in residential areas.
Forward-looking businesses respond to all of the above pressures and realise that their shareholders will only support them if the firm is building a viable future. Travis Perkins is one of the top 200 quoted UK companies. As such, the company must maintain its public reputation at a high level. Reputation includes environmental performance.
Travis Perkins chose ISO 14001 as the basis of its Environmental Management System because this standard:
is internationally recognised and respected
involves regular independent audits.
The Travis Perkins ISO 14001 EMS consists of several linked components.
The registers identify around 100 laws with which the company must comply.
In addition, an audit of Travis Perkins' activities established many environmental aspects.

Travis Perkins' Environmental Policy sets out the company's commitment to:
comply with legislation at all times
prevent pollution as far as possible
seek continuous improvement.
The policy underpins an Environmental Improvement Plan that serves to identify steps the management and workforce can take to improve environmental performance.
Together, the policy and plan provided a clear framework for establishing Environmental Management Procedures and Operating Procedures. These set out the management responsibilities and tasks as well as the operational activities ('who needs to do what' required to deliver the policy. The company has created training materials including workshop sessions, specially prepared literature, and a video to support the programme.
Travis Perkins' Environmental Improvement Plan sets out key actions being taken to deliver continuous improvement in the company's environmental performance. These cover:
CO2 emissions
electricity use
vehicle emissions
storage and use of oil
use of diesel, petrol and gas
discharges to drains
water
storage and use of timber treatment chemicals
purchase and sale of products, particularly timber.
These set out the actions and responsibilities of particular employees. The Environmental Policy obliges all employees to 'ensure high standards of environmental care'.
On a day-to-day level this means:
observing all relevant legislation
seeking to prevent pollution
looking for ways to make continuous improvements.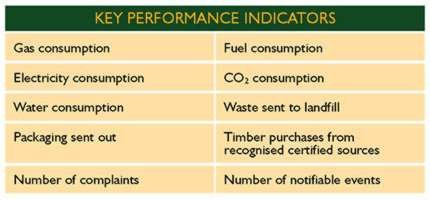 It is vital to set measurable targets so that performance can be monitored and ongoing adjustments made.
Travis Perkins has set itself ambitious targets for measurable improvement under a number of headings.
Complying with ISO 14001 does have some costs as the standard is rigorous and requires clear, effective actions. For example, to be accredited with the award, an organisation has to demonstrate that all employees understand the principles to which they should be working. These principles, set out in a manual, have to be communicated effectively to all staff.
However, Travis Perkins knew that the benefits of the new Environmental Management System would outweigh the costs. The benefits are achieved through a number of cost reductions. These resulted from better design of operational processes and a more environmentally conscious approach in every aspect of the company's operations e.g installing energy-efficient lighting systems.
Other measures to reduce costs have included:
using less electricity
planning superior distribution systems that use less fuel
using gas for heating more efficiently
reducing the amount of waste sent to landfill sites
eliminating unnecessary packaging.
Travis Perkins has a very substantial cost in waste disposal, in order to reduce these costs, its business processes have been redesigned using the formula shown.
Travis Perkins has undertaken thousands of separate activities based on its Environmental Management System. These range from increasing the percentage of their timber that is sourced from certified sustainable sources and installing skips that can help waste segregation.
A successful EMS depends on good communication. Travis Perkins has sought to create a culture of improvement within the organisation based on everyone taking responsibility for Environmental Management.
Every employee has seen a training video, supported by an internal newsletter. The Environmental Policy is displayed in all work areas. Display boards and training materials are geared to communicating Do's and Don'ts in simple action phrases under headings such as Waste, Oil and Chemical Storage, Water Use. For example, the poster on Waste highlights best practice.

Since developing its EMS, in one year, Travis Perkins has moved from 10th out of 13 to 4th out of 18 in the building materials sector. The company continues to benchmark against the best standards in industry and its aim is to remain within the top 25of this indicator.
In an environmentally conscious world this is good for business as well as the environment. Reduced business costs give greater competitive advantage which potentially increases profits and returns to shareholders. At the same time, nature and the environment in general are also clear winners.