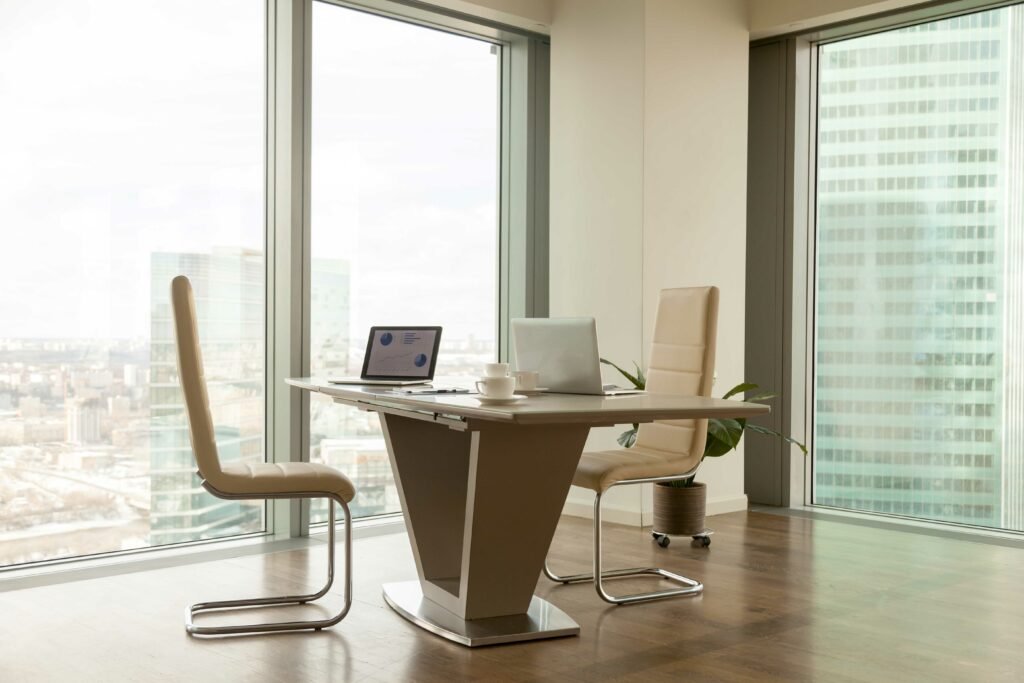 Take any industry in 2023, and you will instantly notice two most sought-after tendencies:
Sustainable, eco-friendly policies;
Smart financial solutions.
It may be the reason why used office furniture is becoming the hottest trend in workplace interior design this year and seems to hold this priority in the observable future.
In this article, we decided to take a closer look at this trend and understand what buying second-hand office furniture tells about a company today and how can it influence the future of business.
Budget-thinking how to develop your company and help fellow business people in the post-Coronavirus world
The idea that second-hand office furniture is a money-saving solution for a business is pretty obvious. However, another perspective on this matter became most significant in light of the ongoing economic recession.
The quarantine restrictions caused by the Pandemic of Covid-19 caused many businesses to halt or terminate their activity. Many of them have debts and obligations. Selling their assets, including office furniture, is a way for them to get extra money and put their finances in order.
Those businesses who survived and want to continue developing in the post-coronavirus economy also see selling used or excessive furniture items as a way to get extra cash.
Therefore, the trend of preferring second-hand office furniture is an act of mutual support in the business world that helps make intelligent financial decisions and find the most effective solutions.
Second-hand furniture is the core of sustainable corporate policy.
Conscious consumption, sustainability and environmental awareness are concepts that become common for all industries today. Each business is trying to find eco-friendly solutions that will allow it to claim itself as clean and pure.
It becomes a significant reputation factor as investors and customers often prefer to associate themselves with companies that are known for their environmental awareness. And contribution to a movement for sustainable and ethical operation.
Buying second-hand furniture each business helps to protect the environment from pollution and CO2 emissions caused by the manufacturer, preserve natural resources used for new items, save energy, water, etc.
The concern about carbon footprint and personal environmental responsibility is becoming more common in the design world. Making second-hand office furniture the mainstream trend in the workspace interior décor 2021.
Multipurpose as a philosophy
The Pandemic has changed the way people see work and its actual role in their lives. Many tried teleworking for the very first time and decided to stick to this concept even after the quarantine restrictions were lifted.
Others don't mind returning to offices but wish to change their approach, turning work from an obligation into a thrilling and engaging activity.
That is why more and more companies look for innovative furnishing solutions. That would help them turn offices into multifunctional spaces for employees. This is where they could discover their potential, communicate freely and genuinely enjoy their time at work.
The market for second-hand office furniture is literary limitless. It offers a wide range of styles, modifications and colour patterns that can be adjusted, mixed and matched in various combinations. That is why second-hand office furniture has become a flagman on-budget solution for numerous companies that decided to change their approach. And engage employees through innovative social-friendly interior solutions.
The world is changing and so do our offices.
While most of us have been taught that work is not a place for fun and frolicking (which is mostly true). Many workplaces have turned into dull and depressing facilities.
They look the same and feel the same, and their atmosphere often nips all creativity and originality in the bud. However, HR experts, psychologists, and experienced managers concur that the workplace environment in many ways determines each employee's efficiency.
That is why today, many companies feel the need to rethink their interiors. Giving more freedom to employees and offering unconventional design solutions. Second-hand office furniture has become the ultimate salvation in this case. It allows companies to save their budgets on office refurnishing. This lets remote employees set up comfortable and safe home offices and remain the same efficient and grants interior designers a creative license to revolutionize our vision of an efficient workplace environment.
Office furnishing trends are constantly changing. New ideas and concepts appear every season, helping us create comfortable and safe setups that would inspire. This encourages people's creativity and efficiency. However, the trend of buying second-hand office furniture seems to be the one that will stay forever as it allows it to embody the most creative solutions while keeping the business within its budget frame. And helping it develop its reputation and eco-friendly policies.