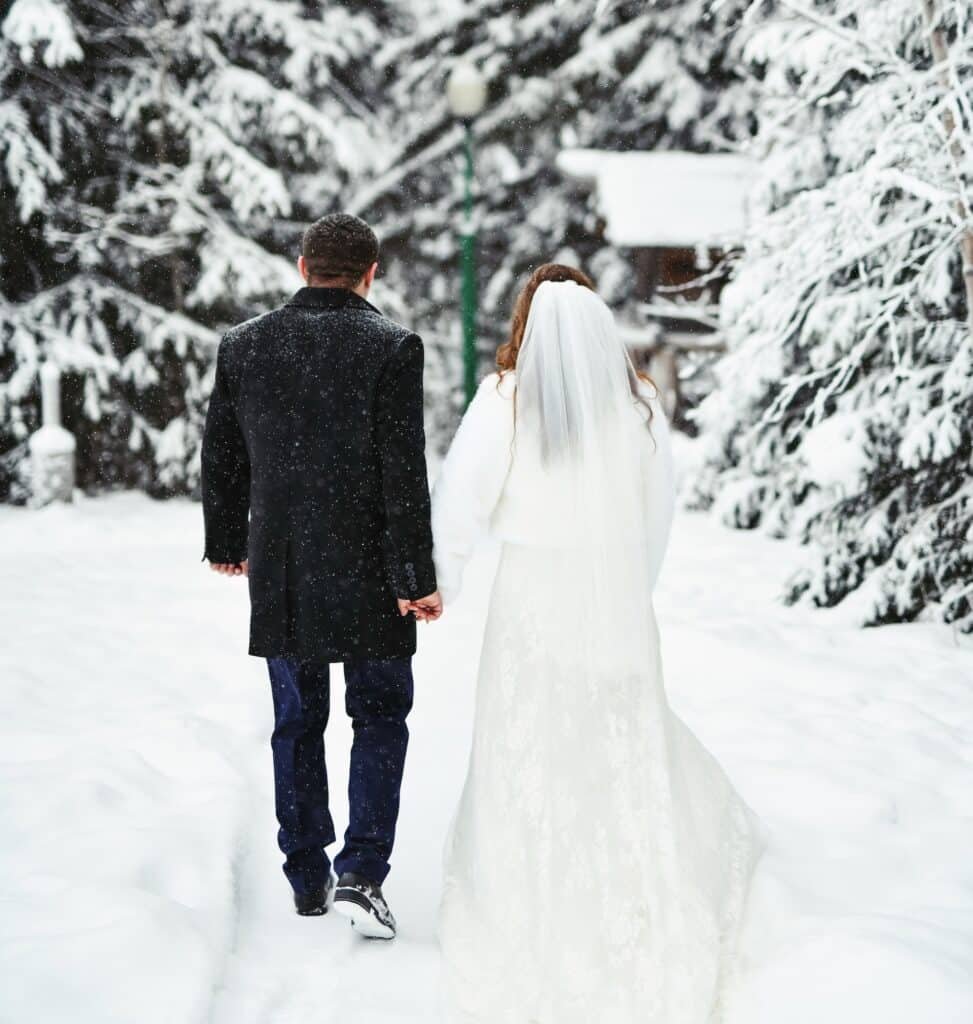 As you are no doubt aware if you have started your planning, weddings aren't just for spring and summer. More couples are picking winter to tie the knot. Winter used to be the off-season but now it's definitely on-trend. And why not choose a winter ceremony? You can create an event with a wonderful wintry ambience and there is less competition for your perfect venue and suppliers.
If you're planning winter nuptials, you are not stuck with a stereotypical snowy theme. Get creative and plan a memorable experience with the help of these top tips.
Get Creative With Colours and Textures
You don't need to stick to the traditional red, green and white when planning your winter wedding décor and style. Experiment with the colours and shades you love best to create a unique winter theme. Bold colours add depth and drama to the occasion. If you favour pastels, look at shades with a hint of frost or sparkle. And don't forget the richness and originality of textures like velvet and wool. You also don't need to feature Christmas anywhere in your theme if you don't want to. If you choose to have a more original colour scheme for your wedding, make sure that the venue can remove its existing decorations if they don't fit your style.
Be Seasonal With Your Florals and Food
Check with florists and flower designers to discover the blooms and foliage you can use in your centrepieces and decorations. Seasonal florals look much better than out-of-season flowers, and they are better for your budget and for sourcing availability. Similarly, your budget will love a menu based on hearty winter foodstuffs. You don't need to stick with the traditional wedding fare, which is often more suited to a summer celebration.
Consider Winter Style
You don't have to wear a heavy, layered wedding dress or have your bridesmaids dress in long-sleeved gowns if you don't like this style. You are free to choose whatever dress you want, no matter what season you are getting married. It's a good idea to have a cover-up or some warm shawls or wraps for outdoor photoshoots and to keep people comfortable when they are waiting around for dinner.
Plan Your Photos
You're not limited to indoor shots when you have a winter ceremony. Make the best use of your surroundings and the beauty of the season by planning some exterior photos. This requires some forethought as you need to make the best use of the light and the weather. An experienced wedding photographer will know just how to do this.
Create a Welcoming Reception
Do all you can to make your reception welcoming, cosy and memorable. Open fire in a snug area provides a lovely break-out space for your guests. Candles and lamps add a gorgeous glow. You can go to town with romantic winter details in event venues near me.