Introduction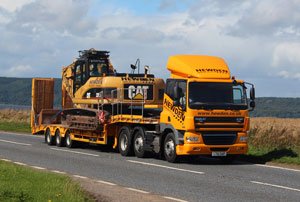 For many builders and developers, it is too costly to buy plant equipment (fixed assets) outright. Instead, they hire the equipment they need from specialist providers. This can then be hired to the exact specification required and only kept for however long it is needed. Hewden is a market leader in plant hire. It delivers on site and collects at the end of the hire period, providing a complete solution for asset needs.
Hewden Stuart was established in 1968. Trading under the single Hewden brand since 1999, the company has grown steadily, both organically and through multiple acquisitions. Sun Capital Partners Inc, a leading U.S. based investment firm, acquired Hewden in 2010. It specialises in investing in market leading businesses. Today, Hewden employs almost 900 professionals who promote best practice in a variety of areas including construction, infrastructure, industrial and environmental industries. It is a leader in environmental, health and safety training.
Culture
Hewden's culture, emanating from the CEO, governs how it does things and is totally customer focused. Hewden's core values include:
We care – about our colleagues and our customers.
We communicate – we believe in straight talk.
We are all accountable.
We trust and empower.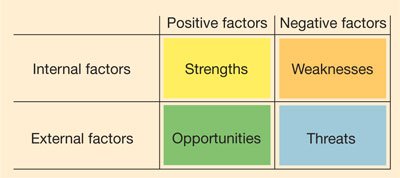 One of Hewden's main aims is to maintain its market leading position. It achieves this by analysing factors affecting the internal and external environment and using this data to plan how to improve efficiencies and processes. These plans are called strategies. A key method used by Hewden to audit its internal and external environment is a SWOT analysis. This looks at the internal strengths and weaknesses of the business and its external opportunities and threats. This case study looks at a SWOT analysis of Hewden's operations to demonstrate how its findings inform its future strategies.
Strengths
By identifying the business' strengths, Hewden built on its core competencies to remain competitive. Hewden's key strengths include its:
strong brand and reputation
market leading training and development opportunities
flat organisational structure
dedicated workforce and high number of long-serving professionals
core fleet guarantee.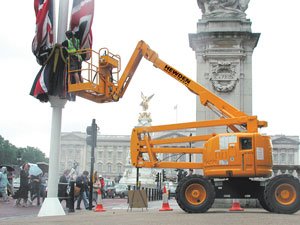 To plan for the future Hewden sought ways to build on its key strengths. Workforce planning is a key tactic to ensure a future pipeline of skilled employees to uphold Hewden's reputation in the industry. One of the ways that this is achieved is through its graduate scheme and training and development programmes. The scheme looks for talented and driven people who want to build a wealth of experience so that they can progress within the company. Hewden's graduate programme is less rigid than most of its competitors' programmes. Recruits build broad skills and knowledge by working in all aspects of the business. This allows them to be promoted quickly.
The programme encourages graduates to be open-minded about their career path. As opportunities arise, graduates are encouraged to explore them, even though they may differ from their chosen role. Graduates with talent and who show willing could find themselves taking on further responsibilities straight away: it's all about the individual. Hewden's flat organisational structure means that senior managers, including the CEO, act as mentors and coaches. Rebecca, a Hewden graduate, says:
'This was a fantastic opportunity because I was not 100% sure on the direction I wanted my career to take. The scheme enabled me, over a two-year period, to experience different business functions. I spent time on the central hire desk, followed by three months in HR, before moving into marketing where I thrived on the challenge of working as part of a small but emerging team.'
Human Resources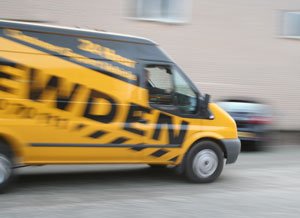 Many Hewden employees have been with the company for a long time and are rewarded with additional holiday entitlement and gifts that are personally presented by the CEO. Hewden's commitment to its employees is also recognised through its Value Driver Awards. These awards are presented to employees that have gone the extra mile for a customer. Prizes have included a trip to the British Grand Prix at Silverstone and a corporate hospitality day at Ascot Races. Effective employee relations creates open and honest two-way communication which helps create a loyal workforce. In addition, regular employee surveys aid decision making and direct human resource strategies. An efficient workforce leads to improved business operations and enables Hewden to offer services such as its core fleet guarantee.
This guarantee means that any core plant equipment ordered before midday is delivered to the customer the next day. This is a unique selling proposition (USP) for Hewden which creates a competitive advantage.
Weaknesses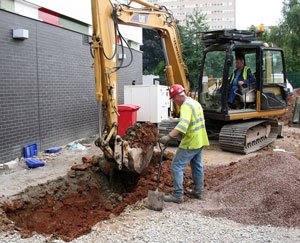 Any business needs to know where its weaknesses are so that it can improve and manage them. Weaknesses are negative factors that detract from the achievement of objectives. Hewden's SWOT analysis identified potential weaknesses that needed addressing. Firstly, its operating system needed updating. The previous system did not offer the transparency and operating data required by each depot to run efficiently. Secondly, it needed a change in culture to accept the new system and processes.
As depots had been acquired over time through acquisitions, this created logistical challenges. To enable Hewden to deliver its core fleet guarantee the locations of its depots was improved to ensure effective geographic coverage. There was also a culture issue as depots had a localised way of working, meaning little consistency between practices at different sites. The challenge facing Hewden was to find a way to make its operations more efficient to:
increase competitiveness
offer customers value for money
offer customers consistent levels of quality service.
The old core operating system was not proving to be efficient, despite a strong work ethic from employees. It did not foresee problems but instead reacted to those that occurred. Hewden invested in a brand new, Microsoft based, user-friendly system that integrates different functions of the business. This automated the whole process and led to a new way of working.
Change management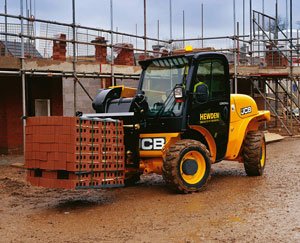 The new system allows depots to know exactly what assets they have, what is due for collection and what is waiting for minor repairs or service. This information greatly helps Hewden to fulfil its customers' needs. It also provides useful information about the customer and allows exact delivery slots to be selected. The new system means assets are tracked at every stage and any damage can be recorded, improving the process of invoicing for damage.
The decision to introduce the new system depended on employees accepting the changes. Effective change management was used to ensure this happened. The entire workforce was educated in the benefits of the new system. This prepared them for the training they received. The organisation was restructured and job roles redefined in keeping with the new system. This also meant a change in culture to accept different ways of working. The process succeeded in building understanding as when the training took place employees already understood why it was necessary. This approach created a high level of receptiveness.
For Hewden, another potential weakness identified is the company's ageing workforce as many employees are approaching retirement age. Efficient workforce planning is essential to ensure sufficient skilled employees are ready to replace those leaving.
Opportunities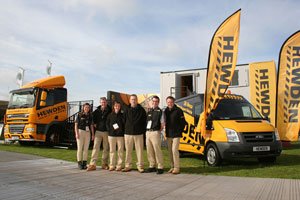 Opportunities occur in the marketplace outside the business. A business uses its strengths to take advantage of them. One such opportunity that Hewden identified was the use of social media to improve its communication channels, helping to raise the company's profile amongst key stakeholders. Hewden uses LinkedIn, a social media site for business professionals. This new communication channel has improved HR processes and helps Hewden to connect directly with customers. It also strengthens recruitment processes through promoting available positions as well as allowing Hewden graduates to use a LinkedIn forum to ask the CEO questions. This forum is private so, in line with the culture of the business, it creates an open and honest channel for communication.
Other uses of new media include a Hewden Smartphone app designed to make plant hire easier. In addition, PDA handsets are being trialled for delivering and collecting assets from customers. This means that drivers can update the main operating system from wherever they are. For instance, they can get customer signatures and note damage whilst with the customer, so improving efficiency. Introducing a new core operating system has created many opportunities. The new system provides key data on demand for plant and its availability covering all depots. This helps Hewden deliver its core fleet guarantee.
Training and development
Hewden's culture actively encourages employees to take opportunities as they arise. This in turn creates growth opportunities for the business. For example, Danielle, a 24 year old graduate, is now running her own function after just 18 months with Hewden. She says:
'An opportunity came up within the customer training function to help turn it into a profitable department for Hewden. My background in training, working for the NHS, helped me grasp the concept of industry training and allowed me to hit the ground running. Since being appointed as the Customer Training Manager in 2011, I have lead the team to achieve higher revenue figures year on year, gained the first ever training only contract for Hewden and trained over 500 crew regarding plant and access equipment for the 2012 Olympics.'
Threats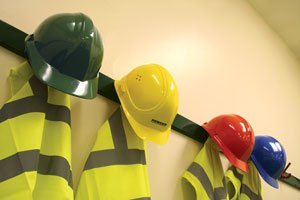 Threats occur from external factors outside of the business. Like any business, the actions of competitors create a threat to Hewden. The quality of Hewden's training programmes means its competitors are keen to recruit its employees. Hewden knows that some of its people will move on and understands this. However, through offering varied career paths and opportunities for development it has created a loyal workforce. Hewden's culture creates a fun working environment where the team can thrive both professionally and in their personal lives. As Tom, an operations graduate, adds:
'The friendly nature of the people at Hewden means they appreciate the importance of a work-life balance. By being well organised and working effectively, we can enjoy a life outside work, while still progressing on a career path. Moreover, Hewden prides itself on its charitable work, and volunteering opportunities are advertised to employees on a regular basis.'
Economic factors
Other threats include a range of economic factors. The recent recession posed another threat that Hewden's strategies needed to take into account. Hewden turned this potential threat into an opportunity by recruiting graduates (and non-graduates) who were not getting the opportunities they might have had in a different economic climate. Hewden identified this pool of talent as a way to add value to the business. The success of those already with Hewden helped attract other graduates. As Tom says:
'I was very impressed by how soon I was given real responsibility at Hewden, and I was actively encouraged to express any ideas or questions I had. I think Hewden recognises my ambition, and the company's attitude towards training and development complements that desire for career progression.'
Conclusion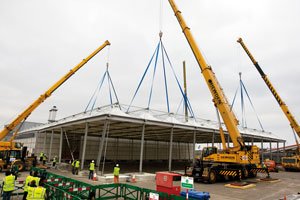 Hewden has used a SWOT analysis to help it plan for the future in an increasingly competitive and difficult market. By identifying its main strengths it was able to focus on reinforcing its core business. Identifying key weaknesses and changing its practices was vital in adjusting the business' operations to become more efficient.
A key outcome of its SWOT analysis was identifying potential opportunities and threats to prepare the business for the future. However, a SWOT analysis on its own is worthless unless it is used to plan and drive change. All other functions must interact to facilitate change. This approach has enabled Hewden to remain a market leader and its new operating system and use of social media is improving its efficiency and supports its continuing growth.
Hewden | Securing a market leading future through SWOT analysis

About this case study:
This case study looks at a SWOT analysis of Hewden's operations to demonstrate how its findings inform its future strategies.
Click HERE to download this case study »
Supporting resources
Swot analysis
Other Resources