Introduction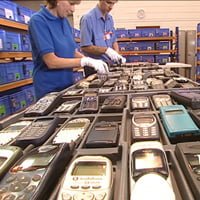 Vodafone is a mobile network operator headquartered in Newbury, Berkshire. In 2006 its income was just over £5 billion. This made it the largest telecommunications network company in the world by turnover.
Most of the UK's biggest companies have been in existence for a hundred years or more Shell, BP, the Bank of Scotland (now part of HBOS), Barclays and Rolls-Royce for example. Vodafone is an exception to this rule. It is a new company set up in 1985 to provide a new service mobile communication links - to support new products mobile phones. Vodafone's goal is to be the UK's communications leader.
Leadership is not just about selling more products than rivals. It involves ensuring the brand is reliable and trustworthy. Vodafone achieves this by giving high priority to Corporate Responsibility (CR). CR involves being aware of the issues facing a business and acting responsibly in all areas of its activity. Vodafone's commitment to CR is set out in its vision statement which describes the kind of company it is. The vision statement links closely with its mission statement.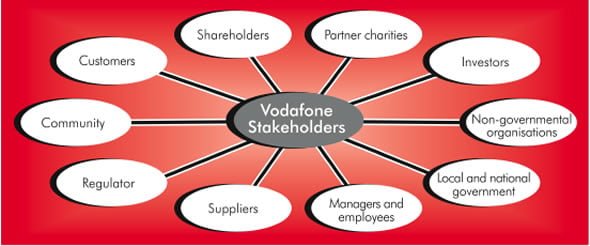 Vodafone's vision is:
"to be the world's mobile communications leader. Corporate Responsibility (CR) helps us to achieve this by reducing business risk and supporting our reputation with customers, employees, government and other important stakeholders´...This commitment is about making money in a way that minimises our negative impacts and maximises the positive benefits of our business on people and the planet."
Vodafone has many different stakeholders. Stakeholders are individuals, groups or organisations that have an interest in the activities and behaviour of a business. They can be internal stakeholders, like employees and partners, or external, such as customers, suppliers, government or the media for example. All stakeholders can influence as well as be influenced by Vodafone.
This case study focuses on one area all of these stakeholders groups are interested in the recycling and re-use of old mobile phones to reduce the carbon footprint of the company and its users. In the UK, there are over 50 million mobile phones in circulation. It is important to consider what happens to the phone at the end of its lifecycle can it be re-used or recycled?
External stakeholders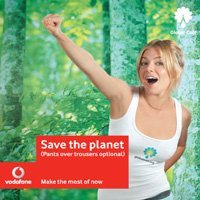 External stakeholders exist outside the organisation but have a direct interest in what it does. Vodafone's main external stakeholders interested in the recycling of phones are customers and partner charities.
Customers
Vodafone's customers can be businesses or individuals (consumers). Vodafone has 10% of the world market for mobile telephony around 421 million customers - and has a significant share of the business customer market.
Providing better mobile connections can reduce a business' carbon footprint. Vodafone's business travel by car and plane led to emissions of 15,600 tonnes of CO2 in the UK in 2006/07. Modern mobiles reduce the need for business journeys, allowing instant communications and electronic data exchange on a global, national and local scale.
With the right technology, people can work effectively and securely from anywhere they don't have to be in an office. The benefits of using mobile phones include:
reducing the environmental impact of business travel
allowing companies to be more productive and to reduce costs
providing better work/life balance for employees
keeping people closer to their families and friends
Mobile phones support families and households in a variety of ways. They help in:
checking that you have bought the right items when visiting a supermarket
exchanging the latest information about how to research a school homework topic
meeting a friend in a busy shopping centre or other location
Recycling initiatives
Vodafone promotes recycling old phones when businesses and individuals buy new phones. Older phones contain potentially dangerous materials which could pose a threat to the environment if not recycled responsibly. Some old batteries contain cadmium, a toxic substance. The effects of cadmium leaking into the surrounding soil in a landfill site could cause considerable contamination. Many of the materials in a phone, such as plastic, take decades to break down and degrade.
Cool Fact: If everyone in the UK who owns a mobile phone delayed upgrading by a year, it would save the same amount of C02 as taking 213,000 cars off the road for a year.
Vodafone has been running recycling initiatives in its UK stores since 2002. The aim is to reduce the impacts of its products by promoting the benefits of delaying upgrades to phones, as well as recycling and re-using old phones. By participating in these schemes, consumers know that they are making a positive difference to the environment.
Partner Charities
Vodafone has partnered with Global Cool Foundation UK, a registered charity, which has a mission to save a million tonnes of C02 in the UK. Today climate change is one of the most urgent global issues on which everyone has to act. Climate change refers to changes in the climate which have been caused in part by human action, for example, increased C02 emissions from use of fossil fuels, like oil and coal. The effects include rising land and sea temperatures and extreme weather conditions. These may result in the loss of plant and animal species around the world.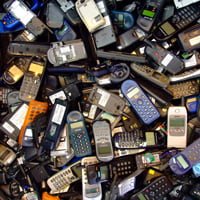 The money generated by the recycled phones supports two worthwhile global-reaching initiatives Solar Aid, and The Million Superheroes Campaign. Solar Aid operates in the sunny but poor African country, Zambia. It helps small enterprises sell solar technology devices to people on the poverty line. One third of Zambia's income is spent on energy. By using solar power, people in Zambia have reduced their energy costs. This gives them more income to spend on other things.
The Million Superheroes Campaign seeks to persuade one million people in the UK to sign up to become a Superhero and reduce their carbon emissions. The campaign encourages people to take practical steps like changing to energy-efficient light bulbs or turning down heating by one degree.
Recycling agents and the supply chain
Suppliers are also external stakeholders. As part of a business' supply chain, it is important that suppliers maintain a close relationship with a company to ensure that they support its principles. The supply chain consists of all the stages involved in transporting a product to the final consumer.
Life cycle
Today, we need to take a more comprehensive view of the supply chain. We need to look at the total life cycle of a product or service in the supply chain, including end-of-life. Vodafone's supply chain includes customers as part of its recycling loop, as well as recycling service providers. It is important for customers to realise that many mobile phones can have a longer life and further use if they are refurbished.
Cool Fact: Between 65% and 80% of the material content of a mobile can be recycled and re-used. Even some of the non-recyclable plastics can be used in other ways, bringing the total up to about 90%.
This new view of the supply chain involves a much longer life cycle for the product. Customers bring back their old handsets to Vodafone stores or send them to FREEPOST Recycling Vodafone. Vodafone sends the handsets to Fonebak, international leaders in handset refurbishment and recycling. All handsets and accessories are reused or recycled: none are sent to landfill. For each handset returned, Vodafone gives an average of £8 to Global Cool Foundation UK. Handsets in good condition are refurbished for re-sale in lower-income countries. Refurbished handsets cost less than new phones. This makes them more affordable for people in parts of Africa, Asia and Eastern Europe where telephone landlines are less accessible. In Romania, for example, a new phone costs about 75% of an average monthly income. That would be equal to about £1,200 in the UK. Most phones are re-used rather than recycled.
Internal stakeholders
The most obvious internal stakeholders are Vodafone's employees. Other examples may be individuals and groups who are members of the organisation, for example, Board members. Everything that Vodafone does is directed at achieving six strategic goals. Two of these goals are:
to be the UK's communications leader
to be a leader in corporate responsibility
These goals are clearly relevant to employees who wish to work for a great company. Employees can feel proud that their company is not only the industry leader in providing a communications network, but also a leader in corporate responsibility.
Corporate responsibility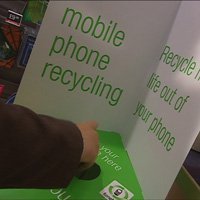 Vodafone employees play an important part in supporting corporate responsibility. This is demonstrated by working practices. Wherever possible, employees reduce waste, for example, by communicating electronically and by turning off equipment to save energy. Employees can support Vodafone's recycling policy, for example, by returning their unwanted mobile phones through the Fonebak system.
Shareholders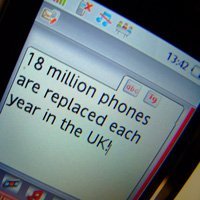 Shareholders are another group of stakeholders. A shareholder is someone who has a financial stake in a company. Shareholders provide finance for the company by buying shares. They then receive a share of the profit that the company makes. Shareholders may be internal stakeholders (for example, employees who have purchased or been given shares in the company). They may also be external stakeholders (for example, members of the public who buy shares through a stockbroker). Shareholders support Vodafone's commitment to recycling. Through its emphasis on recycling and other initiatives, it is becoming a Corporate Responsibility leader.
CSR reporting
Vodafone's ethical stance is illustrated in the way that it reports to shareholders and other stakeholders. The company produces an annual Corporate Responsibility Report. The report not only sets out financial performance data. It also includes a summary of data relating to environmental and social performance. A brief summary of recent reporting is shown below, with comparison to the previous year to show changes in performance.

Like employees and other internal stakeholders, shareholders want to know that they are part of a leading company. As a result, they are interested not only in figures for sales and profit. They also want to know how the company behaves in other areas. They are interested, for example, in how effective the company is in recycling handsets and reducing the impact Vodafone has on the environment.
Conclusion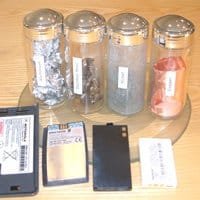 Leading companies like Vodafone seek to work with their customers to behave responsibly and do the right thing. In a fast changing world of innovation, old mobile phones quickly become out-of-date. Vodafone has taken steps to make a positive difference, by supporting recycling campaigns. By focusing on corporate responsibility, Vodafone is able to create a 'win-win-win' situation for shareholders, employees and the environment. This improves relationships between stakeholders and helps to ensure Vodafone's future growth.
Vodafone | Stakeholders in recycling and re-use