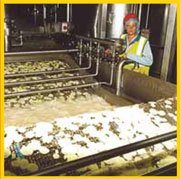 Walkers are the UK's biggest crisp manufacturer. The business operates the world's largest snack factory at Bursom Road, Leicester.
Walkers had a humble origin, Mr Henry Walker started out as a butcher in the 1880s, and created a successful business in Leicester and Mansfield. By the 1940s, World War II had seen the introduction of strict meat rationing and by 10 am shops had sold out. The business was working at only half capacity and so diversifying the business had to take place. In 1948, Walkers began manufacturing potato crisps.
Walkers is now a subsidiary of the worldwide PepsiCo group, which is a multi-branded New York based corporation. The business operates in almost 200 countries with 153,000 staff and has operated in the snack foods market since 1966. In the UK, Walkers employs over 4,000 people in 15 locations.
The Walkers brand is the market leader in the UK, with its head office based in Berkshire. The sales & marketing forecasting team plans and determines the levels of output that is required at the factory. The Walkers factory in Leicester employs over 2,000 people. Many of them are specialists and include quality, engineers, safety officers, financial, operations and planning managers.
The sheer breadth of expertise shows the scale of the business. The factory operates its own P&L, that is to say, it has a standalone budget that has to be met or bettered. This means its managers have to make decisions based on what is best for its particular operation. As the factory works on such a large scale, there is scope for considerable profits or losses.
This case study will examine how the Walkers processing plant works and show how it contributes successfully to overall group profits. It operates to achieve a balance in four key areas:
safety
quality
customer service
cost.
By managing these, the factory intends to meet the needs of all customers, as well as its own.