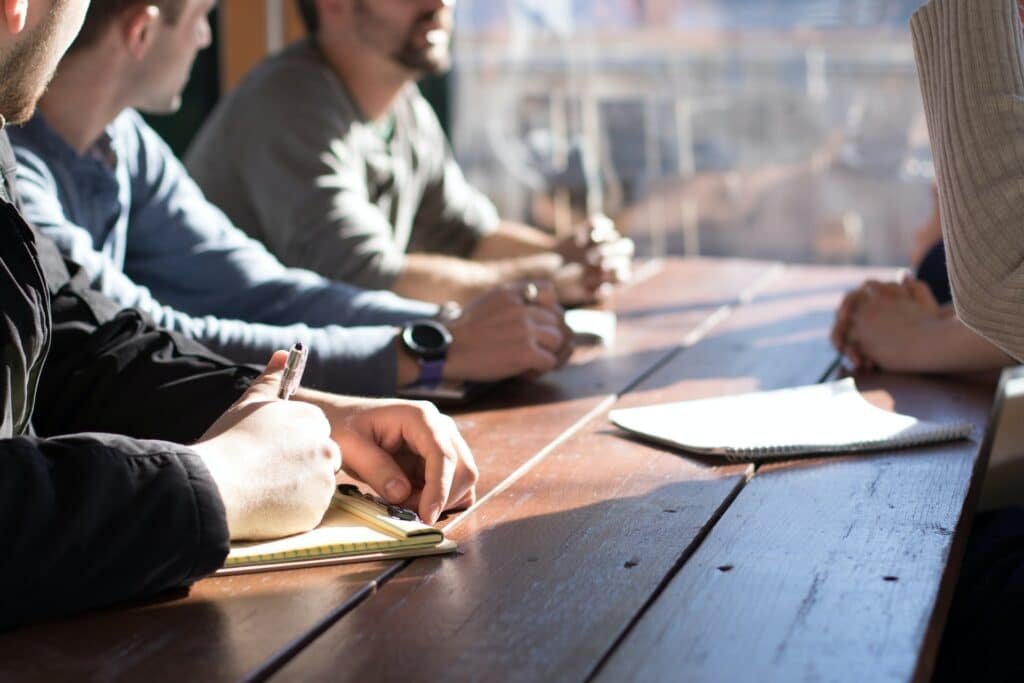 A business plan is a document to visualize and outline the long-term goals of your newly founded company.
It's needed for outside funding but also serves as a tool to showcase how your business will grow, operate and achieve financial stability.
In this article, we will show you what a well-thought-out business plan should include.
What's covered in a business plan?
Executive Summary
First and foremost, a business plan includes an executive summary – basically a comprehensive outline of what your company is about and the idea behind it.
It should include:
Business details (name, branding, the team, the idea & concept)
Product(s) / service(s) (what is solves in the vertical you are targeting)
Target audience and market summary
Competition
Financials (Forecast, Funding, Risks)
You'd be surprised how many potential investors ultimately decide for or against investing in your company after reading the first few sentences.
Subsequently, the executive summary should be concise, easy to read and fact-driven.
Company Overview – Team & Management
The next chapter of your business plan should include a detailed description of the founders and the team behind the company.
Think of this part as a business CV, it should include:
Names
Dates of birth
Educational and professional career (so far)
Certificates or diplomas / degrees
Experiences in your vertical (niche)
Strengths and weaknesses
The vision or motivation behind your business idea
Potential hires in the future
The idea behind this is to give potential investors, banks or other 3rd parties a clear picture of WHO they are investing with.
Next, you want to cover the key component of the business: The product or service that you will be selling.
You should include a thorough and very detailed summary of your products and services that will be sold during the launch-phase of your company.
Make sure that it's easy to follow and doesn't include too many technical details.
You can tackle the following aspects here:
Detailed description of your product and service
Unique Selling Point (USP) of your product or service
What makes your product/service better than the competition (if any)
Development goals
Production costs and general expenses
Margin per sold unit
Trademarks, Patents etc.
Marketing Strategy and Competition
In the next chapter you want to showcase a detailed analysis of the vertical you are trying to enter.
You want to include a full list of competitors (if any) and how you will try to become the market leader.
In addition, you should include a factual breakdown of the marketing plan and how to reach your target audience.
This can include:
A breakdown of your main target audience
Marketing Channels you want to utilize to reach said audience
Distribution
Marketing budget per product
Existing connections to retailers, suppliers etc.
Be specific, but don't overload the investors with information that they don't need.
Financials & Sales Forecast
One of the most important chapters in any business plan are the financials. This is where potential investors will take a very close look.
Generally speaking, you can break it down into:
Financial Summary
Balance Sheet
Profit & Loss forecast
Series A, B, C funding that you need
Approximate revenue growth
Approximate customer growth
Customer LTV
Potential tax and liability risks
It may help to consult with a financial counsellor on this.
The financials should be grounded in reality and not be excessively exhaustive.
A SWOT analysis is a fact and data-driven analysis to showcase the competitive advantages and disadvantages of your company and how you can leverage those to compete in your niche.
It is broken down into the following factors:
Strengths (internal influence): What we do better than the competition;
Weaknesses (internal influence):: Where is my competition ahead of us;
Opportunities (external influence):: What we are doing, that they are not;
Threats (external influence):: What they are doing, that we are not;
Lastly, you can attach any additional documents that your investors may want to look at, e.g., Patents, Certifications, Trademarks, Analytics, etc.
Do I need a business plan?
We live in a very modern and digital world these days.
With the internet, advances in technology and the rapid growth of FinTech companies, you may think of a traditional business plan as a relic from the past.
However, most startups don't have enough equity to finance the initial launch or to scale production. They need investors, bank loans or other types of 3rd party funding to be competitive. And these investors want to see a well-thought-out business plan.
No one will invest in your company without one.
Outsourcing the business plan?
Let's be honest, writing a business plan can be quite time-consuming and overwhelming to new founders. Most people will spend days and days trying to craft the perfect business plan, while the focus is drifting away from the core business.
Instead, you should consider outsourcing it to a team of highly qualified business plan writers that can craft a bespoke business plan tailored to your companies needs and goals within a few days.
They can turn your business vision into reality.
Most of these agencies will send you a quick questionnaire to gather the necessary data and information for the writing, research and financial breakdown.
Subsequently, they will craft the business plan according to your needs and goals – ideally including:
An executive Summary
A breakdown of the team & management
A commercial overview
A detailed breakdown of the marketing strategy and competition in the vertical
Financial summary
SWOT Analysis
Price-wise you are looking at around $1000 USD for a baseline business plan that you can use for funding rounds, bank loans, credits and other applications.
However, the price can vary depending on the scope of the business plan and the level of detail.
Conclusion
The business plan is a structured outline of your company and the vision behind it. Not only does it help to set goals and visualize growth, but it is also mandatory for series A, B and C funding or acquiring bank loans.
While you can write your own business plan, your time is better spent focusing on the company goals and let a professional craft your vision on paper.