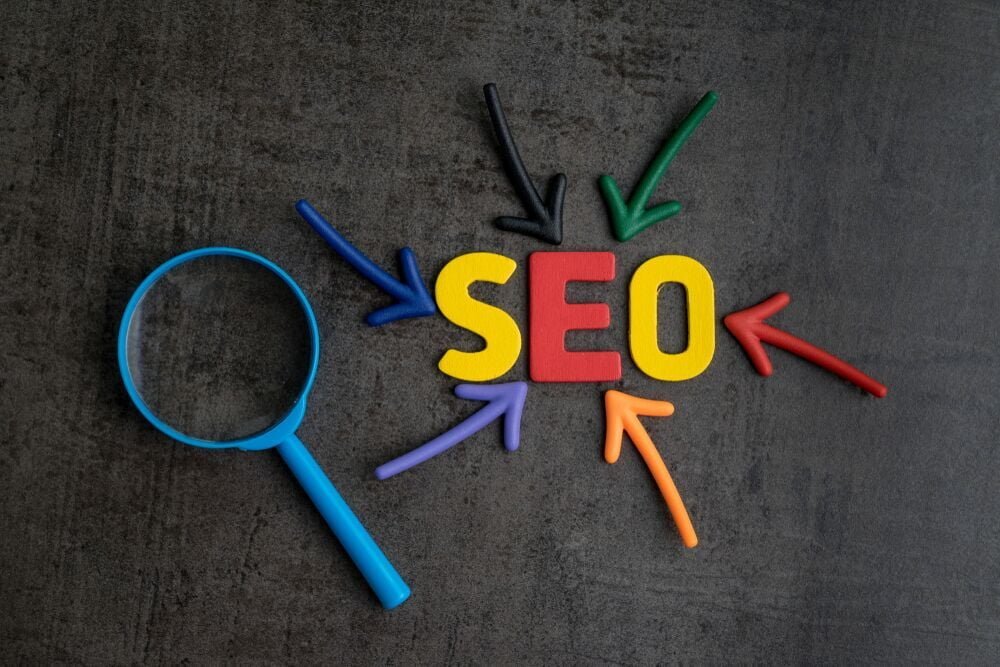 Google is the world's most popular search engine, so it makes sense to get your website pages to rank high on the Google. There are two components that need to be mastered to achieve this, which is on-page SEO (search engine optimisation) and off-page link building.
Gaining better on-page ranking drives more visitors to your website and there are ways to ensure your on-page SEO sustains a high ranking on Google.
What is on-page SEO?
Working to enhance your on-page SEO rating is an ongoing task to optimise your website for search engines, and in particular Google. In basic terms it means adjusting certain elements and keywords on your website so that search engines can 'crawl' and understand the content of your website, therefore pushing your site closer to the first page of Google results.
On-page search engine optimisation (SEO) is crucial for an effective ongoing SEO campaign.
If you would like comprehensive training on SEO and web analytics check out Digital School of Marketing SEO Course.
Getting on the 'right side' of Google
The left-hand side of Google shows the regular search engine results whenever a search is done on Google, however on the right side of the page shows something that's called a 'knowledge panel.' This is where you want your website to show up.
Always keep in mind when working to increase traffic to your website that digital marketing must ensure that your content always comes first.
Is your website being lost in the search?
SEO has been a buzz word for a while now, but not everyone fully understands its importance in driving traffic to your website. In fact, SEO has been totally underestimated in preparing your website for to attract traffic.
Where SEO is concerned the value of completing a comprehensive digital marketing course should also never be underestimated.
The good news – it's not that difficult to get your SEO ranking right on Google. Try searching your website on a search engine using the keywords you think would be used to find your service or product. You'll be surprised to see where your website is listed in the results.
A few simple SEO rulesfor more traffic
Your website page title and description are what the search engines 'read' first when crawling a page so focus on fine-tuning this as a start. If this is not done you are making your first SEO mistake and your website is not working in your favour.
Keeping your basic SEO goal in mind and to boost your SEO ranking, here are a few SEO factors for your search engine optimisation drive:
Optimise your page titles – your page title is the first thing search engines read when performing a search. This is why it's critical to get your page titles right as they basically inform the search engines what they need to know.
Optimise for 'local' SEO – If you want less competition it's important to optimise your keywords and web pages with geographic locations, which ensures a strong local SEO rating.
Keep your URLs clean – The worst thing you can do is add numbers and symbols to your URL. Search engines hate endless amount of numbers and symbols, so cut them out. Choose a URL that is simple yet reflects your website page content.
Optimise your images – You want your website visitors to enjoy visiting your website, right? Then creating content that is very 'readable' is vital. Images are an excellent way of making your content more appealing and if you use them correctly, they will appeal more to the search engines too.
Include title tags and meta descriptions using keywords – We know its important to give your page titles keywords, so too are title tags and meta descriptions. Get creative and relevant here to be sure to optimise with keywords.
Create internal links – This applies more to blog articles but should also be applied to your other web pages too. When creating content for your blog or web page it's good to link this to some other blogs or pages on your website.

What should you avoid?
Spamming is always frowned upon and no more so in the world of search engine optimisation. The following SEO methods are treated as such and should be avoided:
False redirecting and cloaking
Keyword loading
Hidden links or hidden text
Pages with irrelevant keywords
Duplicate content on pages
Intentional misspelling of popular keywords
If you would like to study Digital Marketing to keep yourself abreast in the new world of marketing. Have a look at Digital School of Marketing comprehensive offering on Digital marketing courses. All courses have been endorsed by the CPD services body of the United Kingdom, making the courses top notch courses within the digital marketing field of study.