Primary industries include farming, forestry, fishing, mining, quarrying and oil supply. They are the starting point for nearly all production. Mined raw materials include coal, iron ore and copper as well as diamonds, platinum and gold.
There is an important distinction between farming, forestry, fishing and mining, quarrying and oil production. If carefully managed, crops, trees and animals (including fish) can be renewed and replaced. Mineral deposits, however, cannot. This makes it extremely important to use them wisely. Some, (e.g. most metals) are highly recyclable. Others, like coal, are not. These characteristics make the mining, oil and gas and quarrying industries particularly challenging, both for governments and the people who wish to manage them responsibly.
This presents challenges, especially when economic growthdrives the usage of raw materials, e.g. iron ore which is used in the manufacture of steel for use in cars and many other products. World iron ore consumption has grown and is forecast to continue growing this decade.
This growth is driven by China. China's rapid industrialisation and construction boom means over the coming years China may grow to account for up to 50% of demand.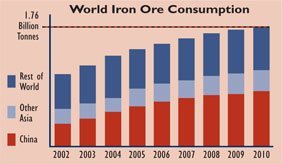 Anglo American is one of the world's largest mining and natural resourcescompanies. With operations in over 60 countries, it employs over 200,000 people worldwide (9,500 in the UK) with interests in:
base and ferrous metals (e.g. copper and iron ore)
precious metal (e.g. gold, platinum)
coal
industrial materials (e.g. aggregrates - in the UK Tarmac).
The company operates in a growth sector dealing largely in non-renewable resourcesand principally in developing or transition economies. This case study considers how a business that depletes natural resources can contribute to sustainable development.
The importance of sustainable development
Sustainable development includes passing on to future generations a stock of 'capital' that is at least as big as the one that our own generation inherited. Capital in this sense means the world's assets, these include money, buildings and less tangible assets such as the stoke of skills and social systems, as well as natural resources.
Many ores that are mined have no intrinsic value - they need to be mined and processed in technically complete systems before they can be turned into money when the resources company sells them. Anglo American is committed to contributing to sustainable development. It was designated the mining sector leader for 2004/5 in the Dow Jones Sustainability Index. In 2005 it also received the Business in the Community International Award for its contribution to the Millennium Development Goals in Africa.
Global demand for most metals continues to grow at 2%-4% per annum. Recycling and re-use can only meet some of this growth. As more people aspire to a higher standard of living, firms working in the primary sector face the challenge of finding and mining the materials needed to make the goods required.
Responsible use of all natural resources benefits both the next generation and companies (because the costs are reduced). It includes reducing the amount of resources that are used (input - e.g. iron and coal) for the amount of product (output - e.g. steel).
In August 2002, South Africa hosted the World Summit on Sustainable Development (WSSD). The Summit wrestled with the problem that huge imbalances in wealth between countries provide the biggest challenge for global development. Mineral deposits are vital to the development of many poorer nations as well as to the continuance of rich countries' lifestyles. Extracting these sensitively allows these poorer countries to develop their education and health systems and other forms of human and social capital.
The United Nations set out the Millennium Development Goals for the year 2015. These include:
developing a global partnership for sustainable development
halving the numbers of people living on less than $1 a day or suffering from hunger
ensuring all children complete primary schooling
halting the spread of AIDS and other major diseases.
Many businesses accept they have a responsibility to work with international bodies (e.g. the United Nations or the World Bank), governments, Non-Governmental Organisations (e.g. Sightsavers International, Oxfam or Save the Children) and communities worldwide to work towards sustainable development. In mining, this typically involves using natural capital (the rewards from extracting raw materials) to build social and human capital (e.g. schools, hospitals and worthwhile jobs and skills).
Anglo American strives to achieve this as described below. Amongst other things, it also involves encouraging recycling; improving mine safety; stewardship of biodiversity and restoring worked-out mines and quarries to alternative uses.
Responsibility to stakeholders
All businesses have stakeholders. Stakeholders are the individuals and groups with an interest in - or who are affected by - what a company produces, where and by what means.
Anglo American has a responsibility to its stakeholders and it needs their support to meet the organisation's objectives. For example treating staff and respecting local communities makes it easier to recruit the new employees necessary for growth to create more value for shareholders.
Not all stakeholders have the same priorities. Employees interested in pay and working conditions may take a different stance from that of shareholders interested in profits and dividends or customers interested both in good quality and low prices. Different governments will take varying views on how far they should benefit from a company's presence in their country, and in what ways.
Stakeholders' viewpoints
This links to the idea of 'sustainability' - meeting present needs without compromising the ability of future generations to achieve their own needs.
UK corporate law requires companies to be primarily accountable to their shareholders. Anglo American believes, however, that shareholders' interests are best served when the Company shows an intelligent regard for other stakeholders too. After all, it is in the interests of all stakeholders that the Company not only survives but also flourishes over the longer-term.
Anglo American therefore seeks to be the partner of choice for its stakeholders by operating in a way that is acceptable to them all. An increasing number of investment funds (potential shareholders) also look at the risk management and sustainability of the companies in which they invest.
Stakeholders and ethics
Anglo American recognises that its reputation is determined by the quality of the relationships it builds with its stakeholders. It also recognises that each of its operations should try to meet legitimate local expectations as well as national requirements and some international norms.
The community ranges from people living next door to a paper mill to anyone living alongside a road used by the company's vehicles. Managing relationships is key to building a strong reputation and being a good corporate citizen.
Communicating this work to stakeholders is important, Anglo American produces a 'Report to Society' each year. These need to be accurate and informative. The company's 2005 report won the 'Association of Certified and Chartered Accountants' award for sustainability reporting.
Anglo American has empowered each of its key operating businesses. These businesses manage within the context of its own industry within a framework of principles - The Good Citizenship Business Principles. This communicates its commitment to its stakeholders. It states that the Company seeks to make a contribution to the economic, social and educational wellbeing of the stakeholders associated with its operations:
government - compliance with laws, regulation, opposition to corruption
employees - fair labour practices, workplace equality, health and safety
environment - minimising waste and the consumption of natural resources, protection of biodiversity, climate change
community - respect for individual's rights and dignity.
These principles apply across all the company's stakeholders, dignity is relevant to employees as well as the community.
Commitment to stakeholders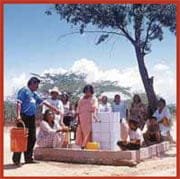 Anglo American's Chief Executive, is interested in 'all the things that make the difference between a company that will be here for years - or one that will sustain over centuries.' He believes that, in order to assess a company's true worth 'you need to look at how well it treats its people and the environments and communities in which it operates'.
Anglo American requires all its significant operations to have Community Engagement Plans. These are 3-year plans that local managers shape and review with all significant stakeholders. Thus, the Company is better placed to understand and respond to community concerns.
Anglo American recognises that it can use its core business to contribute to the development of human and social capital where it operates. For example, it helps to improve local provision of transport, communications, power, water and other services. The Company invests in the development of its employees and supporting bursaries, educational and health facilities. The company does this because it believes firmly in its principles and acts upon them for the benefit of all its stakeholders in the long run. Investment in education and healthier communities provides a happier and more effective workforce.
One of the best examples of this investment in human capital is Anglo American's provision of anti-AIDS drugs to employees in South Africa (almost a quarter of its employees are HIV ). In August 2002 the company announced that it would provide its miners with the same anti-retrovirals that have helped arrest AIDS in the developed world. This decision made headlines worldwide because the Company recognised a problem that many people felt that the South African Government was largely bypassing at the time.
Anglo American could have argued that HIV/AIDS was a problem for society as a whole, not a company concern. However, it chose to act because it believes that business has a wider social responsibility as part of the process of sustainable development. Anglo American's action encouraged the government and other companies to provide these drugs.
More recently, Anglo American has developed a leading-edge Socio-Economic Assessment Toolbox (SEAT) as a means of further improving the impact of its activities. Wherever a natural resource is depleted, it seeks to balance this by improving human and social capital and minimising any environmental impacts. For example, creation of training programmes for local people and support for the development of local businesses.
It investigates the long term impact - i.e. over the next generation - of Anglo American moving into an area. Managers work with local communities to investigate future impacts and to enhance the development of social and human capital. The Group positions itself as the partner of choice in sustainable development projects through such investments.
Conclusion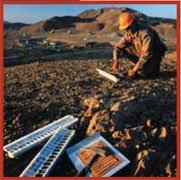 Mining and quarrying play a key role in the modern world. They also pose unique problems relating to sustainability. Building partnerships is essential to the ongoing development of Anglo American and to the countries and communities in which it operates.
Anglo American is continually looking to reassess ways in which it can contribute towards building better societies in its own spheres of operation, for example by supporting UK Government-sponsored initiatives like:
the UN Global Compact
the Extractive Industries Transparency Initiative - this is an anticorruption initiative under which oil, gas and mining companies in specific countries declare the total amount of tax they have paid and the host government makes a parallel declaration ('publish what you pay'). This makes it more difficult for wholesale embezzlement to occur by corrupt politicians or officials and helps stimulate a debate about how time-limited resource revenues should be used.
the Voluntary Principles on Security and Human Rights bring together a number of governments (inc the UK and US), major oil and mining companies and leading human rights NGOs. The Principles seek to establish best practice around security risk assessment, control of private security, and interactions with public security forces. The objective is to prevent corporate security needs impacting adversely on the human rights of local communities.
The Good Citizenship Principles and SEAT also provide good examples of this ongoing development.