Amway is one of the world's largest direct salesorganisations with over 3 million Independent Business Owners (IBOs) in over 80 markets and territories. It is a family owned company with a strong emphasis on family values. Its IBOs are mainly couples with many raising young families and therefore have a strong bond with children. These families are more than happy to be partnered with Amway, who as part of its Corporate Social Responsibility Strategyworks with UNICEF, the United Nations Children's fund.
IBOs sell Amway's own branded products. They are Amway's links with consumersand the communities in which they operate. This case study shows how Amway is a business that does more than simply provide customers with good quality products. In addition it plays a key role in the communities in which it operates.
Businesses need to trade ethically, i.e. in a principled way. Amway has put ethical behaviour at the top of its agenda. Ethical behaviour is part of Corporate Social Responsibility (CSR). This refers to business organisation's wider responsibilities to society.
Amway's ethical beliefs are illustrated through the support of global causes. It defines a global cause as 'a social issue affecting many people around the world engaged in a struggle or plight that warrants a charitable response'. This case study explains how Amway's One by One Campaign for Children illustrates the businesses' commitment to children in need across the globe.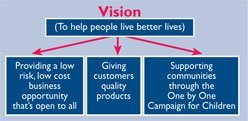 Amway's vision is 'To help people live better lives'.
There are various ways in which this vision is delivered. Amway encourages staff and IBOs to support its One by One Campaign for Children.
Values are important to a company. It is what an organisation stands for, e.g. being trustworthy and honest, taking care for others, giving value for money, etc. An important value for Amway is being a caring company.
As a result, Amway believes firmly in demonstrating that it cares, which is why it works with UNICEF. The values of UNICEF and Amway are closely aligned. Amway recognises that it must build its business based on 'relevance, simplicity and humanity'.
Meeting stakeholder needs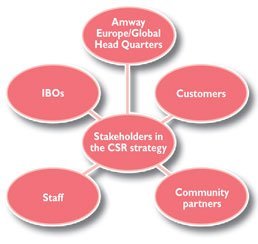 A stakeholder is a group or individual who has an interest in the decisions made by a business. Amway's CSR strategy has been developed with the interests of stakeholders in mind.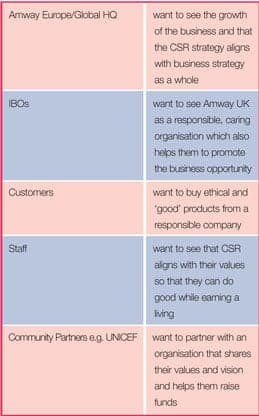 Each one of these stakeholders has particular concerns.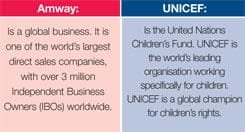 Amway takes corporate social responsibility seriously through its partnership with UNICEF. The two key partners in this relationship are UNICEF and Amway. Amway and UNICEF work in and for communities across the globe. They are therefore natural partners.
Growth and responsibility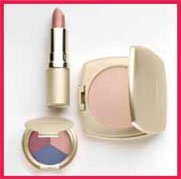 An understanding of how Amway operates as an organisation gives a clearer picture of the contribution it can make to helping children in need across the globe.
Amway distributes a range of branded products. These products are sold by IBOs worldwide. The IBOs are self employed and are highly motivated. They work to Amway's Rules of Conduct and Code of Ethicswhich are about being honest and responsible in trading. IBOs sell to people that they know or meet. They can introduce others to the Amway business.
Typical products that IBOs sell include:
personal care - fragrances, body care
skin care and cosmetics
durables such as cookware and water treatments systems
nutrition and wellness products such as food supplements, food and drinks.
IBOs play a key part in helping Amway to deliver its global Cause Programme.
Amway launched the One by One Campaign for Children in 2002 across the whole organisation. This programme:
helps Amway to bring its vision to life
declares what the company stands for
builds trust and respect in Amway brands
establishes Corporate Social Responsibility to a high level.
Examples of activities under the One by One program include:
helping to set up a boat school for fishermen's children in China
helping to organise a Children's Day Party for 3,000 orphans
providing Braille books for blind children in India.
Clearly the programme fits with the partnership with UNICEF and is a key motivating tool for IBOs who share the vision.
As a business Amway is able to grow by:
More IBOs joining the Amway business opportunity - Amway's IBOs live and trade in over 80 markets and territories worldwide.
IBOs selling more products - Salesby IBOs increase. This is partly because IBOs are entrepreneurial and committed to their work. It is also as a result of the support and range of products provided by Amway.
Motivating IBOs - People are motivated if they believe in the products they sell and the company they represent. IBOs are pleased to work for a company with a high reputation.
There is a natural fit between Amway's desire to meet people's needs and the way that UNICEF champions the needs of the world's children. This fit exists in a number of ways as both Amway and UNICEF:
are global organisations
benefit from a high level of public and consumer trust
are dedicated to helping people live better lives.
Developing a strategy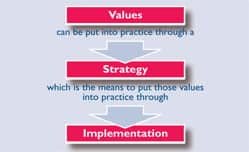 A strategy is an organisational plan. Implementing a strategy involves putting that plan into action. The strategy enables an organisation to turn its values into action.
Strategies are designed for the whole of an organisation. Strategies are principally created by senior managers in an organisation. However, effective strategies involve discussion and communication with a range of interested parties. The views of IBOs are thus very important in creating Amway's strategies.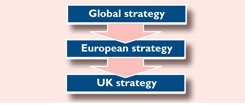 Amway's strategies for corporate social responsibility are cascaded through the organisation.
Amway's global strategy involves creating responsible plans that make a difference in everyone's lives. However, the strategy is flexible. In other words in deciding on a cause that IBOs could partner it was essential to research their views.
A key element of this was research into a cause that would motivate them - the research showed that the solution was a cause that helped children. There was a clear fit between Amway's aimsto help children and UNICEF's 'Immunisation Plus' programme for children.
From the outset, Amway set out some clear objectives for its strategy. These were to:
build loyalty and pride among IBOs and employees
enhance Amway's reputation as a caring organisation
make a real difference to human lives.
Every year 1.7 million children worldwide die from avoidable infectious diseases. This situation is especially grave for the world's poorest countries and poses a threat to the lives and well-being of children and families. Many children could still be alive if they had been vaccinated.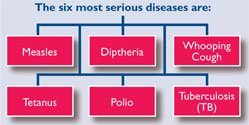 For under £12 a child can be vaccinated against these diseases and has a fighting chance to reach adulthood. Contributing to UNICEF's world child immunisation programme therefore is a fitting focus for the activities of Amway UK and its IBOs. To date, Amway (UK) Ltd, its IBOs and employees have raised over £80,000 for UNICEF. Over £10,000 was raised for the Tsunami relief efforts alone.
The UK initiative is part of a pan-European fundraising campaign for children. It recognises the importance of building good working relationships with UNICEF in each market in order to roll-out fundraising programmes to Amway's IBOs and their customers.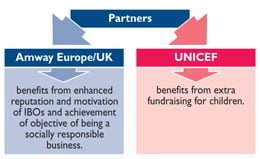 In 2001 Amway Europe's partnership with UNICEF became part of the Cause Strategy. In 2005 Amway UK's contribution to the partnership was deepened through the development of a corporate partnership. This Corporate Partnership is a closer longer term relationship which benefits both parties. Working together the two parties raise money for UNICEF. At the same time this helps to build Amway's reputation.
The objective is to raise 500,000 Euros (approximately £325,000) every year until 2010 across Amway Europe.
Communicating the strategy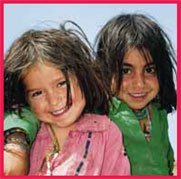 Good, clear communication is essential in making sure that the CSR strategy aligns with company business objectives. Communication also helps in putting the strategy into practice.
A number of communications media are used:
Face-to-face communication is very important. Regular meetings take place between UNICEF, Amway and its IBOs. Through meetings with UNICEF staff the leading IBOs are able to share the vision and objectives and then pass the message on in meetings with other IBOs. In 2005 Amway (UK) Ltd and UNICEF UK organised an information day for IBO Leaders. They were able to hear first hand experiences from UNICEF staff about their roles and UNICEF's work as well as where the money goes.
Printed material is also important. Amway produces a monthly magazine for all IBOs. Amagram is Amway's European monthly title. It includes articles about the UK Partner Store and the UNICEF Lily pin. (Pins are very popular collectors items in the Amway business opportunity). E-mail communication is also important in the company - as e-mail plays a significant part in keeping IBOs up-to-date. Public Relations materials are also important, particularly at launch events for the initiative.
Online activities. There is a micro-site dedicated to the Amway UK UNICEF partnership on the UNICEF UK website. This can be found at www.unicef.org.uk/amway. Part of Amway's website is also dedicated to supporting the partnership through the sale of UNICEF merchandise in the Partner Store. This can be found at www.amivo.co.uk.
The Amway and UNICEF UK Partner Store sells a range of UNICEF items such as:
greeting cards
multi-cultural cards and gifts
stationery and wrapping paper
toys for children
Make Poverty History wristbands.
However, Amway UK's support goes well beyond these activities. In addition, important events include staff fundraising and raffles organised by IBOs.
UNICEF attends IBO major events (usually supported by 1000 or more IBOs) where requested. A UNICEF stand outlines the work with speakers, literature and merchandise.
Conclusion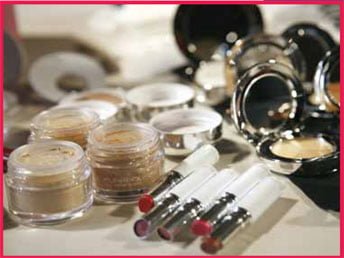 Amway is a family business. Its IBOs are people who want to make a difference in people's lives - particularly those of children.
Amway's aspirations fit closely with those of UNICEF. They are both organisations with a global reach that care about people - particularly the lives of and opportunities for children. Amway's IBOs want to be part of a socially responsible organisation because they know that this is the right way for businesses to behave.
Social responsibility is thus a very important aspect of business. CSR is based on a recognition that the interests of the community and of business are closely related.