Are you still manually tracking your employee's time? Then you're probably surrounded by pen and paper and mountains of excel spreadsheets. But let's be honest, you're not a fan of wasting time, no one is. Implementing an online time-clock app will help you save time and money, increases productivity, and helps you to achieve your goals.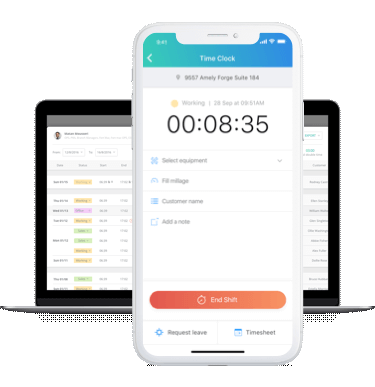 Before choosing an online time-clock, you need to know just what you're looking for. Depending on what your company does, you have certain expectations and requirements that the app should include, and there should be some features that all the best time-clock apps include.
For example, easily manage employees and projects from one place. Automatic timesheets and manual time entries are necessary. As is a timer that can be started and stopped by the employee or a manager. Make sure the app can be used on a mobile device and can also sync across many devices, create project backups, and restores project data. Naturally, it should be easy to use and requires little to no training. After all, using an online time-clock app should save you time, not add more on!
These are the three best online time-clock apps solutions:
Connecteam
Connecteam's app is the best solution for small businesses, especially if you have non-desk employees. That's a bold statement, sure, but considering all its amazing features, it isn't a stretch. Not only is it easy to use, but you don't need any training on how to use the app, simply log in and get going. Connecteam has a fantastic time clock app for multiple employees, especially if you have a majority of non-desk employees, as it allows you to organize tasks, schedule jobs, share documents, and so much more.
Additionally, their in-app chat makes it easier than ever to communicate with your employees whenever you need. We should mention the chat also integrates with the time clock so when you're doing payroll, reaching out to an employee on a matter only takes a click.
As far as price goes, Connecteam starts at $29 per month for up to 200 users. And that's easily an amazing price offering, plus Connecteam is the only time-clock app solution that isn't user-based, saving you money every time you need to a user.
When I Work
Are you in the restaurant business? When I Work is the perfect time-clock app for you. Your employees can simply clock in and out with their mobile phone, this will give you a record of the time and location. Plus, When I Work can also integrate with most payroll providers. Not to mention, the user interface is attractive, it's easy to use, notifications are sent to employees an hour before starting a shift, and it's affordable.
Their basic plan charges $1.50/user a month, while the pro plan costs $2.25/ user monthly.
Jibble
Don't just clock in and out, "Jibble" into work or an activity. From your mobile phone, you can use the selfie verification to "Jibble". Additionally, you can create custom reports and review personal or team, weekly or monthly timesheets. Jibble has amazing statistical data and can be accessed from the web, mobile, or Slack.
In terms of price, Jibble do offer a free plan, and a power plan available for $2/ user monthly.