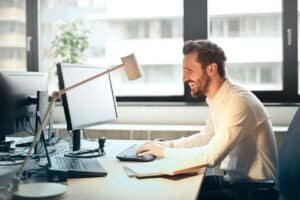 Email personalization will play an essential role in increasing your traffic and return on investment. Email marketing still happens to be one of the best modes of marketing. According to a report, email marketing can help you generate a return on investment of $42 for $1.
However, choosing the best email marketing platform for successful email marketing is crucial. An email marketing platform will help you track and send emails, and the right software will help you get ROI, marketing channel combination, and audience list segmentation.
Best Email Marketing Platforms to Choose From
Email marketing helps to get a return on investment, and it is advisable to do one-on-one research that will help you receive the benefits. According to the Direct Marketing Association, businesses in the United States have received a higher return on investment with email marketing.
The marketing trends are constantly changing. As a business owner, you should choose the right email marketing platform, which will help ensure that you get significant benefits.
Here are some of the prominent email marketing platforms you can choose from:
1. Ongage
Ongage is one of the leading email marketing platforms in today's time. This is the perfect platform for conducting high-end campaigns, thereby helping you understand who your audience is.
Ongage claims that they will help you build the best email campaign management. They have professional developers and non-developers who will help you track data through the dashboard. Furthermore, Ongage also plays an essential role in the personalization and segmentation of email.
Ongage is a leading email marketing platform for businesses of all sizes. It contributes to journey automation that is designed as per business automation. As a result, automated real-time email marketing will help you reach your goals.
2. MailChimp
MailChimp is one of the leading email marketing platforms. It is enriched with features that will help your business. Some of the most popular features of MailChimp include better click-through rates, unsubscription rates, and open rates. One of the reasons email marketers prefer MailChimp is that it provides free plans.
With approximately 64% of small businesses using email marketing, MailChimp is a handy tool. It allows the users to build campaigns quickly. One of the best parts about the movements is that they can be easily customized. If you opt for the free plan, you can save 2,000 contacts. However, you have the flexibility to send around 10,000 emails monthly.
Apart from the free plans, MailChimp has paid plans as well. The paid plans are determined every month. Depending on your requirements, you can consider editing the email.
3. Sendinblue
If you need an all-in-one email marketing software, you can rely on Sendinblue. Some of the most prominent features of Sendinblue include Facebook, Chat, CRM, SMS, Email, and more. The main mission of the business is to help meet the customers.
Sendinblue helps you acquire customers with autopilot automation. Individuals can consider creating professional-looking emails. The users can automate features such as SMS marketing, CRM, Inbox, and chat. As a result, creating compelling emails will become easier for you.
Sendinblue helps you get 60+ responsive email templates. Email marketers can get a free plan that allows you to send 300 emails today. However, the paid plan includes a $25 plan that will help you send approximately 10,000 emails.
4. Constant Contact
Constant Contact helps to grow your email marketing campaign at a significant rate, and this is one of the most reliable platforms for beginners. With the help of Constant Contact, email marketers can work on managing contacts, the marketing calendar, email lists, and more.
Some of the most popular features of Constant Contact include email tracking, reporting, a free image library, Facebook ads integration, and eCommerce integration. If you are ever stuck, you can consider reaching out to their customer support.
Constant Contact is one of the prominent email marketing platforms for small business owners. In the initial stages, you can learn the basics, and however, in the later run, you can work on growing your business. You can get a free trial of Constant Contact for 60-days; however, the paid plan starts at $9.99 per month.
5. MailerLite
If you are looking for an easy-to-use email marketing software, you can rely on MailerLite. The best feature of MailerLite is the drag-and-drop interface that will allow you to create the perfect email. Furthermore, MailerLite features a spotless interface that will allow your business to grow significantly.
You can get approximately a thousand contacts and email support for the free plan. One of the most prominent benefits of MailerLite is that it provides a wide range of email templates.
If you face any problem with MailerLite, you should opt for the troubleshooting experience. If the free plan doesn't support your requirements, you can opt for the paid plan.
Conclusion
It is crucial to choose an email marketing platform that will allow your business to grow. However, you must consider different benefits before you choose the email marketing platform. Therefore, you need to understand your business and choose a platform that provides you with the right campaign-building strategy.