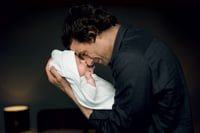 One approach to business is to develop a product and then look for customers. However, for many businesses the customers come first. They adopt what is known as a customer-focused approach. These businesses seek to provide customers with what they want. This involves listening to customers to identify their specific needs and requirements.
This case study examines the customer-focused approach of Zurich , the insurance and financial services provider. Zurich Financial Services Group (Zurich) is a global company. It provides both business and personal insurance. It has a rich mix of products and services, including motor insurance, buildings and contents insurance, risk management, life assurance, and pensions and investments.
The company was founded in 1872 and the Group's headquarters are in Zurich, Switzerland. Today Zurich does business in over 170 countries and has over 60,000 employees. It operates through a network of subsidiaries and offices in North America, Europe, the Asia-Pacific region and Latin America.
Zurich combines its knowledge of local markets with international expertise. It aims to offer its customers a high level of service. To do this, Zurich has recently developed a new customer-centric strategy. This strategy sets out plans to provide customers with the products and services they require accompanied by a high level of customer service. Zurich continually monitors its activities to make sure that its customer-focused objectives are being achieved.
Vision
An organisation's vision is a clear statement of what it seeks to achieve. The vision should inspire everyone associated with the organisation. It should motivate employees to strive to achieve the vision. If the vision sets out what an organisation seeks to achieve, then it needs to have a means to fulfil that vision. The means to achieve the vision is termed a strategy.
Zurich's vision is set out in this way: 'At Zurich, we aspire to become the best global insurer as measured by our customers, our shareholders and our people.' To achieve this aim, Zurich's strategy involves being effective in the key areas that add value to its stakeholders.
Adding value is the process of increasing the market value of a product. It is a key part of ensuring stakeholder satisfaction. Zurich's key value-adding activities are:
meeting customers' real needs – this is what the company means by customer centricity
providing products and services where and when customers want them
making sure that all of the processes involved in providing financial services are done effectively.
Adding value
All staff play a role in making sure that the value-adding activities are done efficiently. Responsibility does not solely lie with the top managers. It is important to look after the people that work for Zurich. Team members that are well-trained and motivated will deliver a better service to customers. This is an important part of people management.
It is important to monitor a strategy to ensure it is effective. This will show whether an organisation's vision is becoming a reality. For Zurich this involves measuring:
customer centricity
shareholder value
being the employer of choice.
Aims and objectives
Aims
The relationship between a business's aims and its objectives is important. Aims are general statements of what a business is seeking to achieve. They are closely related to its vision.
Objectives are much more specific. They often include quantifiable elements that specify precise performance targets. Managers can use these objectives to monitor progress. They can compare actual performance against the targets set out in the objectives. They can then take corrective action if the business looks like it will fail to meet targets.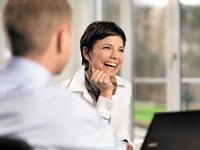 The relationship between aims and objectives can be illustrated using examples from Zurich. The company's vision is to be the 'best global insurer'. This is backed-up by three key long-term aims:
to ensure customer satisfaction
to deliver shareholder value
to be the employer of choice.
Objectives
The company has a series of objectives to help it measure progress towards these aims.
In relation to the aim of customer centricity, one of Zurich's objectives is to achieve top quartile customer satisfaction when compared with other companies in the financial services industry. This means that Zurich wants to be in the top 25% of insurance and financial services providers for all aspects of its performance as measured by independent research.
In relation to the aim of giving shareholder value, one of Zurich's objectives is to achieve a return on equity of 16%. This means the company wants to achieve a £16 profit after tax for every £100 of capital that it holds. Zurich will be able to pay dividends to its shareholders if it makes sufficient profit.
In relation to the objective of being the employer of choice, one of Zurich's objectives is to secure high employee engagement scores. These are measured through employee satisfaction surveys. A committed and motivated workforce are more likely to deliver high levels of customer service and be loyal to the company. In other words, Zurich will be an employer of choice.
SMART objectives
Note that all these objectives set by Zurich are measurable. In general, all business objectives should be SMART. This means that they should be:
specific – exactly what is to happen
measurable – by quantity or proportion
achievable – capable of being achieved within available resources
relevant – to the overall business or corporate objectives
time-related – with a deadline attached.
Strategy and tactics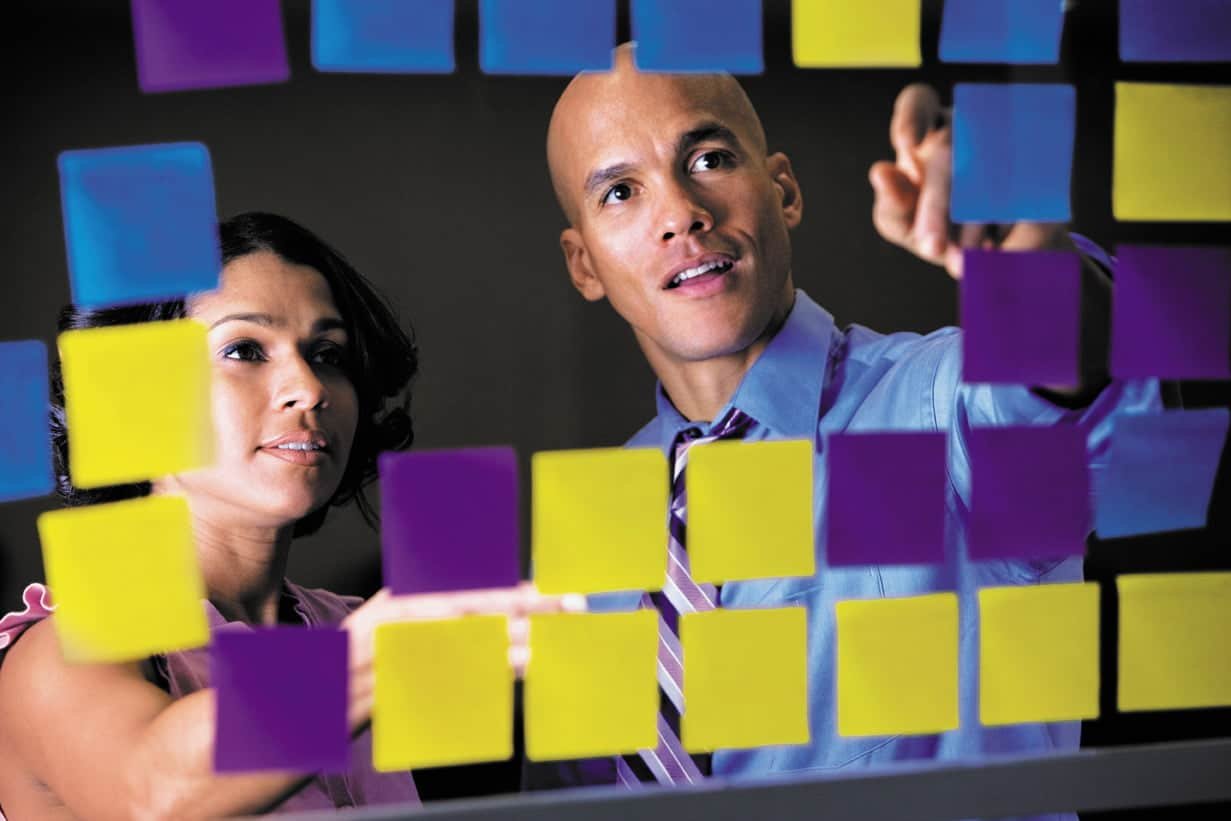 A strategy is a plan that enables an organisation to achieve aims and objectives. The plan needs to be backed up by tactics. These are the methods used to implement the plan.
Setting out a strategy

In relation to customer centricity, Zurich's strategy is to increase customer satisfaction. In order to do this, Zurich needs to understand what customers want.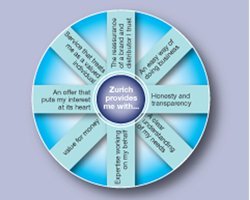 In 2010 and 2011, Zurich carried out market research by interviewing over 7,000 customers. The survey focused on 70 different features and aspects of its service. The research provided a good indicator of what customers want when dealing with the company. This can be illustrated by a desired customer experience wheel.
Measuring customer satisfaction
To measure customer satisfaction in the various regional markets in which it operates, Zurich uses a measure known as a TRI*M index. This assesses how well different parts of Zurich's business are performing in relation to satisfying customers. It combines this measure with further customer satisfaction research carried out by an independent research company.
This research measures how satisfied customers are with each of the eight elements of the desired customer experience wheel and additional underlying attributes. These measure satisfaction at a more granular level.
Using these research findings, Zurich is able to allocate resources to those aspects where customers want most support. Action plans to deliver service improvements are then developed by local teams. This is where tactics come into play. Tactics are the methods used to achieve the business objectives.
For example, in the insurance industry getting things done on time is very important. Zurich teams therefore focus on reducing the time between a client signing a new insurance contract and receiving the insurance policy. The company also seeks to minimise the time between a customer making an insurance claim and receiving compensation.
Tactics
Zurich has also developed tactics to ensure its products and services are readily available. Insurance is often sold to customers through intermediaries rather than directly by an insurance company. Typical intermediaries are insurance brokers, independent financial advisors and financial advisors working in a high street bank.
Zurich seeks to have the widest possible distribution footprint – that is, the largest possible presence in banks and other financial outlets. It also seeks to build strong relationships with the financial intermediaries, based on trust and giving its customers value for money.
Enhancing staff performance
Part of Zurich's strategy involves a focus on people management. The company aims to attract top employees and to retain the people that it recruits. At Zurich, management trainees are developing skills in functions such as marketing, sales and customer service during their initial training. They also work with a range of products, such as business and private insurance. Zurich aims to provide trainees with the skills and opportunities that they need to pursue interesting careers with good prospects.
Zurich also offers its staff performance incentives. These incentives are not just for making sales. They are also offered for helping the business to achieve its SMART objectives. Employees are rewarded with bonuses, awards and recognition for good performance.
Measuring performance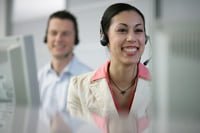 The benefit of setting SMART objectives is that they provide a way for a business to measure its performance. Measuring performance makes it possible to identify a business's strengths and weaknesses. It provides a firm basis for planning to improve performance.
These are some of the measures that Zurich uses to measure performance:
Customer centricity
Sales growth – Zurich aims for growth at or above the average rate in the overall insurance market. This is a useful measure of the popularity of Zurich.
Customer satisfaction – Zurich aims to be in the top quartile for customer satisfaction as measured by independent researchers.
Shareholder value
Dividends – Dividends are the annual payments made to shareholders. Zurich seeks to grow the dividend it pays out year on year.
Total shareholder returns – Shareholders seek not just dividends but increase in the share price. Zurich seeks to be in the top quartile for total shareholder returns.
Employer of choice
Staff retention rates – seeks to retain good staff with the company for a long period.
Zurich measures engagement scores – Employee satisfaction surveys show what percentage of staff enjoy working for the company and feel that they are provided with rewarding careers.
By establishing a set of metrics for measuring performance, Zurich is able to monitor and review performance continually. It can compare actual performance against its strategic and tactical plans. As a result, changes can be made on a regular basis to enable the company to progress towards its aims.
Conclusion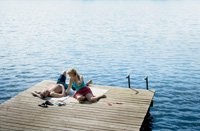 Zurich has a well-thought-out and executed strategic plan. This focuses on meeting customer requirements. Zurich seeks to win the loyalty of customers by listening carefully to their needs and requirements.
Zurich has a clear vision – to be the world's best global insurer. The vision is backed up by a strategy that focuses on serving customers, shareholders and employees. The strategy is underpinned by market research, which helps to determine what customers want.
A series of SMART objectives have been put in place to work towards key strategic goals. In order to deliver the strategy, the company implements various plans and tactics. These are designed to help the company deliver a customer-centric service, to reward shareholders and to recruit high calibre employees.
Ongoing measurement makes it possible to monitor performance against targets. People who buy insurance expect value for money. They want speed of service and expect an insurance company to be reliable and trustworthy. In order to achieve its vision and to enhance its reputation, Zurich seeks to achieve top-level performance in everything it does in relation to serving its customers, employees and shareholders.