Introduction
These days, we are surrounded by 'high-tech' developments. Ordinary citizens may not suffer too much from failing to keep track of new technologies the moment that they appear, but it can be disastrous for a business not to notice what is taking place.
One key challenge for any business is to see how new technologies can be harnessed to develop the business and keep it ahead of the competition.
In a previous era, it was the invention of the telephone that gave progressive companies an opportunity to rethink how they might make use of a new medium of communication to:
enhance their existing business
improve their service to existing customers
make contact with new potential customers
widen awareness of themselves and their products.
In more recent times, the Internet has once again forced businesses to rethink how they operate. The Internet is potentially exciting but is also a real challenge.
In deciding 'What's in it for us?' businesses have to look very closely at what the Internet can offer and then decide how well it meets their own needs and the needs of their customers.

Some businesses carried out insufficient research regarding what the Internet had to offer them. Others seriously underestimated the hazards of going online, to their own great cost.
In the business environment, any decision-taking has to be done with regard to the technology available. If organisations do not accumulate 'know-how' and if they fail to monitor, trial and introduce new technologies as they develop products and processes for their consumers, they may find that their alert, progressive competitors have given themselves a competitive advantage.
The Internet began life as a network for researchers and military personnel in the USA, and has been around for more than 30 years. However, in the last 10 years it has become increasingly prominent. Today, the Internet is an inexpensive, sophisticated way of communicating instantaneously with people around the world, and it is transforming global communications.
This case study looks at how Amway has developed a strategy for taking full advantage of the opportunities that the Internet offers for e-commerce within the UK and the rest of Europe.
Amway
Founded in the USA in 1959, Amway is a global business employing more than 6,000 people worldwide. Amway is not just a consumer goods business, it is also one of the world's largest direct sales companies with over 3.3 million Independent Business Owners in more than 80 countries and territories in Asia, Africa, Europe and the Americas.
The critical relationship between Amway and the seller or Independent Business Owner is at the heart of Amway's approach to direct selling. The main benefit of this form of selling is that it allows the Independent Business Owner to focus upon individual customers and their needs, with the Independent Business Owner sourcing the consumer rather than the consumer having to visit a shop.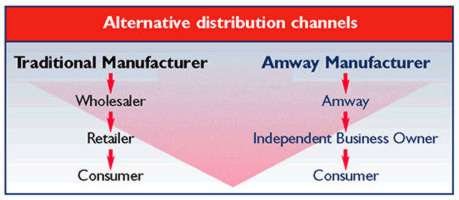 Because it focuses on direct selling, Amway is different from more traditional distribution channels. Its Independent Business Owners own their own business, with the flexibility to deal directly with their own clients and to build up personal relationships.
These Independent Business Owners also have the ability to deliver Amway's products to their customers' homes. Independent Business Owners sell to people they know or meet. The personal contact and care they provide is an important element in direct selling. They are also self-employed and can introduce others to the business to form their own sales group of Independent Business Owners.
The channel of distribution describes the stages of ownership that take place as a product moves from a manufacturer to a consumer. The increasing use of the Internet by consumers has created a real potential for developing different types of business models and for new approaches to reaching users directly and quickly in their homes.
Many businesses were quick to respond to the potential uses of the Internet. Some were too quick, and only a few of the dot.coms have been successful in selling directly over the Internet to consumers.

For the greater part, Amway's customers are not final consumers. Rather they are the Independent Business Owners with whom Amway works. Most of these Independent Business Owners operate from home and many of them have other careers and want a flexible working relationship with Amway. They want to work at a time that is most convenient for them. This can be at any hour of the day or night.
With high levels of Internet use within the UK and Europe, market research showed that Independent Business Owners were Internet-ready, and that the time was right for Amway to develop e-commerce opportunities that would offer the 24-hour service its customers were wanting.
Amway had already developed e-commerce opportunities with its Independent Business Owners in the USA. This experience was there to be drawn on; within a large organisation, it is important to share knowledge so that best practice can be followed from successful situations.
Creating the online presence
The project's starting point was to create a brand name for the site that was truly pan-European and which would be acceptable across a range of European markets.
Developing a brand involves compiling for products with a range of features that identify them as a group e.g. name, logo and other distinctive elements. Marketers at Amway had to take into account the way in which the brand they developed would be pronounced, written and interpreted.

For Internet trading, a new brand would also require a unique domain name that would not infringe any existing copyright. The development of the name involved considerable research. It had to be available and sound appealing. The name chosen was Amivo. Amivo comprises the notion of 'Ami', which implies a sense of 'friendship' or being 'friendly' and 'Vivo' meaning 'life'.
Combining offline and online
Developing a new process like Amway's European online business takes place in distinct stages. The first phase was to construct a business analysis report that focused upon how the Independent Business Owners were likely to respond to the development of e-commerce opportunities.
The market research involved running focus groups with Independent Business Owners in Italy, Germany, Spain and the UK. These groups enabled marketers to find out about the functions desired from an e commerce site as well as giving an insight into many other e-commerce opportunities.
The research created a layout, design and technological brief for Amway. The Internet team then had to turn this brief into a site that was technologically feasible, functional, user-friendly and flexible enough to adapt to any future shift in consumer needs. The project also had to be completed within budget.
The analysis and research identified the requirements for the site. These were then converted into a site map, from which story boards were drawn up to show the design and layout of each page. These story boards illustrated the functions of each page and showed how they linked to each other. Web-designers were then commissioned to construct the site, and tests took place to establish the stability of the pages to ensure that the processes worked efficiently.
Launching the website

The purpose of the Amivo site was to provide e-commerce support for Independent Business Owners that would help them manage their businesses. Available 24 hours a day and 7 days a week, the site was developed to help users to find products, place orders, repeat previous orders and check all of the information about their businesses. All users needed was an Internet-ready computer and access to the Internet.
The day when a website is launched is also the day when it comes under the critical scrutiny of others, including competitors, so it has to be in good shape from the outset. That implies a large amount of testing and fine-tuning at the development stage. The challenge then is to stay on schedule.
The site was first launched within the UK, mainly because of the UK's high level of Internet use and market readiness. Rather than go for a full launch, marketers within Amway decided to opt for a soft launch.
There is a natural hierarchy of Independent Business Owners. The higher level, leading Independent Business Owners were given the opportunity to use the site first. This helped to provide valuable feedback about the site, which was then used to influence further development. These trial periods helped the designers to iron out some of the issues associated with the site and also prepare it for a full launch.
The full launch of the site involved password allocations, log-on details, navigation details, and direct mailings to Independent Business Owners as well as training and support for users. Amway's 'Amagram' magazine helped the Independent Business Owners to understand more about the ways in which the e-commerce process could help provide their individual business needs.
In order to bring customers on board, it is usual to provide some incentive or added value to influence their patterns of behaviour. This is an aspect of sales promotion. The Independent Business Owners were offered a number of small launch promotions as well as a range of additional bonuses designed to encourage them to come online.
Online gains
The web development provided Amway's Independent Business Owners with an alternative, enhanced way of managing their businesses. It gave them the chance to use technology to communicate in a different way with Amway.
Within a short period of time, the website attracted a significant number of Independent Business Owners who wanted to try the online service. Promotions helped to encourage repeat use of the site by demonstrating the unique benefits that it offers.
Using the site allowed the UK Independent Business Owners to monitor their bonus and sales in real time. It also helped them to see which areas of sales were worth targeting as they developed their businesses.
Trading on the Internet has also helped Amway to refocus its business by flexibly engineering it to meet the needs of its Independent Business Owners. At the same time, there are clear cost savings for Amway in being able to communicate with its customers through the Internet, rather than by using postal or telephone services.
Conclusion
The success of a new process depends largely upon how well the technological and marketing systems have been developed. There have been many changes to product distribution in recent years and organisations like Amway, which support a large number of Independent Business Owners, cannot stand still if they want to retain their competitive advantage.
Many dot.coms have found it difficult to succeed in a threatening and rapidly changing market place, but there are success stories too, as this case study illustrates. It shows how technology can conveniently provide essential data that help users, in this case Independent Business Owners, to trade more efficiently.
Amway | Combining an offline and online business