Introduction
Zurich® is a major financial services group that was founded in 1872. Its headquarters are in Zurich, Switzerland. Today, the company employs 60,000 people. It serves customers in more than 170 countries. The company has offices in the Americas, Africa, Europe, the Middle East and the Asia Pacific region.

Zurich operates in a very competitive marketplace. It needs to focus on providing the best possible products for its customers in order to compete and grow market share. Zurich offers a rich mix of services for these customers including:
motor insurance
buildings and contents insurance
risk management
business insurance programmes
life insurance
pensions and investments.
This case study focuses on how Zurich has used market research to develop a business strategy of 'delivering help when it matters so that customers feel valued and taken care of"'.
Zurich summarises this as 'customer centricity'. This means the customer is placed at the centre of all business activities. This approach helps Zurich to maintain a competitive advantage.
Zurich HelpPoint
The company has developed the concept of Zurich HelpPoint® to communicate and summarise this business strategy to customers. Insurance can be taken out to cover, for example, loss or damage to vehicles or property. Customers pay a premium each year to obtain this cover. In the event of loss or harm occurring, they can claim for the cost of repairs, replacements, loss of profits or other necessary services.
HelpPoint started out as a free helpline for customers with motor insurance claims. Today it is far more than that. HelpPoint is an expression of the many ways in which Zurich delivers for its customers every day, all around the world helping to meet their needs. This includes providing practical advice and solutions, information, support services and help at the point of claim. It is an attitude that Zurich staff around the world take very seriously to deliver relevant help, when it matters.
HelpPoint is not just about dealing with external customers those insuring with Zurich. It is also about serving internal customers people who work for Zurich. For example, effective IT and Human Resource services are required to support all Zurich employees. All workers are encouraged to think about and implement practices that will give their customers the best possible service.
Market research
Market research is the systematic gathering of data about what customers want. It also includes the analysis of this data to provide information to aid marketing decision making.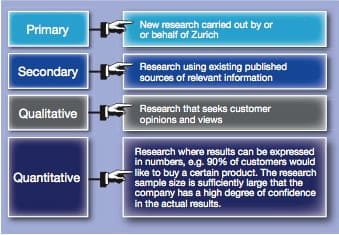 Firms can use their market research findings to improve their product offer or the support provided to customers. A customer-centric firm will use the research findings to improve all aspects of its proposition.
Zurich uses market research in order to understand what potential customers want from their insurance company. Research can also be used to find out how Zurich and its services are perceived by existing customers.
Primary research
Primary research is research that is carried out for a specific purpose. It aims to find new information. For example, Zurich commissions research into the types of personal insurance that people are seeking. Primary market research involves four stages. It can be expensive and time-consuming. The main benefit is that it provides the answers to specific questions that are relevant to Zurich. Another benefit is that Zurich"s competitors will not have access to this information.
Qualitative and quantitative
As part of developing its brand strategy, Zurich carried out detailed quantitative and qualitative research. This focused on over 70 different features and aspects of its service:
A sample of 7,000 customers, non-customers and insurance intermediaries from 8 countries were interviewed. This provided valuable quantitative information. It showed what people thought of the company, what they expected from Zurich and the insurance industry. A range of questions were asked such as: 'Are convenient opening times more important than a rapid payment of a claim?'
Quantitative data showed that fewer than 15% of customers trusted any insurance company.
Research showed that customers wanted to feel valued and understood and to be treated as individuals. Focus groups (qualitative research in which customers talked about their feelings in relation to insurance) showed that many consumers feel that insurance has become a commodity, rather than a relationship with a trusted insurance provider.
Internal primary research also took place within Zurich. This involved 45 workshops with staff to identify what the business could do to differentiate itself from rivals.
The results of Zurich's research clearly indicated certain recommendations. It was essential for Zurich to:
understand its customers
provide insight and/or advice
be fair, fast and easy to do business with
engage with customers in a way that makes them feel valued
deliver on promises.
Secondary research
Secondary research draws on information which already exists. Examples include reports by market research firms or sales data within a company.
Sources of secondary data include British Council country reports and government reports. Some of the best secondary data is expensive to purchase. This is because it has been collected for commercial purposes by specialist market research companies. Some research is gathered by industry sources. It is available to businesses in return for an annual fee. This is termed 'syndicated research'.
Secondary research is quicker and easier to collect. Its weakness, however, is that it may not have been collected for the specific purposes required. In this case, the secondary research was not directly related to how Zurich could differentiate itself from its competitors.
In researching the insurance market, Zurich was able to make use of some secondary data about the industry. For example, it used a study produced by the market research company Nielsen. The data showed that 61% of internet users rely on online communities to recommend products and services.
This suggested that Zurich's website needed to change to become a communication vehicle for HelpPoint. Secondary research therefore provided valuable data to enhance Zurich's own primary research.
Business strategy
Business strategy is the means by which a firm seeks to achieve its aims and objectives. Zurich's aim is to be the leading insurance provider, as measured by customer satisfaction, shareholder returns and employee engagement.

All of Zurich's primary and secondary research had led to the conclusion that customers want relevant, reliable help from their insurance provider. No other insurance company was trusted by customers to provide this level of support. These research findings helped Zurich to identify the position it should take in the market. The strategy was to make the Zurich brand synonymous with 'help'.
Positioning the brand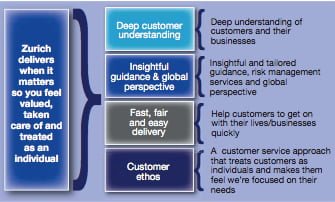 The illustration shows how Zurich has responded to its research findings to position the brand. This is a deliberate attempt to create an image or identity for a particular brand or product.
Zurich's position involves:
giving customers what they need
in the right place and at the right time
in a fast, fair and easy way
with Zurich's people focusing entirely on customer requirements.
Communicating the positioning
For the brand positioning to be effective, it needed first to be explained in detail to Zurich employees. This was done through an extensive internal communications campaign and training.
The new position was also communicated to customers, investors and the media through a brand promotion campaign. This campaign included:
advertising across the globe, e.g. in television adverts, airports and outdoor billboards
online through the Zurich website
sponsoring sporting and arts events
direct mail and email marketing.
Implementation of a customer-centred strategy
Market research showed that customers want one thing more than anything else 'help'. To deliver help Zurich has developed the solution, HelpPoint. HelpPoint is the name Zurich uses to describe the many ways in which Zurich delivers what customers need when they need it.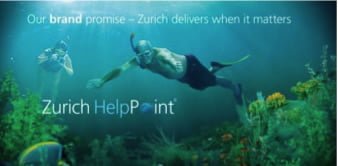 Zurich refocused and adapted its existing HelpPoint service to provide an all-embracing help service. HelpPoint was originally set up in 1997 as a resource to support motor insurance claims, including, in some countries, a dedicated recovery service and nationwide repair centres. In 2001 it was extended to become a free telephone service for all types of claims, not just for motor.
Today Zurich HelpPoint provides advice and service across all dealings with customers not just claims. Through working helpfully with customers on every aspect of insurance, Zurich is able to provide innovative solutions to customer problems and a first-class level of service. HelpPoint goes further than providing a range of solutions for customers. It represents an attitude and way of working with customers.
Relaunching HelpPoint
Development took place in three stages:
Upgrading and re-launching existing services that were already customer-centric under the HelpPoint name.
Expanding HelpPoint into new divisions of Zurich. This included working with insurance brokers and other partners.
Developing and launching innovative new customer-focused services.
The strapline that Zurich uses to promote HelpPoint is 'delivering when it matters'. This means that each country and business unit within Zurich identifies the best ways in which they help their customers. For example, these might include providing financial planning or risk management services. They also included special product features such as providing a courtesy car within 60 minutes if a customer"s car is damaged in an accident or replacement locks if a customer"s keys were lost.
Other features included helpful online tools and calculators to help customers understand how much insurance cover they need. Each of these 'help' ideas were then shared across the whole of Zurich. Teams began to design new ways to help customers based on ideas from Zurich's people around the globe. A new generation of products has now been developed. To date (2010), over 170 new HelpPoints have been created to give Zurich customers better service.
Measuring effectiveness
Zurich believes that these changes will lead to:
customer loyalty and retention
increased value of the Zurich brand
market leadership (i.e. being the Number 1 supplier of insurance)
financial returns (e.g. higher profits)
energised employees (who suggest new ideas and enjoy their work).
Zurich has also set in place measures to track and evaluate the effectiveness of the HelpPoint programme. These include customer satisfaction surveys and measuring the volume of repeat business by existing customers. These are further methods of market research.
Gaining employee commitment
In order to make the strategy a success it has been essential to get managers and employees to 'buy into' the change. This has involved training sessions, leadership meetings and web conferences for all managers.
Other employees have been included through awareness raising workshops, online training courses, features on the company intranet, emails and posters. A number of employees are designated as champions for the 'HelpPoint' strategy. They are provided with extra training and responsibility to share ideas about being customer-centred.
Conclusion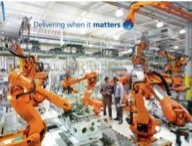 Differentiating Zurich from rivals involves constantly listening to customers and generating new ideas. Market research carried out by Zurich indicated that customers want more 'help' with their insurance. This is a prime consideration in choosing an insurance provider. Zurich therefore set out to create a strategy of providing help throughout the organisation.
Market research revealed the types of areas where customers sought help. The development of HelpPoint was the logical way to transform the service. Originally HelpPoint was simply a very useful phone line support service. Research revealed that the concept of HelpPoint could be much broader. In fact, it could include every aspect of helping customers.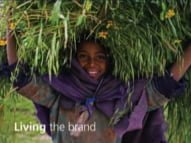 All employees within Zurich have been encouraged to come up with good ideas for providing better help. A range of innovations have now been developed, all of which have a customer-centric emphasis. All of these carry the Zurich HelpPoint logo, which has been trademarked.The best examples are included in Zurich"s advertising campaigns.
Zurich continues to use market research to find out more about customer needs and requirements and launch new ways to help.
Zurich | Providing a customer-centric service